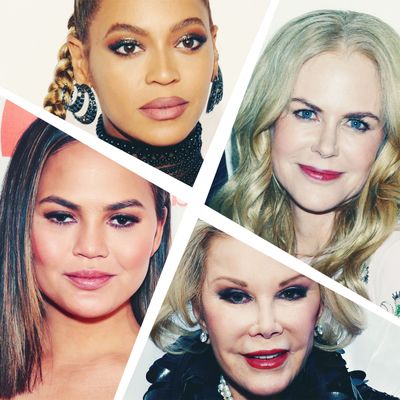 For many women, the path to parenthood is less than straightforward. From miscarriages, to unexplained fertility, to the costly and often challenging experience of assisted reproductive technologies like IVF — trying to conceive can be a complex and frustrating process. But it's a more common, shared experience than some might think: Of women aged 15 to 44 years old in the U.S., 12 percent have struggled to get pregnant or carry a pregnancy to term, according to the CDC.
Below, 25 celebrities including Gabrielle Union, Chrissy Teigen, and Ali Wong share their experiences — on surrogacy, adoption, and the question you should never ask: "Do you want to have kids?"
Gabrielle Union
On struggling with the IVF process for three years, and multiple miscarriages: "I'm in the rooms with the women and there is such a shroud of secrecy and shame. I mean, there's back entrances, there are people who will come get you from your car with an umbrella. The idea of being found out, like going to a fertility doctor? Oh my god, the jig is up. People are thinking, she married this young guy and her shit doesn't work. Awww. Awww, and he had that baby with somebody else. Awww. Bet it really hurts. That kind of shit … I'd rather be the guinea pig and speak about the process to demystify it. If you're going to stick a microphone in my face, I might as well save at least a few of us, if I can." —The Cut, October 2017
Maria Menounos
"Last November, I had three embryos made, and we put them in the freezer. Then we did inseminations — IUI — because I was like, 'Listen, I think we could probably have done this naturally, but what was happening before is that the ovulation kits weren't working for me.' Last month, I did another egg retrieval, and I got two eggs — so we tested all five embryos. Afterward, I had the craziest conversation with my doctor I ever thought I'd have in my life. She said, 'OK, so here's the news: We tested the five embryos. Two were bad quality, one was fair quality, and two were good quality.' She told me the sex of these children, so now I'm realizing I have kids in a freezer. It makes it real when you know the sex. I was like, 'What is happening?!' So I called my mom and said, 'Mom, you're a grandma! Here's what we've got in the freezer — don't tell anybody. Isn't this weird?' It was the strangest call ever. Then I realized I have to do another IVF round because if I want two kids, the two good-quality ones could only end up yielding one baby, and I keep hearing stories about all these women who keep implanting embryos and they don't take. I was so upset about the idea of another round, because it's exhausting, physically and mentally." —Health, July 2016
Kim Kardashian
"I didn't know that I was going to be so open with [my fertility challenges]. But meeting people at my fertility doctor's office who are going through the same things I'm going through, I thought, Why not share my story? It's been really emotional.
One doctor told me I would need my uterus removed after I had another baby — I could only have one more. One was like, 'You should get a surrogate.' The other one was like, 'Oh, no, you'll be fine.' Then I called my doctor, and he's like, 'You know what? I believe — we'll get through it.' There are definitely times when I walked out [of the doctor's office] hysterically crying,and other times when I was like, 'OK, everything's looking good — it's going to be this month!' The waiting and waiting has been a roller coaster." —Glamour, July 2015
Aisha Tyler
On IVF and deciding not to have kids: "We went through the process. There are all these shots, they make your body crazy, they make you emotional, they hurt. I was getting shots every day. I wasn't telling you guys — my husband and I were going through this at home together. He hated giving me the shots, he probably cried more than I did … After going through a lot of procedures and spending a lot of money … the doctor said, 'Look, based on what we're seeing here, I just don't think this is going to happen for you.' The hardest part is I really love my husband — he's such a good person and he would be such a great father. But we just decided it wasn't worth it to go through that and so we decided to stop. It was better to not go through that torture." —The Talk, September 2013
Chrissy Teigen
"I will say, honestly, John and I were having trouble. We would have kids five, six years ago if it'd happened, but my gosh, it's been a process! We've seen fertility doctors, and then once you open up about all those things to other people, you start learning that a lot of other people in your life are seeing these people and they have this shame about it. So anytime somebody asks me if I'm going to have kids, I'm like, 'One day, you're going to ask that to the wrong girl who is really struggling, and it's going to be really hurtful to them.' And I hate that. So, I hate it. Stop asking me!" —FABLife, September 2015
Elizabeth Banks
On choosing surrogacy: "It was a womb issue for me. Embryos wouldn't implant … It's a big leap, inviting this person into your life to do this amazing, important thing for you. And it's hard losing that kind of control. But our surrogate is so extraordinary, and she's still in our lives. She's like an auntie." —Lucky, February 2012
Sarah Jessica Parker
On surrogacy: "[We] tried and tried and tried and tried and tried to get pregnant, but it just was not to be, the conventional way — I would give birth as often as I could, if I could. I cherished all the milestones, the good and the bad … Meeting your children rather than giving birth to them, it's as if, um, it's — suspended animation. The gestational experience is gone. It's as if everything else disappears for a moment, and the world goes silent and — I can't explain it except to say that nothing else existed. I don't remember anything but the blanket on the bed that they were lying on and my husband's face and their faces and my son's. It's literally as if sound is sucked from the room. Time stands still. It's so different, and equally extraordinary. I am very poor at describing it. But it's amazing." —Vogue, April 2010
Giuliana Rancic
"Adoption was something we were very open to, but when we did the third IVF, we got the embryos and I would have put them into myself, but that was when we found the breast cancer. Part of the treatment is five years of tamoxifen, which can cause birth defects. So we said, 'Dr. Schoolcraft, what now?' He said the next step should be surrogacy because we had the embryos. As Bill likes to say, they were 'on ice.' So we met this lovely French girl who was living in America and she carried our baby for nine flawless months. We are still open to adoption if we decide to have more kids. But we do still have some embryos on ice, so if we wanted to try surrogacy again, we could." —CNN, November 2012
Marcia Cross
"We did in vitro a week after we got married. We were supposed to go to Greece and Paris and have this fancy honeymoon, and I said, 'Let's stay put and see if we can't give this baby a chance.'" —People, April 2007
Christie Brinkley
"After the first miscarriage, I tried to take the attitude that it was my body's way of telling me that this pregnancy wasn't meant to be, and that it was better for everybody. But after the second one, it was really devastating. Four months is a lot of living with that little life in you — thinking about it, eating right for it, nurturing it and all of a sudden, it dies. After the second one, we decided to try in vitro, because both Peter and I felt we couldn't handle another failure." —Good Housekeeping, 1998
Lily Allen
On experiencing a stillbirth: "It was horrendous and something I would not wish on my worst enemy. It's something that I still haven't dealt with. I never will get over it. I have dealt with it, you know, as being at one with it. But it's not something that you get over. I held my child and it was really horrific and painful — one of the hardest things that can happen to a person … I nearly died. But I was numb and I didn't care. I'd just lost my baby and that is a reflection of how numb I was." —The Sun, April 2014
Joan Rivers
"After Missy, I had two miscarriages and a tubular pregnancy. Not having more is my only regret in life. We were going to adopt, and then Edgar changed his mind. I worry now because there's nobody for Missy. When the chips are down, the only one who will take you in is a relative." —People, June 1993
Iman
"People talk about the miracle of birth. No. There's the miracle of conception. I did IVF, but nothing happened. So I began to think of adoption, and then I got pregnant. It was definitely a miracle." —Parade, May 2009
Nicole Kidman
"Anyone that's been in the place of wanting another child or wanting a child knows the disappointment, the pain, and the loss that you go through trying and struggling with fertility.
Fertility is such a big thing, and it's not something I've ever run away from talking about … We were in a place of desperately wanting another child. I couldn't get pregnant … [Our surrogate] was the most wonderful woman to do this for us. I get emotional talking about it because I'm so grateful to her." —Australia's 60 Minutes, February 2011
Beyoncé
On her miscarriage: "I was pregnant for the first time and I heard the heartbeat, which was the most beautiful music I ever heard in my life. I picked out names, I envisioned what my child would look like … I was feeling very maternal. I flew back to New York to get my check up — and no heartbeat. Literally the week before I went to the doctor, everything was fine, but there was no heartbeat. I went into the studio and wrote the saddest song I've ever written in my life. And it was actually the first song I wrote for my album. And it was the best form of therapy for me, because it was the saddest thing I've ever been through." —Life Is But a Dream, January 2013
Ali Wong
"[I]t really helped me when I had a miscarriage to talk to other women and hear that they'd been through it, too. It's one thing to hear the statistics but it's another to put faces to the numbers so you stop feeling like it's your fault. I think that's one of the reasons women don't tell people when they've had a miscarriage — they think it's their fault. I remember I worried what my in-laws would think, which is so crazy. I thought they'd think their son had married a terrible person. Also, because I made the mistake of telling people as soon as I got pregnant, I then had to tell them the bad news and then I felt like I was burdening them. So being able to joke about it was such a relief." —The Guardian, June 2016
Celine Dion
"For the twins I did IVF six times one after the other … I'd done five years at Caesars Palace and went half a year around the world on tour and it was finally time to get pregnant again. I thought as long as my health permitted me and unless my doctor thought physically I couldn't do it, then I would go on with the IVF until someone told me to stop. With any pregnancy, whether it's through IVF or not, you feel a danger. You have to remain positive and try to relax as much as possible. I always say that my children's first country is inside of me, so I try to make it a good one and be healthy … People stop because it's very expensive but I kept on going, I was not going to stop just because I had a contract for singing. I would have hated every song for the rest of my life, so I said try to postpone the Caesars Palace shows because it wasn't a good enough reason for me not to try for a baby. A life or a contract? I couldn't live with that." —The Daily Mail, November 2013
Brooke Shields
"After a while, when you're not successful, you start to associate the word 'failure' every time you pee on a stick and it doesn't come out the right color. What starts out as a dream becomes a project that's all consuming — everywhere you look, women are pregnant, and every song on the radio seems like it's all about being pregnant! It becomes a very frustrating, frightening place." —Down Came the Rain, May 2005
Angela Bassett
"After trying and trying, I unfortunately couldn't have my babies. It was my reality. I heard about the surrogate option and it worked out beautifully." —JET Magazine, November 2013
Courtney Cox
"I get pregnant pretty easily, but I have a hard time keeping them … I don't say it's a walk in the park. But what are you going to do? We just try again." —People, October 2003
Emma Thompson
"We tried to have another child, it didn't work, and I went into a deep clinical depression. It's only now that I no longer count other people's children or judge myself harshly for not providing my daughter with a sibling." —Entertainment Weekly, November 2006
Barbara Walters
"No, I haven't [been in labor]. Do you want to get into my life? Just because you've brought it up, I've had three miscarriages but I know what it's like to be pregnant." —The View, September 2011
Mariah Carey
On her miscarriage: "It kind of shook us both and took us into a place that was really dark and difficult. When that happened … I wasn't able to even talk to anybody about it. That was not easy." —on Access Hollywood, 2010
Wendy Williams
"I fought tooth and nail to become a mother. I suffered several miscarriages, including two at five months. That's when you have the clothes already picked out, the nursery is already painted. They ask you do you want a funeral or do you want the cremation. We went through that not once but twice, me and my husband. So our Kevin is a hard-won child. I would've loved to have had more children but I don't want to test my blessing. Being a mother is for me. It's not for everybody. It's for me." —PBS, September 2015
Remy Ma
"You know, I had a child when I was very young. I was a teenager. And I didn't even consider having anymore children until I was married with my husband. And we got pregnant and we were very excited, we were very happy about it. And didn't find out until it was too late that it was an ectopic pregnancy, which means that the baby is actually growing inside of your Fallopian tubes which aren't designed to stretch as opposed to your uterus. So it had got past the part where they could probably give me a medication or something to save my fallopian tubes. So at this point the doctor told me you would not be able to have children naturally.
You can definitely have children because your eggs are fine, your uterus is fine, it's just your fallopian tubes are damaged. And I was like, first I was distraught, I was embarrassed, I was ashamed, I felt less than a woman. And he assured me that that was no way to feel and that you know, for a certain amount of thousands of dollars it could be fixed. And because I had the finances I never even thought twice about it. I was like, all right how many thousand? Okay, no problem, we'll start doing it now. But it wasn't until that I publicly spoke about it, that I realized how many women are in the same predicament as me where they actually can have children they just need an assist from medical procedures and they can't because they are not financially stable enough to do it. And I think the percentage is actually 80% of women who can't have children — it's not because they can't physically have children, it's that they can't afford to physically have children. And it was just weird to me that if you wanted to terminate a pregnancy, you could use your health insurance. However, if you wanted to conceive, health insurance didn't cover that. So I'm looking at all of these politicians that claim they're pro-life, and they want to eradicate women having the choice to terminate their pregnancies. But if you're pro-life, why would you not set up something so women who can conceive and women who want to be mothers and women who want to have children can do so … I don't feel like it should be taken away from you because of money. Like people put too much of a value on money as opposed to the value on life." —2017 Essence Festival, June 2017