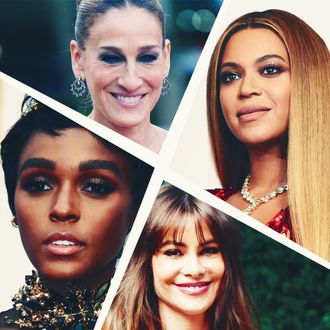 Melania Trump's "hurricane heels" were proof that shoes contain multitudes. While the First Lady's footwear revealed some alarming political truths about the president's administration, there are other, less disturbing reasons why women choose to wear heels or flats, Adidas slides or cowboy boots. Whether it's comfort or the lack thereof, shoes are always an accessory to forging style as an identity when we get dressed.
Below, 25 famous women share their opinions on everything from stilettos to shoe closets. Read on for confessions from Beyoncé, Sarah Jessica Parker, Fran Lebowitz, Sofía Vergara, and more.
Donatella Versace
"I never, ever wear flats. Every time I wear them I fall over! The only flats I own are my sneakers, which I only wear when inside the gym and always with black and diamonds. I only wear Versace and some vintage Alaïa, but always Versace shoes because then they can be as high as I want … it's a luxury actually." —i-D, March 2008
Dolly Parton
On the rumor that she wears high heels in the shower: "Oh that's horseshit! Ha ha ha! But I do wear high heels in the house — otherwise I can't reach the cabinets! I don't wear my heels in the shower or when I sleep — and I wear my little tennis shoes when I do my treadmill — but when I go out, of course I will. That's my look and that's how I'm always gonna be." —The Guardian, August 2011
Solange
"My sister and I were not allowed expensive clothes. We so badly wanted these Fila sneakers as kids but my mother took us down to the flea market and got imitation ones. Look at the early Destiny's Child videos, you'll see!" —The Guardian, November 2012
Sarah Jessica Parker
"I think the assumption that because I played Carrie, I therefore like shoes, is a rather simple lead. What I was probably struggling to say is that I'm much more complicated than that and I'm a much more complicated person, but this category's interesting to me and it was prior to playing Carrie. I met George Malkemus, my business partner, in 1986 — that's when I started buying Manolo Blahniks on layaway plan. It wasn't really Carrie Bradshaw that introduced me to this particular affection — and her fevered affection is very different than my own — but it was awfully fun to play somebody that had access to that many shoes and that kind of a variety of shoes." —Refinery29, April 2015
Janelle Monáe
"I always carry my classic black-and-white tux and custom-made George Esquivel saddle shoes." —Us Weekly, November 2012
Isabel Marant
On designing her "wedge sneaker": "Actually, the wedge sneakers came from something I was doing as a kid: I was wearing the Stan Smiths when I was 11 or 12 and I used to put a piece of cork inside because I wanted to look taller. The Birkenstocks — I have a German mother who wore them. It's one of the most comfortable shoes as well, but it's not sexy or pretty. I wanted to play with it and make it into something new and more playful. I'm very attached on classics, things that are lasting. It's because they're well-designed — they are right. There is a certain precision. To reinvent those, sometimes it's not so easy. Fashion goes more and more into resurrecting very iconic things. It's like a car: You can go back into an old style because it was really well designed and you're never fed up with it. Sometimes it's more fashionable than other times, but it is a product that was well-achieved. It's something that I'm very sensitive about. It's about having an interpretation of those things to go with the theme of the collection, or to make them more luxurious or playful." —Fashionista, April 2015
Ellen DeGeneres
On white tennis shoes: "A staple. Especially the Court Classic low-top by Saint Laurent." —Elle Decor, August 2014
Rihanna
"Some of the first sneakers I owned were Puma, and I wore them to death, until they had holes in them. They were sleek running shoes, I had them in pink with the black Puma stripes on the side. They also made them in Jamaican colors and so in the Caribbean it was like: What? Jamaican colors? That was the it-shoe in Barbados — if you didn't have those, [that was it]. You know how kids are." —WWD, December 2014
Lake Bell
"It's athletic, making a movie. It's a sport. I always talk about the key to happy filmmaking is comfortable shoes — you need your sneakers, maybe an orthotic insert, and a fanny pack." —Vulture, August 2017
Chloë Sevigny
"These are boots that Balenciaga gave me as a gift. I asked Nicolas Ghesquière for them. They hurt like crazy — they are five-inch heels — but I wore them out every night when I got them. Then one night I was leaving Smiths night and a friend of mine and I were play-fighting in the street. I took a dive in these and bashed my face on the ground. I broke my four front teeth. They're all veneered now. One is totally fake." —Vice, November 2005
Eva Chen
"I bought my first pair of pointy-toed Miu Miu shoes with a kitten heel from Barneys. They were $200 and it was a big deal. I wore them with a pleated black Benetton skirt and a white shirt. I looked like a waitress." —The Telegraph, March 2015
Beyoncé
"I never thought there would be a day when I wouldn't wear heels. Now that I have a child, I walk around holding her all day, I'm buying loafers and oxfords. I love them, because they're comfortable. And shorter heels too. I'd always thought, 'The higher the heel, the sexier.' But now I'm like, 'These are really sexy.'" —People, April 2012
Hari Nef
On Adidas Adissage Slides: "I hate walking on wood floors in bare feet so I wear these whenever I'm at home in my apartment. Actually, I wear them in the shower, too, just so I don't slip. Basically they don't leave the house unless I'm traveling somewhere I need a bathing suit. I've had the same pair for maybe three years. They're so gross but not that gross because I don't really leave the house in them. Leaving the house in a pair of flip-flops in Manhattan is disgusting to me, no shade. But if my food is here, I'll come down the stairs in them. I live in a studio apartment, and I don't leave my shoes in the front. I clean my floor a lot, but I don't necessarily feel like walking around barefoot on my floor, especially if I have had people over. These are so comfy because they have the squishy beads on the sole that massage your feet. I remember I bought them during the normcore moment, and I broke my Célines so they're my only proper sandals right now. They're the only pair of sandals I own right now, and they do get washed in the shower. I'm very thorough in the shower." —The Strategist, November 2016
Jerry Hall
"I always polish my shoes and clean the bottom of them before I go out. I also wipe my handbags. I keep them in little bags to stop them getting dusty. You have to keep your accessories looking smart and clean." —The Guardian, September 2014
Taylor Swift
"I wear cowboy boots so that when I walk down the stairs I won't fall. I have this fear of falling in front of large groups of people. That's why I tend not to wear heels … I'm 5'11", so when I wear heels, it's definitely a really good view that I have. I'm like 6'2 when I wear heels, so I tend to wear cowboy boots a lot." —Entertainment Weekly, July 2007
Fran Lebowitz
"I had my cowboy boots made. It's very hard to find this man who makes them. (And I'm not going to give out his name because I don't want you to know what they cost.) I have one pair of very good ones, and two pairs of ones that are ripped to shreds — the ones I have on are ones that I save for the rain." —Elle, March 2015
Suki Waterhouse
"I've been wearing Supergas forever. I'm always in flats running around so it makes sense for me. I love the suede blue flatforms — I'm seriously into flatforms. I've always loved slightly ugly shoes. Or even very ugly shoes. When I first started buying shoes with my own money I would always get them from eBay. I used to hack my mum's account and suddenly these white cowboy leather boots would arrive. I bought Doc Martens when I was 13 and I wore them pretty much, every day until I was 20. They stank and my dad wouldn't even let them in the house, but I was completely in love with them." —Grazia Daily, December 2014
Zendaya
"I only wear heels or sneakers; there isn't an in-between for me … Most days, you will catch me wearing sneakers, I love the comfort of a good pair of sneakers. However, when I dress up I love stepping out in the tallest heels possible. My style is very eclectic and heavily based on my mood that day." —Who What Wear, August 2016
Alexa Chung
"I'd say I have more shoes than anything else; they're a good way to update a look. Bags and shoes — it's like decorating a cake." —Elle Australia, October 2016
Catherine Zeta-Jones
"I buy shoes sometimes and use them as bookends. They're too beautiful to wear." —The Telegraph, July 2013
Eva Green
"Life's too short to wear high heels." —The Daily Mail, October 2008
Sofía Vergara
"I love heels, I'm telling you. When I walk in flats, I get knee pain." —Redbook, August 2011
Gillian Jacobs
"My poor, problematic feet don't let me wear anything much over a three- or four-inch heel. I don't wear stilettos, but I definitely feel it at the end of the day … Some girls say they don't feel comfortable in flats, they only feel comfortable in heels; I am not one of those girls. If it weren't for the show, I would not wear heels on a daily basis. I never wear them in real life, but if that's a sacrifice I have to make for Community, then I'm willing to do it." —Paste, September 2010
Theresa May
"I was in the lift in the House of Commons and there was a young woman in the lift and I happened to look down and said, 'Oh, nice pair of shoes.' And she said, 'I like your shoes.' And then she looked at me and she said, 'Your shoes got me involved in politics.'" —BBC's The One Show, May 2017
Jenna Lyons
"I have far too many shoes. I think I have 289 pairs, I believe? Yeah. And some of them I actually realized I haven't worn, but I like to look at them … Anyone who thinks that your shoe isn't informative about who you are is making a mistake. You know, a five-inch stiletto sends a very different message than a beaten up oxford … There's a sense of sparkle in a shoe, and I don't mean a sparkle like sequins. I mean, you know, that little extra … Shoes are like fairies, like that sort of little magical piece that finishes everything. I can throw on a silver five-inch heel pump and all of a sudden, I feel a little prettier." —J.Crew, March 2013
If you buy something through our links, New York may earn an affiliate commission.