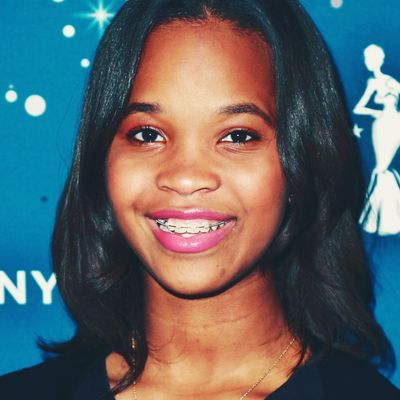 Quvenzhané Wallis.
Photo: Leon Bennett/Getty Images for Essence
Beasts of the Southern Wild actress Quvenzhané Wallis — who was nominated for an Oscar at only 9 years old — is now an author, according to "Page Six."
The 14-year-old is set to release two children's books on October 3 through Simon and Schuster. One of the books, Shai & Emmie Star in Break an Egg, follows the lives of two best friends at a school for the performing arts. The other book, A Night Out with Mama, was apparently inspired by her experience at the Oscars, "Page Six" notes.
At a recent appearance at the Southern Independent Booksellers Alliance in New Orleans, the former dog- (and cat-) purse aficionado explained, "Reading is one of my favorite things to do. It's something I would want everyone to do, especially teenagers my age. I don't think we read as much as we should." Per "Page Six":
Wallis said she doesn't really have a favorite author and usually reads all types of genres. She said she especially enjoyed coming up with the concepts and working through them with co-author Nancy Ohlin, who helped with the writing on the current projects.
Wallis will be in New York this Monday through Wednesday on a "mini-book tour," and she's also slated to sign books at the New Orleans book festival on November 11. "I really hope that people my age enjoy reading these books. I'm excited about experiencing new things and sometimes it gets to the point where I might get a little obsessed with it," she said. "But I really enjoy writing and I can't wait to do more."