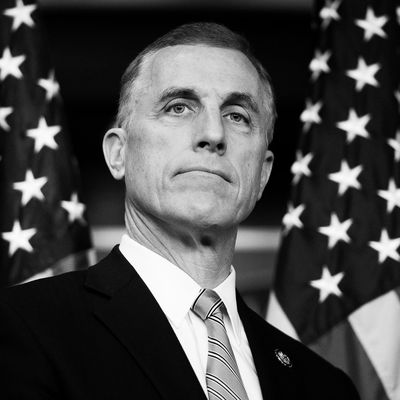 Rep. Tim Murphy.
Photo: Tom Williams/CQ-Roll Call,Inc.
Just one day after announcing he would retire in 2018, Representative Tim Murphy resigned from Congress on Thursday, Politico reports. The congressman has been embroiled in controversy since the Pittsburgh Post-Gazette revealed earlier in the week that he had urged his mistress to get an abortion — despite his anti-abortion stance.
"This afternoon I received a letter of resignation from Congressman Tim Murphy, effective October 21," Speaker Paul Ryan said in a statement, per Politico. "It was Dr. Murphy's decision to move on to the next chapter of his life, and I support it."
On Tuesday, the Post-Gazette reported that Murphy, a 64-year-old congressman from Pennsylvania, had pressured his mistress, 32-year-old forensic psychologist Shannon Edwards, to get an abortion during a pregnancy scare. The congressman had been publicly vehemently anti-abortion: He's a member of the House Pro-Life Caucus, co-sponsored the 20-week abortion ban passed by the house earlier this week, and has been endorsed by the anti-abortion group LifePAC.
The revelation, which the Post-Gazette learned through documents obtained during Edwards's divorce proceedings, highlighted the politician's hypocrisy about reproductive rights.
Shortly after the news broke, Murphy announced on Wednesday that he would not seek reelection after his current term ended in 2018. "In the coming weeks I will take personal time to seek help as my family and I continue to work through our personal difficulties and seek healing. I ask you to respect our privacy during this time," he wrote. However, the congressman instead ended up handing in his resignation on Thursday.