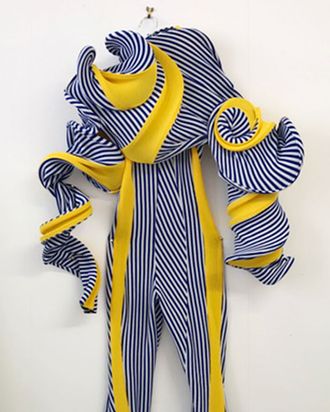 Malone describes the jumpsuit as, "a genderless thing you can function every day in."
Photo: Courtesy of Richard Malone
Those who are familiar with Richard Malone's designs may not immediately associate his avant-garde looks with the words "working-class Irish" or "functional." But that's exactly what Malone says is the inspiration behind a jumpsuit he created for the Museum of Modern Art's new exhibit, "Items: Is Fashion Modern?," opening October 1.
The striped piece is cobalt blue with spiraling, canary-yellow 3-D accents. Malone says he looked to the jumpsuit's history as a uniform for Russian Constructivists in the early 1900s, rather than re-imagining it as Studio 54's outfit of choice in the '70s.
"I've never wanted to take the uniform and replicate it for a higher price," Malone told the Cut. "Uniforms have a really beautiful place; they really become a part of people's identity. For me it's about looking at the history of the dress and with the sculptural pieces, it's important to me that they're not restrictive."
Malone, who has designed clothing for Björk and Lorde, grew up in County Wexford, Ireland, and worked on building sites — where he first became familiar with the practical unitard. "I grew up around functional clothes," he says. "I was used to workwear, very familiar with the jumpsuit."
He went on to to study photography, sculpture, and design at Central Saint Martins in London. This year he won the LVMH Grand Prix scholarship, after launching his eponymous label in 2016. MoMA approached Malone last spring, after the designer's show at London Fashion Week, and asked him to design a new piece for the exhibit.
The custom jumpsuit is fully functional, created to honor the look's history as well as respond to the museum show's question of whether fashion is modern. The 3-D spirals don't restrict movement at all, a vital component in Malone's design. "We looked really at the history of the jumpsuit — there are interesting [parallels] with Russian constructivism, the idea of, in a really impoverished time, making a genderless thing you can function every day in."
Click through to see how the crazy, functional (crazy-functional?) piece came together in Malone's London studio.
"Items: Is Fashion Modern?" is on view at MoMA from October 1 to January 28, 2018.