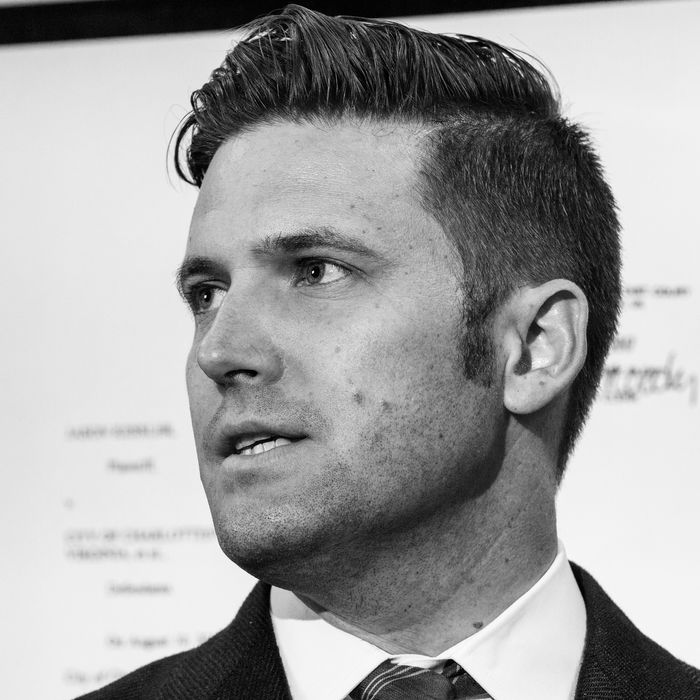 Richard Spencer.
Photo: Tasos Katopodis/Getty Images
Governor Rick Scott of Florida declared a state of emergency on Monday ahead of white nationalist Richard Spencer's upcoming speech at the University of Florida, warning in an executive order that a "threat of a potential emergency is imminent," the Washington Post reports.
In August, Spencer led hundreds of white supremacists carrying torches and chanting, "You will not replace us" and, "Jews will not replace us" at the University of Virginia in Charlottesville. The violent rally turned deadly the following day, after a man plowed a car into a crowd of counterprotesters, prompting a state of emergency to be declared in Virginia at the time.
Shortly thereafter, the University of Florida told Spencer he could not host his planned event on campus, but the white nationalist's supporters and an attorney argued the decision went against the First Amendment, according to the Post. The university therefore agreed to let Spencer schedule his speech for this week.
Governor Scott said in a statement that his executive order was written to aid law-enforcement officials' response to the rallies that have been planned for Thursday in Alachua County, which is where the university is located. It will allow local law enforcement to work with state and other agencies, and the governor is also planning on activating the Florida National Guard to assist if necessary. The Post notes that university officials have also said that they plan to spend $500,000 on security for the event.
In response to the order, Spencer told the Post, "This worries me. I don't get it. I hope he's doing this with good intentions." However, Alachua County sheriff Sadie Darnell told the Post, "We have looked at what happened in Charlottesville and Berkeley. We're not being alarmist. But we want to be prepared. "