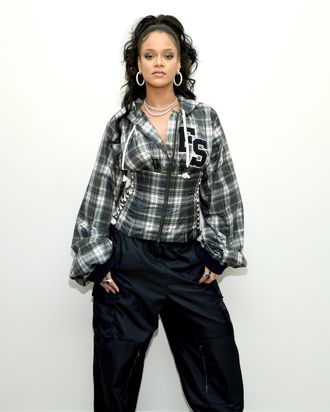 Rihanna.
Photo: Dimitrios Kambouris/Getty Images for FENTY PUMA by R
Rihanna does not simply enter a room; she makes an entrance. And on Friday afternoon at the Bloomingdale's flagship store in New York City, she was escorted inside by an exuberant high school marching band decked out in Fenty University gear, which brilliantly abbreviates to "F.U."
The occasion was a "pep rally" for the drop of Rihanna's Fenty x Puma fall 2018 collection, which showed during Paris Fashion Week last winter at the Bibliothèque nationale de France. Rather than teacher's pets, though, Rihanna was inspired by the stylish delinquents of detention who toss textbooks to the wind, showing shoelace chokers, platform sneakers, and plenty of crop tops.
We really can't think of a better reason to skip school (or work) on a Friday than to attend Rihanna's Fenty University, which is basically the Harvard of fashion. Below, she schools us on everything from style to Instagram.
So, you're teaching a Fenty University master class. What would you want to tell young girls about how to wear clothing that fits their bodies, but also makes them feel good?
Well, I actually have had the pleasure of a fluctuating body type, where one day I can literally fit into something that is bodycon, and then the next day — the next week — I need something oversized; I need a little crop here and a high-waist there to hide that part, you know?
I really pay attention every day when I go into the closet about what's working for my body that morning. I feel like that's how everyone should go after fashion, because it's an individual thing. And then, if you take it further, it's like: What week are you having? You having a skinny week? You having a fat week? Are we doing arms this week? We doing legs this week? We doing oversized?
I love to play with silhouettes as well, but I think it's important to make sure that you wear the thing that works for your body the best, and that's flattering.
And what about guys: What's cute? What's not cute?
Black!
Black is good?
Yes. This is new for me; this is recent. I love a man in black. It's so sexy and mysterious; confident and secure — all the things I love about a man. So, I'm into that.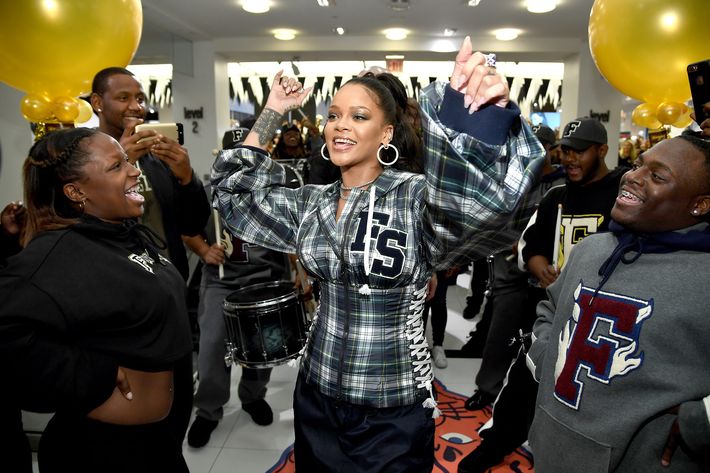 And what about flip-flops for men, or shoes with no socks?
I'm from the islands, so we don't wear socks with shoes, especially sneakers. But it depends on the man. Like, I don't want to see my boyfriend wearing flip-flops when he's going to an event. But if Yusef, my hair stylist, wore some flip-flops — and I've seen him wear some crazy ones, especially the Versace sandals or something like that — he turns it out. It really depends on the man; you really gotta be able to pull it off.
Are you seeing any trends on Instagram? Or have you seen anything on Instagram recently that's inspired you?
Instagram is the death of all trends. Once it gets there, it's too late. It's gone. I'm so over it. I can't; I can't deal.
It's been a really hard week, with the news and everything. What do you do when you've had a really bad week? How do you cope and center yourself again?
I pray a lot. A lot. And I try to just look at every situation like there's some reason behind it. Even if I can't feel it in that moment, I just thank God anyway, because I know that there's something better coming, and he's doing it for my good. I just don't understand it right now. I look forward to when it's revealed to me.