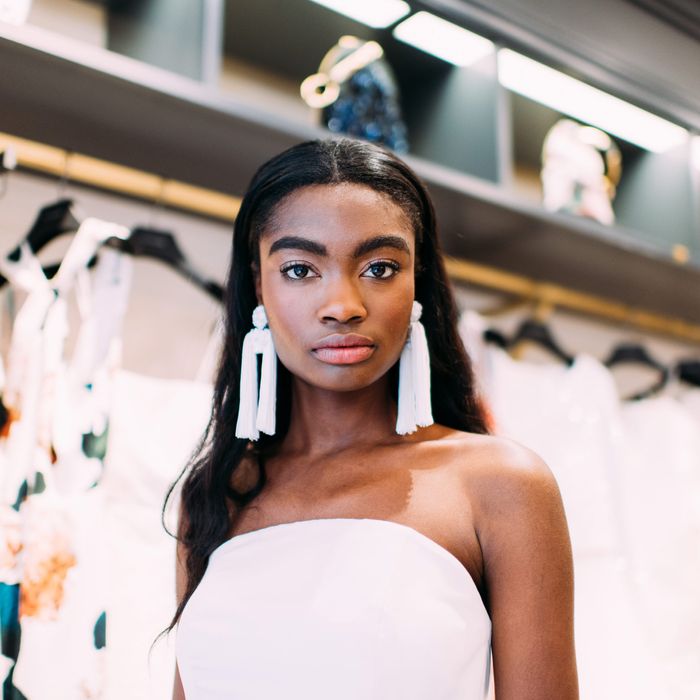 There are often two categories of bridal jewelry, especially when it comes to choosing earrings: affordable pieces you'll later regret buying, because they look cheap in photos, and expensive jewels that make the dress and break your bank account. Luckily for brides, this season Sachin & Babi is continuing to expand beyond the popular coconut bauble earrings the brand is known for, offering striking new pieces for fall 2018.
Each pair of earrings is $250, a good midrange price point for glamorous-looking pieces that are guaranteed to make your girlfriends do a double take. On average, it takes 26 hours to craft one pair by hand in Mumbai, a labor-intensive design process that makes each style feel especially unique.
Scroll ahead for our favorites from the collection, followed by similar options under $50 below.
Photo: Alyssa Greenberg
The best interpretation of feathers that aren't boho earrings.
Photo: Alyssa Greenberg
These are composed of glass beads topped with flower sequins so they instantly make a statement but are still light as a feather.
Photo: Alyssa Greenberg
A dramatic yet simple addition if you're looking to amp up your dress.
Photo: Alyssa Greenberg
Similar to the above, but with a beaded center that separates into two tassels for twice the statement.
Similar Under-$50 Options
Photo: Courtesy of Satchi & Babi
Photo: Courtesy of Satchi & Babi
Photo: Courtesy of Satchi & Babi
If you buy something through our links, New York may earn an affiliate commission.