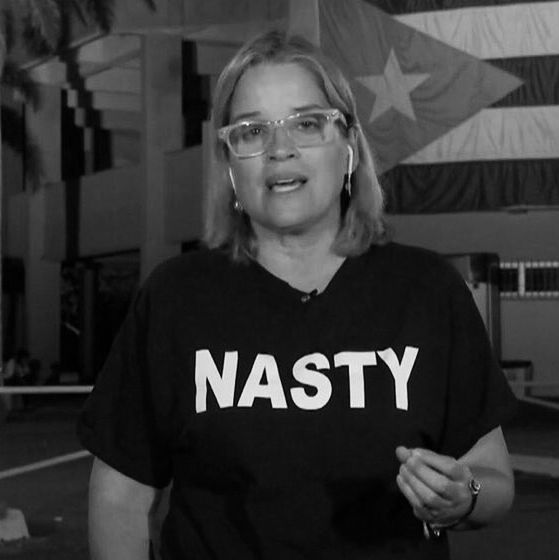 Carmen Yulín Cruz.
Photo: Twitter/@DavidRutz
Neither Carmen Yulín Cruz nor her T-shirts will be silenced. In an interview with Univision on Wednesday, the San Juan mayor wore a black T-shirt with the word nasty on the front, a direct response, she said, to President Trump's angry tweets against her. Cruz also criticized the Trump administration's lackluster response to the devastation in Puerto Rico:
When someone is bothered by someone claiming lack of drinking water, lack of medicine for the sick and lack of food for the hungry, that person has problems too deep to be explained in an interview. What is really nasty is that anyone would turn their back on the Puerto Rican people.
Trump called Cruz "nasty" on Saturday, a day after the mayor literally begged for support for her people. "I am begging, begging anyone who can hear us to save us from dying. If anybody out there is listening to us, we are dying, and you are killing us with the inefficiency," she said in a press conference. The next day, the president tweeted that Cruz "has now been told by the Democrats that you must be nasty to Trump."
This is not the first time the mayor has worn protest tees to draw attention to the ongoing humanitarian crisis in Puerto Rico. During an interview with CNN's Anderson Cooper last week, she wore a T-shirt that said, "Help us we are dying."
So far, President Trump's response to the crisis has included dedicating a golf trophy to hurricane victims, throwing paper towels at people, and saying it's a good thing Hurricane Maria was not "a real catastrophe like Katrina." At this point, Cruz might be better off pulling on a Skinny Girl Margarita shirt and asking Bethenny Frankel for help.