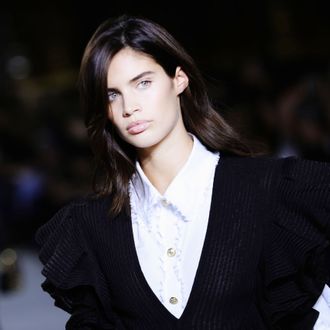 Sara Sampaio.
Photo: Vittorio Zunino Celotto/Getty Images
Victoria's Secret Angel Sara Sampaio is latest model to share her story in the recent outpouring of abuse allegations, which was spawned in part by the creation of the hashtag #MyJobShouldNotIncludeAbuse by model and advocate Cameron Russell.
On Thursday, Sampaio posted a note on her personal Instagram account, which has 5.9 million followers, about her experience with the French men's magazine, Lui, which she claims published a nude cover image of her without her consent.
Sampaio says she agreed to shoot the cover feature of the magazine's autumn issue under the condition that there was no nudity. (The magazine often features topless models on its cover.) Her agency even insisted on writing up a formal agreement. But in her story, Sampaio says that what happened on set was not in accordance with this contract:
Even with the "No Nudity" clause in my agreement with Lui, I was aggressively pressured to do nude shots on set, asking me why I didn't want to show my nipples or go fully nude. Throughout the shoot day, I needed to constantly defend myself and reiterate my boundaries with no nude images, making sure I covered myself as best I could. While reviewing the final images taken, I noticed that there were accidental exposures with parts of my body that I didn't want exposed. I spoke up and was assured that those images would not be used. The magazine lied and proceeded to publish a cover image of me with nudity, which was in clear violation of our agreement.
Sampaio goes on to say that this is not the first time she's felt pressured to pose nude, and that this is a common occurrence for many of her peers. She says she's not against posing nude completely, but only when she feels it's "art," or a process that comes "naturally," and is very "thoughtful, creative and collaborative."
Since Sampaio's Lui issue was released, she has been working with her agency and attorney to pursue legal action. In her post, she concludes that in doing so and sharing her story, she hopes that the "bullying and abuse that is systemic within the fashion industry will come to light."
"As models and as women, we need to stand together and demand the respect we deserve," Sampaio writes. "We have the right to make our own individual choices about our bodies, our images, and our lives."