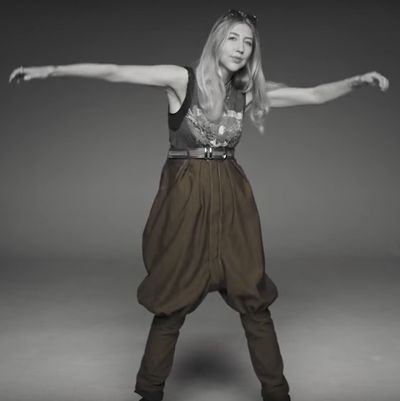 Saturday Night Live
's new Woke Jean.
Photo: Saturday Night Live /YouTube
The masterminds at Saturday Night Live are known for their fake fashion inventions like the Cartier fidget spinner and the original "Mom Jeans." (Which, of course, are now very real.) Last night on the show's season premiere, SNL introduced their latest made-up design: Levi's Wokes.
"Sizeless, style neutral, gender-non-conforming denim for a generation that defies labels," the ad explains. "Levi's heard that if you're not woke, it's bad. So we made these."
Actors like Ryan Gosling, Kate McKinnon, Leslie Jones, Pete Davidson, and Kenan Thompson, all model the jeans, which look like oversized harem pants attached to skinny jeans. They come in the color "greb," or "a handful of colors none of which are dominant." Plus, they have a 180-degree zipper, which zips from front-to-back, for gender neutrality.
"My jeans let me decide how I go to the bathroom," one of the models explains. "They fit everybody because they fit nobody," another adds.
And if SNL's foresight on Mom Jeans is any indication, Woke Jeans are coming soon.