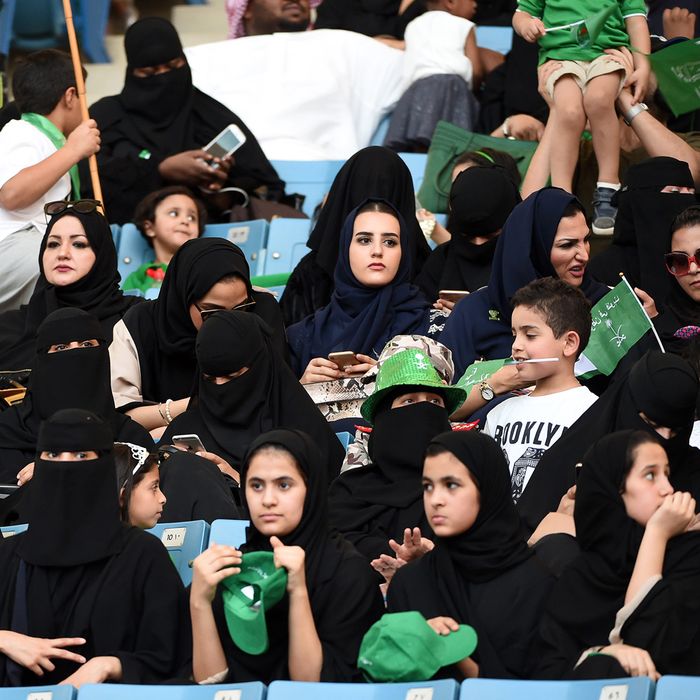 Women at a stadium in Riyadh in September for National Day celebrations.
Photo: FAYEZ NURELDINE/AFP/Getty Images
Saudi Arabia announced on Sunday that women will be allowed into its sports stadiums starting next year — although they will have to sit in the "family section," which is still separate from the male-only section. The move comes one month after the notoriously oppressive country revealed plans to reverse its decades-long ban on women driving.
As the Associated Press reports, the country's General Sports Authority said the decision would allow "families" into the stadiums, which is a term officials use when referring to public spaces that accommodate women. Such "family" sections are meant for women who are out on their own or accompanied by a male relative, the AP notes, and are common at restaurants and cafés in the country.
Under the new decision, three major sports stadiums in Riyadh, Jeddah, and Dammam will be renovated to accommodate families. Women were actually allowed inside of the Riyadh stadium last month for National Day celebrations, a move that the AP said the public embraced.
For years, only men have been allowed into Saudi Arabia's lavish stadiums; a Saudi woman was arrested two years ago while attending a soccer game at the al-Jawhara stadium in Jeddah. At the time, police told the media that she was spotted by security "deliberately disguised" in pants, a hat, a long-sleeve top, and sunglasses.