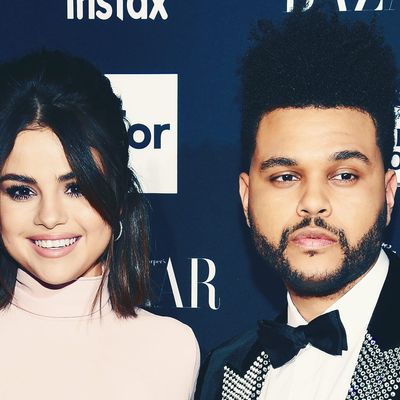 Selena Gomez and the Weeknd.
Photo: Dimitrios Kambouris/Getty Images for Harper's BAZAAR
After nine months spent making out in every corner of the globe, pop music It-couple Selena Gomez and the Weeknd (née Abel Tesfaye) have called it quits, according to a source in People.
"She and Abel have been going back and forth for a few months about their relationship," the source says, adding that while Gomez has recently been spotted spending time with her ex Justin Bieber, a Jelena reprisal is not the reason for the split.
"It's been hard with [the Weeknd] being on tour and her shooting in New York. That wasn't easy on them," the source continues. "It's been hard for them to come to the realization that this is the direction things were heading, but it's been hard for months."
Sprinkle the ashes of their relationship at Dave & Buster's.