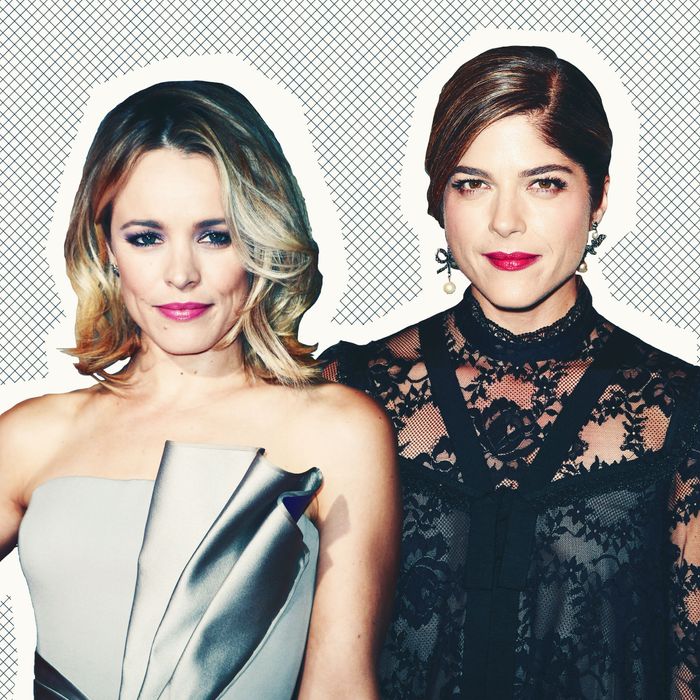 Rachel McAdams and Selma Blair.
Photo: Getty Images
In the wake of the Harvey Weinstein scandal, the L.A. Times published an exposé revealing that 38 women have come forward to accuse writer-director James Toback of sexual harassment. Since then, over 200 women, including Julianne Moore, have levied similar accusations at Toback, and now Rachel McAdams and Selma Blair are adding their voices to the chorus.
Both Blair and McAdams shared similar stories with Vanity Fair about being accosted by the director in his hotel room when they were called to read for a part in his 2001 film Harvard Man. These stories echo those of other accusers, mostly aspiring actresses whom Toback lured with the promise of career advancement, before probing them with humiliating personal questions and then dry-humping them or masturbating in front of them.
McAdams was 21 years old when she read for a role in Harvard Man. After her first audition, Toback insisted she meet him in his hotel room, where he told her that he had masturbated "countless times" that day thinking about her audition. He went into the bathroom and returned shortly after, saying: "I just jerked off in the bathroom thinking about you. Will you show me your pubic hair?" McAdams refused.
"Eventually, I just excused myself. I can't remember how long I was there. I felt like I was there forever. This has been such a source of shame for me — that I didn't have the wherewithal to get up and leave. I kept thinking, 'This is going to become normal any minute now. This is going to all make sense. This is all above board somehow.' Eventually I just realized that it wasn't."
After McAdams left, she called her agent, who told her that Toback had done something similar with another of her actresses. "That is when I got mad, because I felt like I was kind of thrown into the lion's den and given no warning that he was a predator," McAdams says. "This was something that he was known for doing already. I was so surprised to hear that."
Blair also recalls meeting with Toback to discuss a possible role in Harvard Man shortly after she had finished shooting Cruel Intentions. While initially scheduled to meet in a hotel restaurant, Blair was told Toback couldn't make it downstairs, so she reluctantly went up to his room to meet him. There, he asked her to take off her clothes and perform a monologue naked, despite the fact that the role was that of a lawyer in a court room. After Blair performed the monologue, Toback began rubbing his penis through his pants and asked if Blair would "fuck" him. When she said no, he refused to let her leave.
He said, "You have to do this for me," she recalls. "You cannot leave until I have release." "He said, 'It's O.K. I can come in my pants. I have to rub up against your leg. You have to pinch my nipples. And you have to look into my eyes.'" I thought, "Well, if I can get out of here without being raped … "




He walked me back to the bed. He sat me down. He got on his knees. And he continued to press so hard against my leg. He was greasy and I had to look into those big brown eyes. I tried to look away, but he would hold my face. So I was forced to look into his eyes. And I felt disgust and shame, and like nobody would ever think of me as being clean again after being this close to the devil. His energy was so sinister.
After the encounter was over, Toback told Blair a threatening story about a woman who "went against" him. "I have people who will pull up in a car, kidnap her, and throw her in the Hudson River with cement blocks on her feet," she recalls him saying.
While Blair initially shared her story with the L.A. Times on the condition she remain anonymous, she told Vanity Fair that she was motivated to attach her name to the story after more women came forward. "I still felt so powerless and scared," Blair said of her feelings this past week. "I want to bring as much awareness to this harassment as possible because I want Toback to be held accountable. When he called these women liars, and said he didn't recall meeting them and that the behavior alleged could not be attributed to him, I just felt rage and an obligation to speak publicly now."
Toback has denied all allegations.