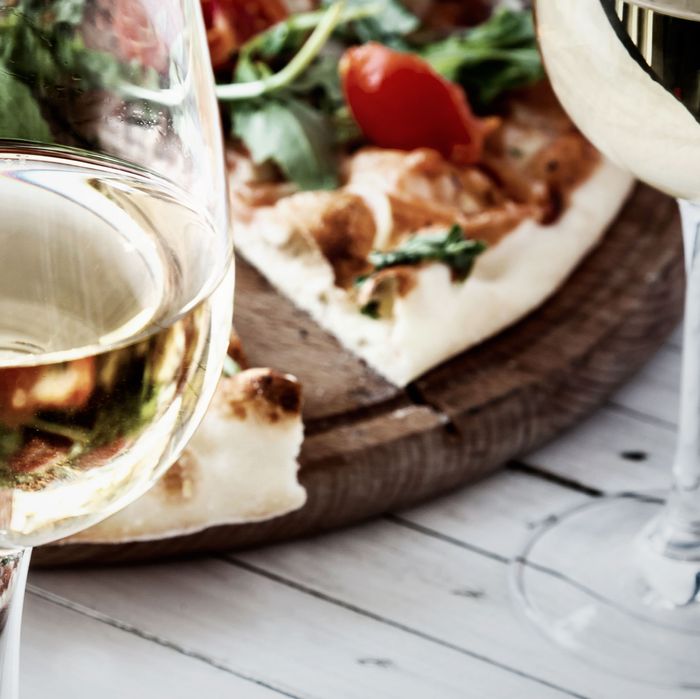 Get Sex Diaries delivered every week.
New York's Sex Diaries series asks anonymous city dwellers to record a week in their sex lives — with comic, tragic, often sexy, and always revealing results. This week, a 40-year-old professional who connects with a former "dirty dog" from college: female, straight, West Village.
DAY ONE
6:15 a.m. My alarm goes off. I have a big day ahead so no time to hit snooze. I'm going out with a set-up tonight. Everyone sets me up. I'm that girl.
8 a.m. I like getting to my desk early. I work in advertising and manage some big accounts — it's fun, but it means a lot of superficial B.S. all day. And a lot of drama. My counterpart is basically me but with a husband and kids. She's wonderful, but a small part of me dies every time I compare our lives. Dating is hard … though I know there are worse problems in life. I am not fighting a war. I am not an immigrant living in the world of Trump. I'm just single and a little lonely and exhausted by it all.
12:30 p.m. I run out for a blow-out. I'm not really a Dry Bar girl, but tonight's date is promising … I'm going to try my best.
6:30 p.m. My workday is coming to an end, which means I have an hour to get home, get showered, get dressed, and get to my date. He's a divorced guy with two kids; all that sounds cool. The bigger issue is that he used a lot of emoji in our texts. I already find him kind of annoying.
8:30 p.m. He is annoying. Nice guy, but don't like his personality. A whiny mama's boy from the Westchester area. No edge whatsoever. Stop talking about your mom.
9 p.m. I tell him I'm completely exhausted and go home after one and a half glasses of wine. This is my life.
DAY TWO
7 a.m. I sleep a little late because of the wine, and because I'm going to therapy instead of straight into the office.
9:30 a.m. Therapy was interesting. My therapist is big on "maybe the problem is you." I'm all for self-reflection, but I truly don't know what I can be doing better. I'm open-minded, I'm social, I'm not too shy to ask people if they know anyone. Being judgmental is bad, but isn't that what dating is? Aren't we there to feel each other out and "judge" the chemistry?  Everyone, including my shrink, says I'm too judge-y.
7 p.m. Work was nonstop. I'm really beat. On my way down to the subway, I help a blind person down the stairs. The connection and human touch feels nice. It just feels nice to be there for someone. That's what I miss. I'm 40 and have had three or four serious relationships. One guy moved to Asia; another did NOT want kids and it wasn't something I could get over; and the last guy and I kinda fell out of love and broke up amicably. I don't believe in that "he stole my best years" train of thought. Seems bitter and unproductive. Every relationship has its season.
8:30 p.m. Spin class.
10:30 p.m. Bedtime. I masturbate every few nights, just using my imagination and fingers, no tools, no websites. Usually my fantasies involve a beautiful black cock. Strange, because I've never been with a black man. I wish …
DAY THREE
6:15 a.m. I have another date tonight. This is a guy I dated about 20 years ago! His name is Gabriel. I can't even remember what happened with us back then. I think he was moving to L.A. or something and it just ended; we never had sex. We might have made out. Anyway, we went to college together and recently bumped into each other on the subway! I have no idea what he's been up to relationship-wise; all I could find on Google was that he works at a big tech company and seems to go hiking a lot. It looks like he had a girlfriend for a very long time, like ten years, but she no longer exists in his social-media presence. In my sick mind I wonder: Is she dead?
3 p.m. Work grind. One nice thing is my biggest clients sent me an expensive, monogramed handbag. It was out of the blue and I'm touched. I work really hard for them. And I love the bag!!
8 p.m. Gabriel suggested ABC Kitchen so we meet there. I love this place. I'm early. He texts a few times about taxi traffic. It's no problem — nice that he's concerned about wasting my time.
8:30 p.m. He is a half-hour late but seems to genuinely feel horrible. I'm fine with it!
9 p.m. I find out his ex is not dead. Just, dead to him. She was mean and cheated on him with an unemployed actor in his early 20s. They broke up two years ago and it fucked him up so much he's barely dated since. I appreciate his vulnerability but can't help but wonder just how fucked up he is.
10 p.m. He asks why I'm not married. I never know how to answer this in a way that doesn't make me sound pathetic. The answer I believe on the inside is that I just haven't gotten lucky that way yet. People in love are lucky. People who find their match are lucky as fuck. I'm just unlucky so far. Instead of all that, I tell him I'm busy and independent and not necessarily looking for the cookie-cutter life.
11:30 p.m. We're at a dive bar near the restaurant. The date is going well. We rehashed some college memories, including the few times we hung out. He also can't remember what happened but says he was a dirty dog back then. Yeah, I kind of remember that. The physical attraction is definitely there. I think he's hot. I like his style. And I like that we aren't complete strangers. Familiarity plus sex appeal is a nice combination.
12:30 a.m. As we wait for our Ubers, he kisses me. We are fairly drunk so of course it's amazing and hot.
1:30 a.m. I'm in bed feeling happy about the date, but I know better than to have any expectations whatsoever.
2 a.m. Gabriell texts, "Let's do all of that, especially the very last part, again soon." I turn my phone off and fall asleep with a smile on my face.
DAY FOUR
8 a.m. I slept late. Fuck it!
11 a.m. I stroll into work, pretending I had a client coffee. No one really watches my hours; it's easy to get away with anything. I am very deliberately not texting Gabriel. I dislike this game, but I feel it's crucial to play it. No one has more experience with the post-date text bullshit than me.
4 p.m. Like clockwork, I text him back. I can't help but be embarrassed for myself. It's so transparent. So transparent that he writes back, "Ah! Waited until 4pm. Nice move!" I smirk and go back to work. Busted!
9 p.m. I'm in my pajamas and in bed. Tired from last night. I text back, "If you know me so well, guess what I'm doing now?" He writes back right away some ridiculous but hilarious answers. I don't write back to the next five or six texts. Let him sweat it out.
10 p.m. I text him an "LOL" and turn off my phone. I'm asleep!
DAY FIVE
11:30 a.m. I have a coffee with another advertising exec slash friend. She is trying to recruit me. I like my job and don't feel like changing it. I'm not the tiger I once was. My relationship to work is comfortable and I need it to stay that way while I focus on my personal life. This is the year I want to meet "him," whoever he is. I really want kids even if it's stepkids. A new job would mean my full-time attention on something that isn't my priority right now. Nevertheless. I'm happy to have a free latte and gossip about the industry.
5 p.m. "Pizza at a BYOB tonight?" texts Gabriel. I can't say no to that. Not that I want to. I have no plans so I write back, "Where and when?" He always texts back quickly. Isn't he busy at work? It's messed up but his emotional and physical availability make me a little anxious. Maybe I'm just conditioned to assholes who never text back or feel too important to make an effort.
9 p.m. We're at a great spot in Brooklyn. Very cool. I'm loving the date. Gabriel looks good. I have my period so I didn't do the full hookup prep. I'm happy to make out with him again … which happens mid-pizza! He reaches across the table and pulls me in for a kiss. It's really lovely.
10:30 p.m. Gabriel invites me to see his place. I'd like to, but I don't feel like explaining that I have my period. Plus, I kind of believe in "don't mess with success" and it's been a really successful night out together. I tell him not tonight, but next time. I Uber it back to the city. Smiling, again.
DAY SIX
9 a.m. Weekend! I actually have a brunch date with someone I met a few months ago in London. He's in New York for a work trip so we made plans to eat at a trendy brunch spot he wanted to check out.
2 p.m. He looks great and I love the accent but I just don't feel the connection. I don't want to get started with a London player anyway. That's not going to help me get the things I want out of life. And then he suggests we split the bill! Bye, cheapskate. I miss Gabriel. Haven't heard from him all day.
5:30 p.m. I initiate the texting for once. "Hey you …"
10:00 p.m. He makes me wait five fucking hours before writing back! He texts that he's out on Long Island with his parents and nephews so I guess he wasn't on his phone. Maybe he wants to tease me a little. I feel a little uneasy about it. Is this when everything goes downhill?
10:30 p.m. I masterbate to Gabriel, just to try it out. He's an amazing kisser so I imagine he's great in bed. But you never know. In my fantasy, he goes down on me for a long, long time. He tells me he wants to eat my pussy until I'm dripping wet down his face. And then he comes up to fuck me with a big, strong cock. I think he does have a big cock … and I want to find out for sure!
DAY SEVEN
11 a.m. I'm doing a day spa today. Ahhh! The perks of being single and well-employed. I am thinking a lot about Gabriel and happy to zone out and check out of my dating life for a few hours.
4 p.m. When I resurface, there are two texts from Gabriel waiting. Of course, right? He wants to know about plans tonight. I'm psyched!! I ask if he wants to come over and order in. He jumps at that. He says he'll bring the wine — two bottles.
10 p.m. We had takeout sushi and great wine and … really awesome sex. It started on my couch, then my bed. He's amazing. I hope I was good. I'm not as sexually confident as I was when I worked out every day and had the body of a 20-something. I get shy naked. But I think he enjoyed it. We used condoms and it felt safe and right in every way. Before he left, he asked me out again. I'm feeling hopeful!
Get Sex Diaries delivered every week.
Want to submit a sex diary? Email sexdiaries@nymag.com and tell us a little about yourself.