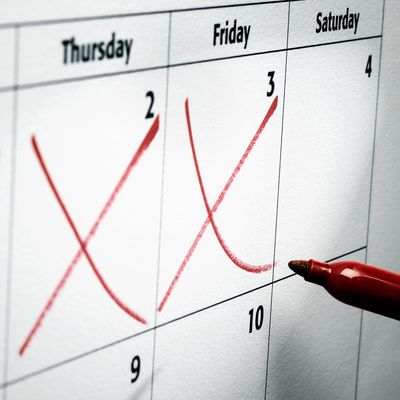 New York's Sex Diaries series asks anonymous city dwellers to record a week in their sex lives — with comic, tragic, often sexy, and always revealing results. This week a digital marketer in the medical marijuana field who has a threesome then watches Grey's Anatomy: 26, Female, Straight, Single, Los Angeles.
DAY ONE

11 a.m.  My gay friend Brandon texts me. He asks if I remember his friend Mark and whether I think he's cute. Understatement — Mark is gorgeous. I say yes, but what's the point? He's gay. Brandon shares that he's actually bisexual, with a bisexual ex-boyfriend who'd like to have a threesome with me. Well.
For most people, this would be an outrageous proposition. But Brandon knows I enjoy watching gay porn and have always said this type of threesome is the one of my dreams. Sure, I tell him. Pass along my number and let's get this going.
1 p.m. Work drags on. I can't think of anything besides Brandon's text.
3 p.m. Mark texts me. About 15 minutes into the conversation I tell him that I heard he wants what I want, and the date is set for this weekend. We make a plan to have a drink, just the two of us, tomorrow night after work.
4 p.m. I gush to all my friends, males included. They're jealous. They're encouraging. One tells me I'm insane.
Fact is, I am. When it comes to sex. I have never been in a relationship, meaning I've never been someone's girlfriend, never had a boyfriend. I've had many "long-term things" — non-monogamous situations that fucked me up on deeper levels than humanly possible. Like, how many trips can I take with a guy where we're intimate in the bedroom but don't even hold hands outside of it? I want nothing more right now than to be with someone.
6 p.m. My mother calls me from Florida to check in. I do not disclose the threesome to her but do tell her everything else about the fucked-up men in my life. She sighs and tells me my little sister is almost engaged.
DAY TWO

11 a.m. At work. I work at a distribution agency for medical marijuana and baby, business is a boomin'. I divulge my threesome plans to my partner and co-workers to shock them. They feel a blunt is necessary.

7 p.m. Mark and I meet up for a drink. I knew I'd want to sleep with him tonight.  Sure, he just dated a man for almost a year, but why can't we try it one-on-one?
9 p.m. He doesn't offer to pay. This isn't a date. I propose smoking at his place, and he's down.
11 p.m. Mark and I have smoked, we've talked about Game of Thrones for hours, and no move is being made.
11:02 p.m. I ask if the elephant in the room is that we both want to sleep with each other but no one's making the first move. He says yes. I say, "Then, your bedroom it is."
11:17 p.m. We're lying in bed, fully clothed and talking about Thrones again.
11:18 p.m. I grab him and start kissing him. Ol' reflexes kick in. He goes down on me. It's okay, nothing too crazy. I come. I see he's still soft, so I blow him. Nothing works. He tells me it's because we smoked. Uh-huh.
Midnight I leave and wonder if the threesome is going to work out. I have hope.
DAY THREE
9 a.m. I wake up to a nude photo from Mark. I send one back. He says he wants to start a group chat with us and Zach (his ex). I'm a little apprehensive because I've never met Zach and don't want to hype shit that can't be paid off. So I hold off on that for now.
12 p.m. We're doing a shoot today in the Hills for a marijuana chocolate bar. Women are lying by the pool, scantily clad and getting stoned. It seems like sex is always around me.
2 p.m. I have a date with James tonight, a guy I've been sleeping with for almost a year. I like him and want to be in a relationship, but he doesn't. His demanding, entertainment job and travel schedule is his crutch against monogamy, like every other guy in L.A. It's so exhausting.
Everything would just be easier if we were together … the masochism on my end doesn't help. He knows me now. He knows that no matter how many times he flakes, I'll always come around. Good dick is a prison.
8 p.m. At the bar, I don't tell James about my night with Mark or my impending threesome.
9:30 p.m. When we're at his place later, we're smoking on his balcony and hear a party going on next door. A wall separates the two balconies. I start to blow him while he smokes the blunt (a fetish of mine). He pulls me up, turns me around, and proceeds to fuck me against the wall.
10:15 p.m. I leave because he has a phone meeting soon with someone in Germany. I don't know the next time I'll see him, but such is our situation.
DAY FOUR

10 a.m. I've decided to start a "perfect week." My version of this consists of me sleeping with one or more guy every single day for an entire week. I have one day down already.
10:15 a.m. I'm stumped. I have a first date with someone I met online — Patrick — tomorrow, but who can I fuck tonight? I scroll through my phone. No one I'm currently fucking or speaking to can hang tonight. Fuck.
10:30 a.m. I stop on a name. Actually, it's not even a name anymore, it's a reminder. One of my exes has been reduced to "39 and Has Roommates" in my phone (his name is Josh). We haven't spoken in ten months because he's awful. But he ties me up and fucks me like no other.
11:45 a.m. I text him. He answers immediately, which is surprising since he's been ignoring me for months. I tell him to come over and tie me up so I can stop thinking for a minute. He says he'll be over after work.
12:15 p.m. I smoke a joint and think about this new sense of power I feel with my sexuality.
3 p.m. Work meeting consists of me sexting with James to pass the time.
6:30 p.m. I consider whether full-blown lingerie is overkill. It is. I settle on a sexy nightgown instead.
7 p.m. Josh comes over and pushes me up against the kitchen counter before I can even say hello. He turns me around and proceeds to go down on me from behind. I come. I always come with him in seconds. I tell him my room is waiting with all the necessary toys, handcuffs, and rope.
9 p.m. Josh leaves and I'm content with knowing I don't have to see him ever again. He has always served one sole purpose for me: good sex.
11 p.m. I can feel the bruises on my ass start to form.

DAY FIVE

8:45 a.m. I wake up and send nudes to Mark and James. This is how I feel about nudes: I wake up, I look good. I must share this with someone who can worship me. Simple as that. It's not for the recipient's pleasure — it's for me.
9 a.m. I'm on day three and I'm feeling the pressure more and more. What if I don't think Patrick is cute once we meet in real life? What if it just doesn't work out? What if I fuck up the perfect week?!
12 p.m. My co-workers are invested in the perfect week and have a pool going.
9:30 p.m. Patrick and I meet at the Comedy Store, where I don't disclose that I despise live stand-up more than anything. He's hot though and an actual catch. I take an edible and let it ride.
11:45 p.m. He asks me to come back to his hotel room, his temporary residence while he finds a new apartment. I'm down.
1 a.m. We finish a movie while cuddling. Nothing's happening. It's silence. And uncomfortable. I say, "Well, I should get going … " and he offers to walk me out. I am so bad at the first move, like extremely bad. The guy can have his hand on my knee and I'll still doubt his interest.
When we're at the door when I grab and kiss him. Fuck this. He asks me to stay. We fuck all night long and his dick is huge, bigger than anyone else's I'm sleeping with these days. When he asks me to spend the night, room service is on my mind.
DAY SIX
6 a.m. Patrick wakes me up with morning sex.
9 a.m. I'm smoking on the balcony and he comes out with the breakfast menu. I swoon at the human compassion. Welcome to 2017, kids.
11:45 a.m. I finally get home and am exhausted. Tonight's the threesome, but all I want is to sleep for a thousand years.
12:02 p.m. I want to commit carbocide and order a pizza, but I also want my body to be super tight for tonight. So I drink water and nap for six hours.
7:30 p.m. Driving over to Zach's. I'm nervous. Low-key, this is my dream: two bi guys and me. Pressure isn't on me, everyone gets fucked. I find gay porn so hot, so what could go wrong?
11:45 p.m. We meet at Zach's gorgeous home in Hollywood. First, we smoke, drink, and watch some TV. Then we get it going. It starts with me and Mark, kissing, while Zach kisses my neck and starts to jerk off Mark. While this is their first time fucking a girl together, MY pleasure seems to be their priority … not a bad thing. When they go down on me at the same time, I learn that Zach is a force to be reckoned with: His tongue is unreal. With him attacking my clit and Mark fingering me, I come for at least five to seven minutes straight. Unreal.
How on Earth will I ever go back to just one man at a time?
We part ways with warm wishes, hopes for doing this again in the near future, and an overall sense of accomplishment. High fives all around.
1 a.m. I lie in bed, thinking back on the night. Mark and Zach were in love once, probably still, and I witnessed many moments with them during the threesome. I want that feeling for myself. I want someone to choose me for once.
1:15 a.m. I start season two of Grey's Anatomy again because Meredith is totally relatable after she doesn't get chosen by her love either.

DAY SEVEN

10:30 a.m. I order an XL pizza for breakfast and invite some girlfriends over to smoke and relish. I put on the Sex and the City episode where Samantha almost has her own threesome with two men. Hers doesn't work out. I text the boys and say thank God it did for us.
1 p.m. I come to the conclusion that I don't think I can finish "the perfect week," but since the week went full circle — from when I got the initial threesome text to actually doing it — I've still accomplished something.
3 p.m. The boys text me to say how much fun they had and to request another threesome sometime, with bondage and toys. I tell them I'll think about it, because at the end of the day, I got a glimpse of the love I want. I still need to go out and find it.
Get Sex Diaries every week.
Want to submit a sex diary? Email sexdiaries@nymag.com and tell us a little about yourself.