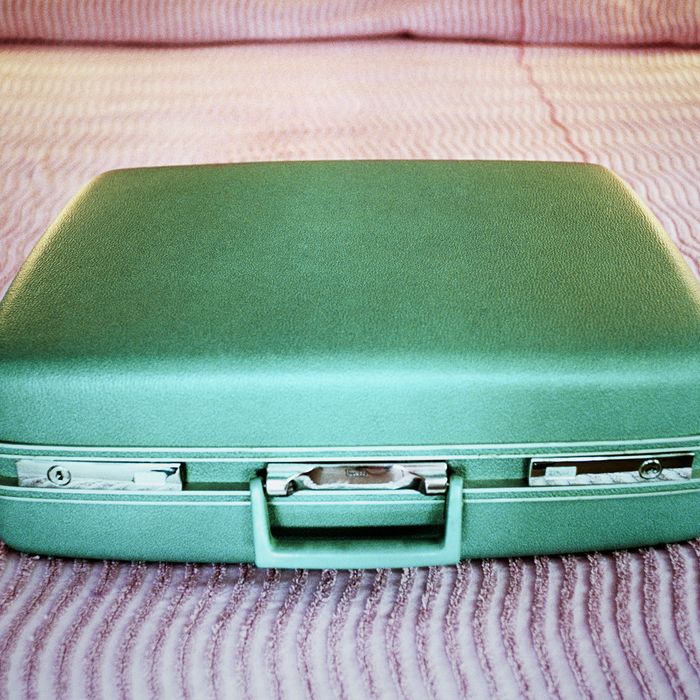 New York's Sex Diaries series asks anonymous city dwellers to record a week in their sex lives — with comic, tragic, often sexy, and always revealing results. This week, a mom who travels for her job as a legal sex worker: 35*, straight, single, New Jersey.
DAY ONE
11 a.m. I'm six days into my ten-day tour at a world-famous brothel in Nevada. Being a legal courtesan has been my chosen career for the past seven years.
Noon I wake up from a hazy dream of doorbells chiming, and realize that it's the real doorbell — I immediately pull on my robe and step into my fuzzy black slippers. I'm not on shift, but the doorbell ringing over and over signals to the girls who are that we have company and to line up to introduce themselves. I'm curious to see what's going on.
12:10 p.m. I step into the hallway right after the John has chosen my co-worker Lila. They walk past me arm-in-arm, making small talk on the way to her bedroom. I avoid eye contact with the John (it's considered rude to the chosen lady) and slip out to the back patio to smoke a cigarette and call C.T.
C.T. and I met back home in New Jersey, on a Tinder date. We ended up spending a few days together, having mind-blowing sex while I fell under the spell of his Oklahoma drawl and naughty humor. He's also intelligent, a gentleman, and I felt so comfortable with him the second day that I actually told him what I do for work. He was surprised but totally respectful, which is a change of pace.
After just two rings, C.T. picks up. I smoke and smile, listening to the sound of his sleepy drawl.
1:30 p.m. The doctor is in today, to do the weekly testing for all of the ladies. We're required to be tested every week for STDs and every trip for HIV/AIDS. Obviously, we have to test clean to be allowed to work.
It's my turn to go into the doctor's office and I'm up on the table, swabbed and poked in less than four minutes. It makes me a little angry sometimes that legal sex workers are given such a bad rap. I've been tested for STDs and practice more safe sex than any civilian I know. Hell, we even suck dicks with condoms on — it's legally required.
3:30 p.m. I'm putting on my makeup and choosing my outfit for the night. I've always loved this part of my routine; it makes me feel like an actress. It is a far cry from my look at home, where I'm a fresh-faced, messy-bun mom in my Patagonia fleece and hiking boots.
I get a text from S.O., who works for a pro baseball team, who I also met on a Tinder date. He asks me to send him a sexy pic, but I ignore him. S.O. was cool until I told him about my job. Then he started objectifying and idolizing me. Civilian guys almost always act like that when they find out you're a sex worker. It's endlessly annoying, and makes dating seriously hard. Maybe that's why I'm so enamored with C.T. … he texts me and I ignore his text too. I don't have time to respond and I have things to think about as far as he is concerned.
6 p.m. My phone buzzes; this time, it's my kids. I talk to my 8-year-old daughter and 11-year-old son, and they tell me about their day at school. I've been divorced for years; they spend two weeks with their dad and then two weeks with me.
I wonder sometimes what will happen as they get older and want more details about where I work or what I do. I suppose there's time to think about it — then again I've been saying that for the past seven years. I can't say that I worry about what they will think, though I do know for a fact that they'll love and respect me regardless of how unconventional my job is. The thought of a 9 to 5 makes me shudder. Seriously, I'd much rather orgasm (fake or not) than punch a time clock and push papers every day. Nope. Maybe a real-estate agent. I could never get bored with sales. I could talk the pants off of the pope.
Midnight I had a really pleasant night — easy client who was totally happy with relaxing in a bubble bath, mutual massage, pleased when it was time to have sex. I have a feeling that it was the companionship he craved more than anything. His wife had died of cancer a few years ago and he hadn't been with a woman since. He talked about her a great deal, and his eyes twinkled at me when I encouraged his stories.
DAY TWO
8 a.m. Haven't been to sleep and am feeling the familiar adrenaline that comes from having an unexpectedly great night and the loopy feeling of Champagne wearing off.
6 p.m. Dinner is ready and the gluten-free girls are bitching that there's nothing for them to eat — I remind them that dick is gluten-free and get a few laughs. Overall, this group is pretty easygoing; it feels like a sorority, not pussy prison. But no matter what, being away from home for two weeks and coming home with an extra five figures in my pocket makes it all worth it. I think most people would be surprised to know that most of the ladies with longevity and an established clientele in this industry own businesses in their private lives. It is very lucrative if you have a plan and save and invest wisely.
11:30 p.m. The ladies are all in the parlor shooting the shit. Slow nights make for good storytelling. We're talking about our strangest parties. One girl tells about an experience years ago where a John paid her $8,000 to have dinner with him. The catch is he wanted to eat his own feces and carry on a normal dinner conversation as if nothing were happening. She did it. I asked her what the John did for a living and she remembered that he was the dean of an Ivy League university.
DAY THREE
1:30 p.m. I slept in after a long, uneventful night shift. My co-worker Betty comes into my room with two cups of coffee and plops down on my bed to chat about her daughter getting into college. She wants to be a lawyer. College was 17 years ago for me, but I remember it vividly. I went to a small private college in the South and majored in communications and journalism. I thought I was going to be the next Barbara Walters. These days that dream seems watered down. The desire that resonates in me is to write a book, and I definitely have the material for one.
After college I married and had children. I was completely happy being a stay-at-home mother and housewife. After my marriage fell apart in my late 20s, I was deciding what I wanted to do careerwise and saw a rerun of the show Cat House and was intrigued by how free the working girls were, sexually and financially. That was the beginning of this chapter in my life.
11:30 p.m. I have a 28-year-old virgin on my bed. He's so nervous he's shaking. I tell him it's okay if he's not ready … but he insists that he wants me to take his virginity. And I do. It's funny how the nerves stop after their first orgasm. He wants to keep at it, but unfortunately his wallet has other ideas. He'll be back.
DAY FOUR
Noon Gabbing with the girls as I pack up my room. I leave the majority of my gear in storage at the ranch. I really have no need for minidresses at home. This time I tuck my ball gag and whip in my carry-on. This is the first time I've felt like exploring any aspect of BDSM in my private life. I feel comfortable enough with C.T. and the thought of what might happen gets me insta-wet. He's meeting me at the airport. My ex-husband is still scheduled to have the children a couple more days, so I'm completely free to enjoy this time with him.
4 p.m. The driver is waiting to take me to the airport. I give all the girls hugs and take a shot of tequila for the road with them. I'm really going to miss these ladies — it's rare to just be yourself around other people who truly understand what you do and how you feel.
11:30 p.m. I'm thoroughly sauced from the free drinks in first class and in a spectacular mood. C.T.'s driving with the top down and Hall and Oates are singing "Rich Girl." I let the tips of my fingers graze his hand and I sing along, off key.
Midnight We arrive at the Airbnb C.T.'s rented at my suggestion. I wouldn't want someone I'm just starting to date in my home, and I'd feel like we were on an unequal playing field going to his place all of the time. Airbnb is also more personal than a hotel — it doesn't feel cheap. Maybe I'm just neurotic?
Either way, this Airbnb is beautifully decorated, a modern condo overlooking the skyline. We're just lounging around, deep in conversation. I like that we talk about everything, no judgment. He laughs at my work stories and we drink Malbec. I'm perfectly content snuggled in the crook of his arm, falling asleep to his heartbeat.
DAY FIVE
10 a.m. I'm having a dream of lying at the side of a pool with my toes dipping in the warm water. My eyes are closed but I feel the warmth of the sun on my face and the water climbing up my legs tickling me. I open my eyes and the morning sun is peeking through the blinds and C.T.'s tongue is exploring me in such a delicious way. I could wake up like this every day.
2:30 p.m. We walk hand-in-hand to a boozy brunch. He's blond, tall, and skinny and wears cowboy boots. That's never been my type. Maybe my taste in men is changing as I get older.
DAY SIX
11:05 a.m. A cleaning lady walks in on us naked. We were up late exploring each other and bottles of wine, then overslept. She's embarrassed, but we're laughing our asses off. I catch a glimpse of my naked 35-year-old body in the mirror and grin wider. I've gotten softer over the years, and so much more comfortable in my skin.
3 p.m. Late lunch, long good-byes, and forehead kisses … I feel an unfamiliar ache in my chest after we part. I need to see him again soon.
6:15 p.m. My kitchen is full of delicious smells and little voices laughing and eager to tell me their adventures over the past two weeks. My heart feels full, and grateful. After dinner we start planning our next vacation, this time to a quaint beach town in North Carolina. I had a great work trip and have no problem splurging on making memories with my babies. In a way I'm glad that my ex-husband and I divorced when the children were so young. They're used to the separation and going between homes. The have no questions about where I go when I'm gone.
DAY SEVEN
8:15 a.m. Finished dropping the kids off at school and my phone dings with a Super Like on Tinder. I almost forgot I had the app.
I have no desire to swipe to see who Super Liked me, but I do think about calling C.T. I miss him. I never miss anyone. Since my divorce the thought of being in a serious relationship was never on my radar. I do have to admit I've been toying with the thought lately. I could definitely be in a committed relationship with C.T. But I do wonder how that would play out, since I'm not planning on retiring from sex work for another five years. I wouldn't want to be in an open relationship where he had freedom to have sex with other people. It's probably not fair, but that's how I feel.
10:45 p.m. I'm at home unpacking from my trip, and starting on laundry when I come across the ball gag and leather whip. I'd forgotten I'd brought it back with me … I snap a picture of both and send the text to C.T.. It's almost lunch time … want to play? C.T. responds with a wink and kiss emoji; he says he's busy putting out a million small fires at work, but asks if I'm available for dinner the next night at a new sushi place I've been wanting to try out. I agree and immediately start planning my outfit. I'm not sure where things are going with us, but I'm excited to find out.
*This has been updated to show the diarist's correct age.
Get Sex Diaries every week.
Want to submit a sex diary? Email sexdiaries@nymag.com and tell us a little about yourself.