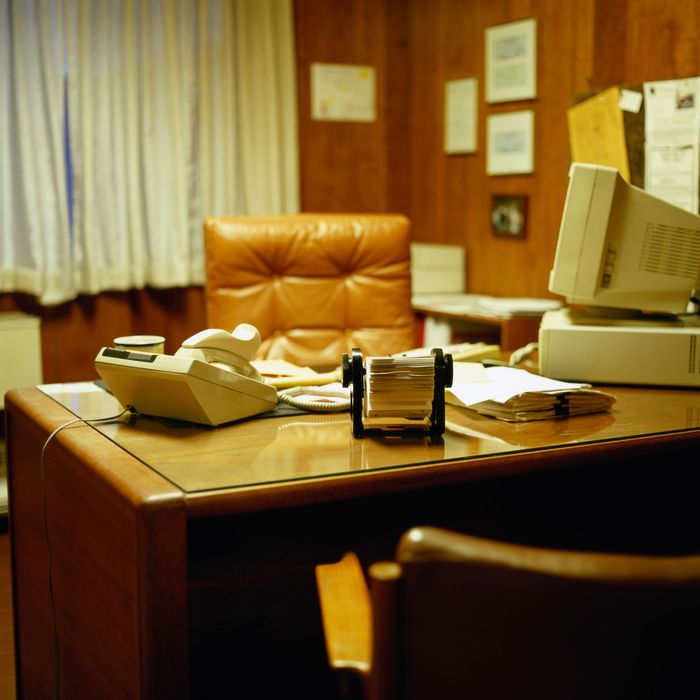 Photo: Ryan McVay/Getty Images
Over the last two weeks, women in nearly every industry — film, media, restaurants, academia, sports — have come forward with stories about sexual harassment. The Harvey Weinstein scandal has opened the floodgates, and women are seizing the moment to speak up.
Forty percent of American women say they have experienced unwanted sexual attention or coercion at work. Historically, few of them come forward, and even fewer of those who do keep their jobs. As one study baldly states, "Sexual harassment has been identified as one of the most damaging and ubiquitous barriers to career success and satisfaction for women."
The toll that sexual harassment takes on their jobs, their career paths, and their psyches — including their ambitions and dreams — is enormous. It can last for decades, shred their networks, and toss years of training and education in the trash, but it's one we rarely talk about. Over the last two weeks, I've spoken with a number of women across industries about what they've gone through professionally and mentally after experiencing sexual harassment.
For many, it changed the course of their professional lives forever. Meghan Tozer, for instance, had been training to be an opera singer since her early teens. In graduate school, one of the most influential music teachers there started making inappropriate comments about her body. The final straw was when he caressed her in front of her class. After she reported him, no official action was taken, but he knew about her complaint and Meghan's relationship with him was never the same. Meghan knew that success in the industry depended on mentorships and connections — and that a good relationship with her professor was critical. So she left the industry. "It was career-destroying," she said. "In opera, if you don't have relationships with the right people, you've wasted a decade of your life."
Mariann Wang, a lawyer at Cuti Hecker Wang LLP who has represented many harassment victims, says that her clients frequently feel they have to leave a job or are fired or pushed out by their employer after experiencing harassment. Whether they report an incident or not, "it's unusual when the person is able to stay," she said. For those who leave, figuring out how to explain their departure can be tricky.
Jessica Wakeman, a writer and editor, decided to leave her job after only six months rather than work with a supervisor who was frequently inappropriate. At a holiday party just months into her tenure, her boss drunkenly told her a joke with the punch line "Show me your titties, bitch." After hearing that his behavior was worse with her co-workers, she chose to leave instead of report him. She still worries it hurt her prospects. "It makes me think people are going to look at my résumé and think I left after six months because I fucked up," she said. "Is there a way to put some sort of asterisk like, 'I left because of the creepy boss who was making people uncomfortable'?"
Perhaps it's no wonder that jobs remain highly segregated by gender. When we talk about women "choosing" to stay in female-dominated fields, we should consider that women are trying to protect themselves. When we talk about women's career choices contributing to the gender pay gap, we have to think about how harassment contorts their options.
Monica* joined a large technology company at age 22, a place where she felt that she could "make the world a better place." But in her five years at the company, she experienced what she called "pervasive" sexual harassment. Moving up was competitive and required the sponsorship of superiors — who Monica says regularly made inappropriate comments about her body and clothes. These experiences eventually contributed to her decision to leave the company and the industry. She now works in the nonprofit sector. "At a certain point I felt, actually I'm too ambitious to be here," she said.
So technology lost yet another promising young woman to a different industry. One in ten women who leave tech jobs do so soon after experiencing unwanted sexual attention, something about half of women in the industry report enduring. It's one part of why big tech firms are still 70 percent male.
The psychological impact of harassment can also affect a woman as she moves into a new role. "The injury and the harm is not just the comments or even the groping," Wang said. "It's that the person who's doing it represents or embodies the corporation or the institution that surrounds you, not just your source of livelihood but the source of how you define yourself … how you're trying to succeed."
Katherine* got a job at a financial firm right out of college. But when she reported a boss's aggressive sexual harassment to the human-resources department, she says she was fired despite being just a year into a four-year contract. "It changed my life," she said. She started having panic attacks. "It took me years to be the person that I was before," she said. Katherine spent a year unemployed and eventually found a job in social work. "I'm getting by at $50,000 a year because I switched industries completely … I don't trust corporations or companies or HR departments because they treated me so horribly," she said.
Even a woman who wins an industry-changing lawsuit doesn't come out unscathed. Rena Weeks brought a high-profile complaint against the law firm Baker & McKenzie in the 1990s. ("More than two decades have passed since the verdict in the Weeks case, which involved the bad conduct of a single partner who was promptly dismissed from the Firm," a Baker & McKenzie spokesperson responded when asked for comment. "We do not tolerate harassment of any kind in the workplace and we have perhaps the most comprehensive code of business conduct of any law firm.")
After her suit first reached the courts, she said she turned to one of her attornies. "I said, 'Can I go out and look for a job now?'" she recalled. "And he goes, 'Who's going to want to hire you?'" It turned out that he was exactly right. "Blackballed in the marketplace totally, and in any other career I wanted or even thought to have," is how she described it. "Nobody's going to want to hire you, because you're a liability."
Weeks was eventually awarded $3.5 million over her allegations of sexual harassment, sparking widespread policy change at other firms. But she never worked again. "I haven't really wanted to," she said. "People are going to want to know, 'Well, what happened to you in this period of time when you weren't employed?'" She figured responding that she had sued her employer wouldn't go over well.
When harassment is so common, and the effects on victims so dramatic, is it any wonder that women continue to earn less and get blocked from the highest reaches of power? "It's just true that there are more things that women have to overcome in order to become successful," Wang said.
In what may be signaling a change in our tolerance for harassment at work, powerful men are now losing their jobs in the wake of rising numbers of allegations, including not just against Harvey Weinstein but also Roy Price at Amazon Studios, Roger Ailes, and Bill O'Reilly. But by the time men might suffer repercussions for the abuse they've inflicted, the damage has long been done.
*Names have been changed.