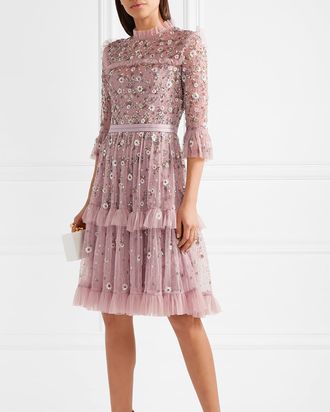 This year, during a pivotal moment of Eleven Madison Park's ritzy Kentucky Derby bash, just as a horse named Always Dreaming raced to victory, I sneezed. I felt a breeze, looked down, and realized my form-fitting 1950s prom dress had burst open, the 60-something-year-old zipper busted. I was half-naked in the "Best Restaurant in the World." After a decade of wearing delicate vintage dresses, I realized it was time to invest in some new pieces that would actually last.
The tricky thing, though, is that intricate sequins, beading, and floral motifs are now often done cheaply, or in way that's prohibitively expensive (see: this Valentino number on the cover of New York's weddings issue). That's why I was so happy to come across the British brand Needle & Thread — and specifically, this lilac tiered tulle dress that I'm now coveting. What Self-Portrait does for lace, Needle & Thread does for embroidery and other embellishments. Almost all of the collection is under $500, but it looks far more luxurious.
The flared, three-quarter sleeves and knee length make this a fun party dress, but I can also imagine wearing it to, say, a royal wedding. (Little does Meghan Markle know, but we share a favorite college bar, The Keg, so obviously this makes us destined to be friends.) Most importantly, this Needle & Thread dress is structurally sound and strikes the perfect balance between glitzy and elegant — what I've always looked for while sifting through dusty, disintegrating pieces in a vintage shop.
If you buy something through our links, New York may earn an affiliate commission.