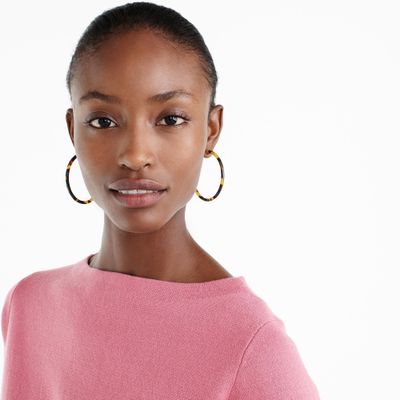 Still on the hunt for some new fall clothes that don't cost a fortune? Well if you're in the mood to shop here's your chance to get first crack at J.Crew's latest arrivals which don't technically launch until tomorrow. Their latest batch of clothes and accessories are filled with affordable stuff you'll want to wear right now. From dangly earrings that won't cause pain, to a cozy, snuggly coat, our favorite picks are all $200 or less. Scroll ahead to check them out.
The Summer Trend You Can Still Wear
Light on Your Ears, Heavy on Drama
We definitely have a thing for cool earrings that can rectify any bad hair day or sad fashion situation.
A simple sweater in a bright color that's extra soft and cozy.
With an insulated lining and quilted sleeves, it has more weight than your average jean jacket.
The Coat That's Made for Instagram
Hefty coats like this usually cost hundreds of dollars, yet this super fluffy and warm one is somehow only $178.
If you buy something through our links, New York may earn an affiliate commission.