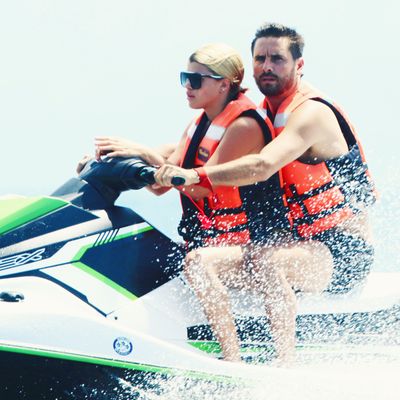 Sofia Richie and Scott Disick on a jet ski, which is dangerous.
Photo: Clasos.com.mx / Splash News/Clasos.com.mx / Splash News
Lionel Richie's 19-year-old daughter Sofia is currently dating Kourtney Kardashian's 34-year-old baby daddy Scott Disick, and no one on Earth is happy about it, least of all Lionel Richie. The legendary singer and newly minted American Idol judge told Us Weekly Wednesday that he is "scared to death" about the situation.
"Have I been in shock?! I'm the dad, come on," Richie told a reporter at the American Idol auditions in New York. "I'm scared to death, are you kidding me?"
This is an understandable sentiment, though Richie may have better luck reaching his daughter outside of the pages of Us Weekly. Either way, Sofia seems happy with Disick. The couple vacationed last weekend at the Girls Gone Wild mansion in Puerto Vallarta, and they became "Instagram official" in Miami two weeks ago, where they made out in public and with wild abandon.
According to Us Weekly, Kourtney Kardashian finds Disick and Richie's relationship "a little weird." According to E! News, Disick "takes care" of Richie, which is what "she loves." According to me, Aahh!