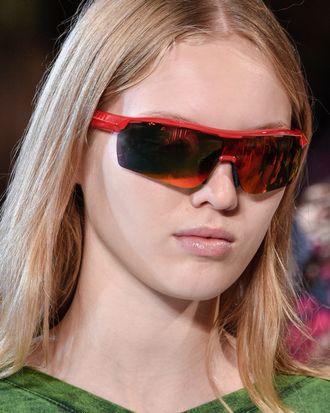 Stella McCartney spring 2018.
Photo: Peter White/Getty Images
In yet another sign that gorpcore will soon hit the mainstream consciousness, Stella McCartney showed various shades of tinted athletic sunglasses for her spring 2018 show at Paris Fashion Week, which she paired with everything from acid-wash T-shirts to elegant eveningwear.
The glasses looks like the kind of Oakleys that are popular among professional cyclists (and lax bros). These are no platform Fashion Crocs, which showed at Balenciaga yesterday, but they're certainly part of the trend to make everyday accessories look luxe.
Biking apparel is also having a moment, as we saw earlier this summer with Alexander Wang and Adidas's cyclist-themed collection. Various iterations of bike shorts walked the runway this season as well, including a pair inspired by Princess Diana's workout gear by Off-White.
So wear your high-fashion Oakleys to SoulCycle, for an actual ride around the park, or even to a black-tie affair.