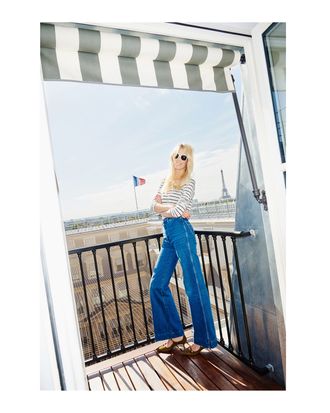 Claudia Schiffer.
Photo: Courtesy of Claudia Schiffer
By now, many of us know German supermodel Claudia Schiffer's story: discovered in a Düsseldorf disco in 1987, she went on to define the look of fashion in the '90s, appearing on over 1,000 magazine covers, countless editorials, and innumerable ad campaigns. Schiffer says her 1989 Guess Jeans campaign was the one that thrust her into the spotlight. "The campaign was out in all the magazines, and one morning in New York I had no makeup on, and was wearing just an oversize sweatshirt and jeans," she remembers. "And the elevator opens and someone said 'Is that Claudia Schiffer?' That moment was surreal."
Constant bookings followed, and Schiffer spent a decade-plus in transit from job to glamorous job. "Jet lag was a constant part of my life," she remembers. "I was sleeping wherever I could in between shoots: On the plane, on the makeup chair while getting my makeup done, on the floor of the trailers in between photos … "
Schiffer has come a long way from snoozing in the makeup chair (she now has a makeup line of her own), and this year, she's celebrating her 30-years-and-counting in fashion in appropriately high style. In September, she released a coffee-table book of her oeuvre, Claudia Schiffer, with Rizzoli. She also reunited with her supermodel pack (Naomi, Cindy, et al) to walk the Versace show as an homage to the late designer Gianni 20 years after his death. It was the first time Schiffer had graced a runway in 15 years, and perhaps the highlight of fashion month.
On the heels of her book release, Schiffer launched a footwear collaboration with industry-favorite shoe brand Aquazzura. "We met at a dinner in London," Schiffer says of the brand's designer, Edgardo Osorio, "and we just had a great synergy when we talked about fashion and shoes in particular — so the collaboration was born almost immediately. There was a really easy understanding between us," she explains.
Below, the supermodel explains the art of no-makeup makeup, guilty pleasures, and what you'll never see her wearing on a plane. Read on for the full Q&A.
How do you thank people for a gift?
A handwritten note on my personalized Smythson notepaper.
Color or no color on your nails?
Always a bright color — for me it's like wearing another fashion accessory even if I'm just in a T-shirt and jeans. At the moment I'm wearing the Kingsman scarlet or the orangey-red Popsicle shade from my own range.
Mood lighting or natural light?
Mood.
Five coffee-table books you'd be proud to display?
David Hockney, Louise Bourgeois, Ed Ruscha, Versace and my new book looking back over my 30-year career, Claudia Schiffer by Rizzoli.
Heels or flats? 
Flat fringed boots for day and a high heel buckled bootie for night, both from my collection with Aquazzura.
What would you never wear?
Anything impractical or itchy. In-flight pajamas.
What trend do you like right now?
A mixture of '70s and '80s. Slouchy suede boots and oversize sweatshirts.
Favorite song on your playlist right now?
Music from Kingsman: The Golden Circle [Schiffer's husband's film, which she co-executive produced].
If you were a car, what kind of car would you be? 
A vintage Mercedes: German and fast.
No makeup makeup, or actually no makeup?
No-makeup makeup. The five-minute beauty look from my range looks like me without makeup but better, so why wear none? I just add a touch of bronzer, curl my lashes, add some lip and cheek tint to get that "just ran around the block" flushed look and a pair of sunglasses, and I'm ready.
Go-to stylist/colorist?
I use my personal shade 10-1 from my Blonde Ultime range I developed with Schwarzkopf. Sebastien Bascle styles my hair for the red carpet.
What's another decade you'd like to live in and why? 
The '70s. I was born then but was too young to really enjoy the style.
My mother and her friends looked so cool in their high-waisted jeans and blue eyeshadow, and my style now is very influenced by those memories. And the '80s any day …
What's the secret to throwing a good party? 
Good friends, excellent food and wine, fun games, and my homemade passion fruit martinis.
What's one way your taste has changed since you were a teen and one way it's stayed the same?
Everything I wore in the '80s was oversize, including tops. I also tried out dozens of clothes in front of the mirror, whereas now I know what I like to wear.
What's your guilty pleasure?
At the moment it's fresh bread and butter, chocolate, passion fruit martinis, Château Léoube rosé from Daylesford, and Sassicaia red wine with cheese.
What are your favorite accounts to follow on Instagram? 
Barbie Style, Angelica Hicks, Architectural Digest, and Vogue.
Last show you binge-watched? 
Modern Family.
What's your favorite pair of jeans?
MiH, Mother, and Frame.
T-shirt?
The soft cotton scoop neck T-shirts from Isabel Marant.
Flower?
Peonies.
Chocolate?
Booja-Booja dairy-free organic chocolate.
Perfume? 
Agent Provocateur in the pink enamel bottle.
Sheets/bedding?
The White House, Hermès, Caravan and Johnstons of Elgin bed blankets.
Lip balm?
The lip balm from my own range, Claudia Schiffer Makeup.
If you buy something through our links, New York may earn an affiliate commission.