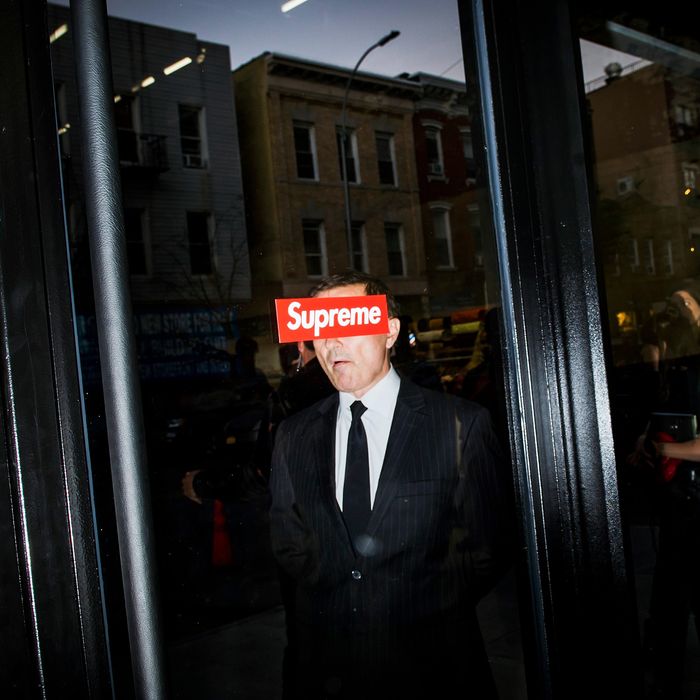 A scene from the Supreme Williamsburg opening.
Photo: Dina Litovsky.
At the Supreme store opening in Williamsburg on Wednesday, longtime friends and fans gathered for what brand director Angelo Baque described as a "family reunion," toasting how far the brand had come, and how big its original community had grown. But by Friday, founder James Jebbia announced perhaps the company's biggest move yet, far beyond Brooklyn or Paris: Supreme is ready to do business outside la famiglia, and has sold a stake in the company to private equity firm The Carlyle Group.
"We're a growing brand, and to sustain that growth we've chosen to work with Carlyle, who has the operational expertise needed to keep us on the steady path we've been on since 1994," Jebbia told Business of Fashion. "Working with Carlyle allows us to concentrate on doing what we do best and remain in control of our brand, as we always have."
It's a big moment for Supreme, but also streetwear in general, as this is the first deal of its kind. But the question remains if Supreme can stay true to its roots while simultaneously growing into a behemoth operation.
Business of Fashion suggests that Carlyle could grow Supreme and then sell it "within three to five years" to a conglomerate like LVMH. This would make sense given that LVMH owns Louis Vuitton, which Supreme collaborated with this year.
Supreme could also pivot to initial public offering; the ultimate cop.