Supreme's Family Tree Grows in Brooklyn
In fair Williamsburg, we lay our scene, at the grand opening of the Supreme store in Brooklyn, where there is not a single fuckboy in sight.
Instead, there are an abundance of clean-shaven men sipping Budweiser with one hand and cradling small children with the other. These men smell nice, like loyalty. They don't look around the room, sizing people up. They don't even want to shop; they're more interested in the built-in skate bowl in the back. To call them fuckdads feels dirty; wrong. This is a classy event, like parent/teacher conference night at the coolest public school in the entire world, where somehow no one has graduated, yet everyone has grown up.
It's been 23 years since James Jebbia opened a small skate shop called Supreme on Lafayette Street in Soho, and a lot has changed. The brand now has stores in Los Angeles, Paris, London, and Tokyo; a luxury collaboration with Louis Vuitton; branded MetroCards; and a quantifiable Instagram fan base that reaches beyond seven million. Barricades are now a fixture of its storefronts, and the teenage, star-crossed Supreme lovers corralled within them now have their own fraught nickname.
But judging by the crowd on Wednesday night, nothing has changed. Sure, to get in guests had to pass through iPads and velvet ropes, but the Supreme family is still the same group of people, wearing the same white T-shirts, skating on the same team. (Original members of the Supreme team including Mark Gonzales, Eric Koston, and Alex Olson were all present.) The only difference is that the kids of Kids now have kids of their own. They, too, probably moved from Manhattan to Brooklyn for "more space." They've got jobs, health insurance, and manifest their disposable income in Supreme shirts for toddlers. The brand raised them well. So, the store opening in Brooklyn was less like a ribbon-cutting and more a welcome-home party.

"It's a total family affair tonight," said Angelo Baque, Supreme's brand director who wore a Playboy cardigan and a bucket hat. "It feels like a reunion. It's new New York and old New York coming together. New skate; old skate. It's like the cycle of life, but through skateboarding."
"I met these guys in '94 or '95, when I first moved to the city," said Samira Nasr, now the fashion director at Elle magazine who brought her son to the opening. "They kind of are my extended family, actually. Gio, who runs the store on Lafayette, is a really close friend of mine. His son is my godson. I've watched all of these guys grow up."
"My husband was the first employee," echoed Nasr's friend, Karen, who also brought her children along. "I met him three months before it opened. We've been together exactly as long as this store; 1994 was a good year!"
In addition to longtime friends and family, newer, more A-list additions to the team were in attendance as well, like Petra Collins, Heron Preston, and professional athletes Victor Cruz and Amar'e Stoudemire. Of course, James Jebbia, the godfather himself was also there to preside over the family affair.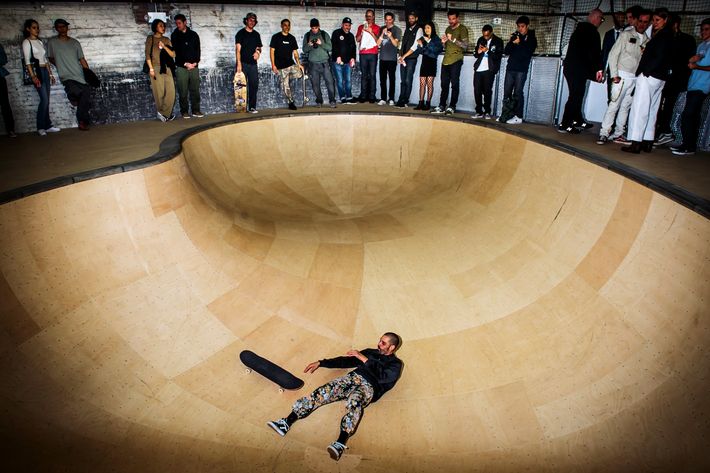 Having so many original Supreme forebears under one roof again painted a picture not only of how far the brand's come, but also New York skater fashion as a worldwide aesthetic and point of view. The roots may remain the same, but it's grown into something so big — so ubiquitous — that even New York might not be able to call it it's own anymore.
"When I went to the shop for the first time before it opened, it was like something I'd never seen before," said Peter Bici, one of the original Supreme team skaters. "It was clean and high-end. It was different; it was new; no one had it."
As Bici said this, his son, who wore a mini-me Supreme shirt, balanced on a skateboard as tall as himself the middle of the store. Meanwhile, his five-year-old daughter sat on his hip wearing a fringe faux-leather jacket and leopard-print leggings — an outfit I couldn't pull off in my wildest dreams. When I asked her if she liked Supreme, she said yes without hesitation.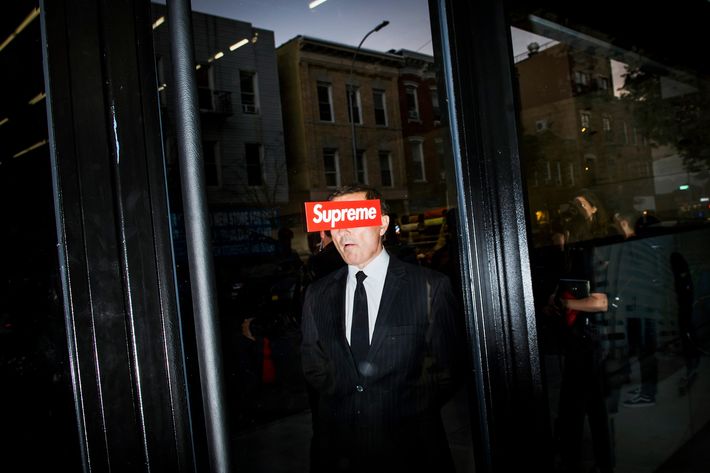 "What I like to say is: Supreme is bigger today than it was yesterday," Bici added. "Tomorrow, it will be the same thing."
Sure enough, when the cops arrived at around 9 p.m., the crowd from the store had overflowed into the street, but the scene was still cool, calm, and collected. "We need you to move onto the sidewalk," said one officer. Sure, no problem at all; we're not here to make trouble.
Inside, however, standing around the rim of the bowl, the next generation was being given a gentle shove off the edge.