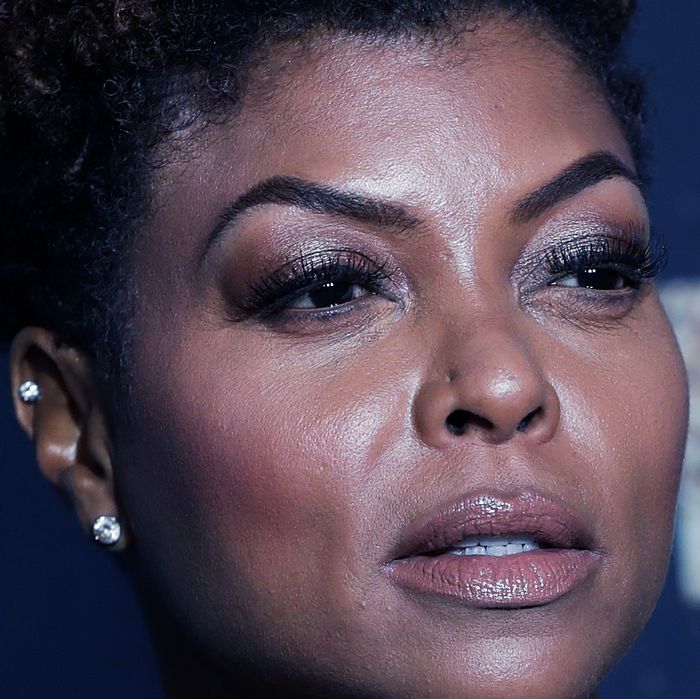 Taraji P. Henson.
Photo: John Lamparski/Getty Images
Taraji P. Henson is on top of the world right now. In the past two years, the 47-year-old has starred as the mathematician Katherine Goble Johnson in the Academy Award-winning film Hidden Figures, as the inimitable Cookie Lyons in Empire (which just entered its fourth season,) written an autobiography titled Around the Way Girl, and she is currently set to star in four films coming out in 2018. But the road to the top hasn't been without significant obstacles. In an interview with Access Hollywood's Natalie Morales at Marie Claire's Power Trip in San Francisco on Monday, Henson discussed her career, and the challenges she's faced as a single mother and a woman of color in Hollywood.
On being a single mom:
It wasn't easy being a single mother in Hollywood, but I guess the one thing it did do to me is it kept me focused. I heard a lot about people going out to network. 'Oh, you gotta go network!' Well, network where? 'Well, they're having this party etc.' To me, no business is getting done with people drinking. I just knew that. I just thought, that sounds like a party, I'll wait. Being a single mother, I was broke, I couldn't afford a babysitter, so I couldn't do that kind of networking. But what I could do is audition. I could go in and I could make those words pop off the page. That was the way I networked.
On being an artist:
I love obstacles. Call me crazy, but I love the word 'no.' I love when people doubt me. That just adds fuel to the fire. I mean, I became an artist because I felt that was going to be my calling. But I didn't want to just be another artist. I didn't want to just be another actress. I want to do important work. I want to do work that changes lives, impacts lives, because that's what art is supposed to do.
On the challenges of being a woman of color in Hollywood:
I didn't sit and wallow in the mud. I mean, you know it's a struggle. Life is a struggle. And no one wants to hear how easy you had it – that's not gonna change a lot. So, I understand that. I understand that life is spiritual warfare. Every day you get up, you're fighting your own demons, and you gotta go out to the world and fight demons. I get that. And I guess, once I realized it would be harder for me, I just decided to do the work. I decided not to complain about how hard it is. I know I'm a woman of color, and I'm in Hollywood, and they say it's a man-made world, and all the stuff they tell us. And I say okay, well what can I do to change this? How can I change this? I may not be able to change the world in my life, but at least the little steps I'm making will make it easier for the women coming up behind me. I fight for my pay. Once upon a time they didn't pay me, now you gotta pay me.
On getting paid:
Now I'm proven to be valuable. I will fight. I don't care if it's $5 more, you will pay me what I'm worth. Because you know why? If I do that, the next woman who comes behind me will have a higher quote, or she will be taken seriously. But if I shut up and go "Oh, okay, well that's all you're going to pay me," then how am I helping my next sister coming up behind me?
On power:
I guess power for me is 'no.' No is very powerful. Because if you're always available – and this goes for relationships, too, just keep saying no. That's when you know your worth, when you know your value. And that's power for me. I'm quick to say no. How much they paying? Nope. And guess what? The phone rings. And guess what? They call me with more money.