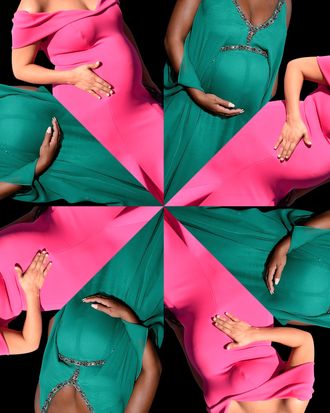 Do you feel that we are in the middle of a celebrity baby boom? I do. Serena Williams just had a baby. Mindy is pregnant. Kylie is pregnant. Khloé might be pregnant? Beyoncé and Amal both just had twins! What a wonderful time to be alive if you like babies more than dogs.
One thing that is good about this recent profusion of celebrity children is that there has been a lot of celebrity pregnancy advice recently. I am very glad of it. Being pregnant is so confusing. What do you eat? How much do you vomit? Is that a new skin tag or an old eyelid? Only a celebrity would know the answer.
This is especially relevant to me, because I'm actually pregnant now — with twins! Thomas Mario and Sidney Aptekar.  Those are their names! And you thought I wouldn't do it.
The cool thing about celebrities is that they all look so great pregnant, as if they just suddenly decided to stuff soccer balls under their shirts for mere variety's sake. If I am going to be the mother that Sidney Aptekar and Thomas Mario deserve — I need to up my game. The entire first trimester, I was so sick, I spent most of my time reenacting a terrible trip I took in an overnight tanker to the Bay of Fundy to see the lowest tide in the world (not worth it! If you are thinking of doing it). In the second trimester, I thought it would be a good idea to eat pecan praline every night because of calcium. As a result, Thomas Mario is incredibly disappointed in my pregnancy fashion, beauty routine, and diet. And so am I! It's not just him.
Luckily, just by Googling the words "pregnancy" and "celebrity," you have access to a plethora of results — mostly about relaxing and going with the flow and taking time for yourself and becoming one with your body when you were two with it before. But there are also concrete tips to take under advisement.
"Time (and convenience) is of the essence when you're pregnant or a new mother. So I love multipurpose products … To style my hair, I use John Masters Organic's sea salt spray to make me look like I just came from the beach, even if I haven't left the house."
— Jessica Alba
Here is something I have wondered for years: Why does everyone like looking as if they just went to the beach? When I am leaving the beach, I have never looked worse. My hair is matted to my forehead in clumps, I smell like a hot dog, and my swimsuit seams to have created interesting dents all over my body. But a lot of people (in California) seem to think this is a really good and "natural" look. So, I suppose I will bend to their whims.
After taking a long shower, I decide to put sea salt spray into my hair, braid it, and go to bed. Apparently, this is an easy way to get your hair to have "beachy waves," according to knowledgeable blogs on the subject. When I wake up the next day, my hair is not dry. I go to work with sopping-wet braids that drip helpfully into my blouse all day. My hair never dries at work. I go home and put more sea salt spray in my hair. Then I go to sleep again.
The next morning, I awaken to mostly dry and completely straight hair with no beach waves in it. Occasionally, I spot a massive knot that I have to cut out with scissors. My flyaways, however, seem to love salt. They are extremely curly, like Felicity Merriman's, the colonial American Girl doll. Perhaps an 18th-century hairstyle is particularly fetching for pregnancy — I have no idea.
"[Kate Middleton] has reportedly been using Trilogy's all-natural rosehip oil (the product contains essential fatty acids and is said to reduce signs of aging and dark spots) to keep her skin fresh and supple, which is all the more necessary since Kate has given up her weekly St. Tropez spray tanning indulgence."
My skin has always been the texture of Silly Putty. I can't tell whether this is good or bad during pregnancy. Will it stretch, or will it pick up outlines from a newspaper? So I was curious to see whether rose-hip oil would help things go in a positive direction. Maybe I wouldn't get stretch marks if I used it. Plus I have long worried that I don't smell of roses.
It was then a big shock when rose-hip oil smelled the way it smelled. You would think rose-hip oil would smell beautiful, or at least floral, but instead it smells really disgusting, like petroleum jelly mixed with jet fuel.  It made my skin shiny and slightly damp. My husband, who had a cold at the time, immediately smelled it even though he was busy watching Law & Order on our bed.
"What's that smell?" he asked me, as I sat down beside him.
"It's NOT me," I said. Then I took a shower and even missed who was the murderer!
"Kristin Cavallari has come a long way from the party girl she portrayed on MTV's Laguna Beach … Here, Kristin tells us what she eats to stay healthy as a soon-to-be mother of two."
There are so many food rules when one is pregnant. Stop eating pâté! Don't take Motrin like candy. Sprouts have bugs in them! Most days you spend hours Googling whether that tin of sardines in your pantry is okay to eat. (It's only sort of okay.)
Wouldn't it be nice if there was just a set menu detailing what you should eat every day? Now there is! Kristin Cavallari recently described her daily pregnancy diet to a magazine I have never heard of called Fit Pregnancy.
Personally, I have always liked Kristin Cavallari and admired her realpolitik-yet-somewhat-revolutionary attitude toward today's society. Remember how she was always telling Jessica to be slightly less pathetic with Jason, but Jessica literally could not under any circumstances do it?
Is this feminism? Yes! How will this translate to pregnancy advice? Amazingly!
Kristin told Fit Pregnancy that she is an " incredibly healthy eater in general" which helps her have a perfectly calibrated pregnancy diet. But because, aside from some scientific experiments, I am not an incredibly healthy eater in general, and I wonder if I will find Kristin's mean plan easy to stick to. Will it be so healthy that I will be starved? Instead I was pleasantly surprised. Her meal plan is both easy and rebellious!
I started the day with porridge at Kristin's recommendation. Sidney Aptekar and Thomas Mario both hated it, but they have been eating ice cream this whole time, so porridge is a very big change for them. Then, with the kind of insouciant flouting of power structures that made Kristin so famous on Laguna Beach, I had a turkey sandwich for lunch. Maybe you don't get what a big deal this is, but deli meats are usually off-limits to the pregnant! Google it, okay? People really freak out about this! But Kristin has a clever work-around. ""You can't eat deli meat when you're pregnant unless you zap it in the microwave. So I just zap the heck out of turkey almost every day." I do this, and although warm turkey is not that good —it's also not that bad!
Finally, for dinner, Kristin demands that you have eggplant Parmesan, which, I don't know if you guys know this, has mozzarella cheese on it —which sometimes is not pasteurized!!! And yet she doesn't even care. What a cool attitude. I decided I do too much Googling.
Tip Four: Cranial Sacral Therapy
"Don't massage your lower back … Try cranial sacral therapy. Skilled therapists know how to detect and release any blockages in membranes and fluid that surround the brain and spinal cord. These treatments allow the cerebrospinal fluid to flow freely, nourishing not only your brain and nervous system, but that of your baby as well." – Goop
My back kills. I think it is from Sidney Aptekar kicking me, but I don't know. All I want is a massage from a qualified professional, but apparently this would be bad for me, according to the bible, goop.com. Apparently there are "nerves" on your back. Aren't there nerves on your whole body? But the bible never explains and the faithful never complain. I am therefore going to try cranial sacral therapy.
What is cranial sacral therapy? I still don't really know. I went to the office of a cranial sacral therapist in the Flatiron district to find out. The woman was very nice. First she put essential oils all over my face. Then she told me to sit on a chair while she lightly put her hands on my head. It felt like a feather duster, sweeping my head for mites.
"I am feeling a lot of blockages," she said.
"Oh," I said. In my head?
Then she directed me to lie on a bed, which I did. There, she continued to put her hands on my head. I might have fallen asleep for a moment. Soon, it was done and I felt calmer and lighter, like Dr. Mesmer had hypnotized me. But I don't really know how or why. Maybe she cleared by blockages? My back still hurts.
"[Drew Barrymore] became a yoga devotee when pregnant with her first child, Olive, in 2012. Barrymore was concerned with her prenatal health and wanted to balance out her regular carb-heavy cravings."
I have to say — exercise is not something I have loved as a pregnant woman. My back hurts, despite all of the cranial sacral therapy I have been doing; my legs have swelled to the size and rough shape of stone buttresses in a medieval castle; and Sidney Aptekar hates exercise on principle. However, many celebrities, including Drew Barrymore, swear by prenatal yoga and so eventually I find myself at an underground studio taking a class, surrounded by other pregnants.
To my surprise, however, prenatal yoga is really not that bad. It's way easier than the regular yoga I have done intermittently through the years. The class starts with everyone lying on a block for ten minutes. Then you get on your hands and knees and kind of sway around a little? Then you do one lunge. Then you do pigeon pose. Then you rest on the block again and fall asleep. That's it. You don't even need to wear exercise clothes. You could easily wear your favorite pajamas. I wish you could do prenatal yoga when you aren't pregnant. Then I would actually like exercise.
In any case, it was just as I suspected. Celebrities are incredible at pregnancy advice. They just want you to eat deli meats and not get a massage even when your back really hurts. Thomas Mario and Sidney Aptekar are already feeling more empowered. Who cares about the dubious efficacy of this advice? Celebrities are a light in the wilderness.