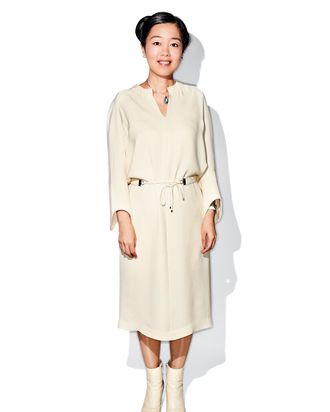 "I've been wearing only off-white and white since 1998."
Photo: Bobby Doherty/New York Magazine
Mariko Mori, Artist
What are you currently inspired by?
Lots of things: human evolution, mythology, and astrophysics. How humankind began, that's the focus of my work right now.
Do you often dress in monochrome?
I've been wearing only off-white and white since 1998. Before that, I had pink and blue and black periods.
Why white?
It is the color that's most like light. And in some ways it's a wish: a wish to let go and be blank, to let go of your ego instead of representing yourself as something. I'm still working on that, which is why I still wear white after so many years.
You have to be careful of not spilling on yourself.
People have spilled red wine on me a few times, but I have a very trusty cleaner in Tokyo who I send stuff to. So many people wear black in the art world, but when you do an installation or construction work, you usually see the dust on black clothing. With white, that doesn't happen. All the dust is kind of white, so I never get dirty.
Lightning Round
Age: 50.
Lives: In London. "But I have a studio in New York."
Favorite restaurant: "In New York, Kanoyama and Kajitsu, and in London, Umu."
Favorite TV show: "I got rid of my TV in 1996."
Currently reading: Dieu d'eau, by Marcel Griaule, and Muntu: An Outline of the New African Culture, by Janheinz Jahn. 
*This article appears in the October 30, 2017, issue of New York Magazine.