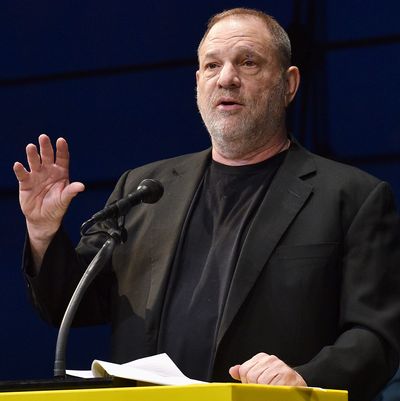 Harvey Weinstein.
Photo: Bryan Bedder/Getty Images
The New York Times just published its awaited report on the long-whispered rumors about Hollywood-titan Harvey Weinstein. The details, as reported by Jodi Kantor and Meghan Twohey, are damning: The Times found that over the last three decades, Weinstein, who is married, has paid settlements to at least eight different women who have accused him of sexual harassment. The actress Ashley Judd told the Times on the record that Weinstein sexually harassed her in a hotel room at the Beverly Hills Peninsula. You can and should read the Times report in full here, but here are some of the biggest bombshells.
Ashley Judd says on the record that Weinstein harassed her. She told the Times that two decades ago, Weinstein invited her to the Peninsula hotel for a business breakfast meeting. Then, "he had her sent up to his room, where he appeared in a bathrobe and asked if he could give her a massage or she could watch him shower." Judd told the Times she tried to leave as soon as possible, and that, "Women have been talking about Harvey amongst ourselves for a long time, and it's simply beyond time to have the conversation publicly."
Weinstein has paid settlements to at least eight different women. According to the Times, these women accused him of improprieties including "sexual harassment and unwanted physical contact." The women include "a young assistant in New York in 1990, an actress in 1997, an assistant in London in 1998, an Italian model in 2015," and a colleague named Lauren O'Connor, who wrote a memo detailing sexual harassment allegations against Weinstein to executives at his company in 2015. The women were not paid much: each collected about $80,000 to $150,000.
Weinstein has a pattern of harassing employees and actresses at luxury hotels. Several women told the Times that Weinstein would ask for massages and make other inappropriate demands of them in hotel rooms, when they were ostensibly meeting about business. Women who worked for him said they tried to avoid being alone with him, and one woman said she advised another to wear a parka when she was with him to defend against his advances. Per the Times, Weinstein engaged in this behavior at hotels including the Peninsula, "the Savoy in London, the Hôtel du Cap-Eden-Roc near the Cannes Film Festival in France and the Stein Eriksen Lodge near the Sundance Film Festival."
Weinstein paid a settlement to Rose McGowan after an "episode" in a hotel room. The Times discovered that he paid her $100,000 in 1997, when she was 23 years old. McGowan declined to comment to the Times, but she tweeted yesterday about the Weinstein case.
Weinstein enforced a "code of silence" at his company. Part of the reason Weinstein's behavior went unchecked for so long, it seems, is that he legally prevented employees from speaking out against him. Per the Times, "employees of the Weinstein Company have contracts saying they will not criticize it or its leaders in a way that could harm its 'business reputation' or 'any employee's personal reputation.'"
Weinstein admits that he has treated women poorly. In a bizarre statement to the Times, in which he quotes Jay-Z and says he plans to go after the NRA, he apologized and said he "realized some time ago that I needed to be a better person." His lawyer, Lisa Bloom, said he denies some of the allegations, and that he is "an old dinosaur learning new ways." Bloom, who typically represents sexual harassment victims, has apparently been advising him for a year about gender and power dynamics.
(Weinstein optioned one of Bloom's books in March.)