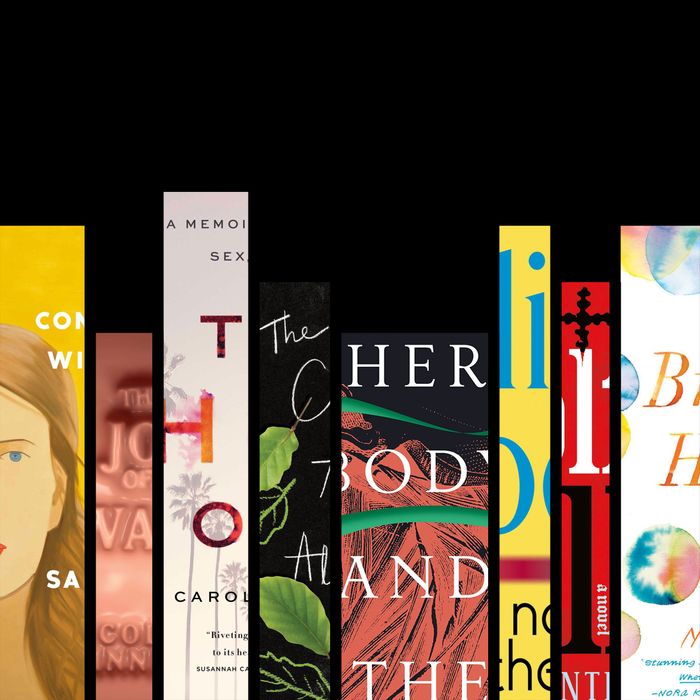 This October, we're reading sci-fi stories by Carmen Maria Machado, a memoir charting the atrocities of terminal cancer by Nina Riggs (the great-great-great granddaughter of Ralph Waldo Emerson), and a memoir about a childhood friend's murder by our colleague Carolyn Murnick. Check out all the books we've recommended so far here.
I picked up this novel by a 26-year-old Irish writer to escape the ongoing onslaught of Trump news. On that level, it delivers — absolutely no one threatens nuclear war in this book — but it's also just an insightful look at what it's like to be young, smart, and deeply confused about friendship and love. The narrator dates a married man, spends all of her free time with her ex (who is now her best friend), and consistently stumbles over her own ambitions. It's like an Ask Polly letter in the form of a novel, in the best possible way. —Izzy Grinspan, senior editor
A book about dying that is somehow light and beautiful, and charged with as much joy as it is sadness.
Nina Riggs (who's also the great-great-great granddaughter of Ralph Waldo Emerson) charts the four stages of her terminal cancer in this staggering memoir that I actually shelled out a full $25 for. I'll leave you with this devastating passage I wrote down in my notebook: "No one else looks to be wandering the street with a time bomb strapped to her body, thinking of saying to those she loves the most: I am sorry. I am sorry. I am sorry for what I am about to do to you." —Aude White, communications manager
This debut short-story collection from Graywolf Press was longlisted for the National Book Award even before its October 3 release, and it's now a finalist. I've never read anything like it. Each story examines a woman's life and some kind of violence inflicted on her body, while the narrator holds a certain power in her own mind. It's commentary on society's violence against women in a fresh, provocative way. My favorite of the sci-fi fantasies is titled "Especially Heinous: 272 Views of Law & Order SVU": 272 paragraphs, each written like an SVU episode in just a few sentences, which go on for 12 "seasons" of Machado's own surreal crime show. Reading it is actually like watching TV. —Catie L'Heureux, associate managing editor
Winnette's latest novel should be required reading for moody teenagers the world over: A coming-of-age tale replete with darkness and murder, The Job of the Wasp refuses to soften for the sake of its reader. I read it with Halloween in mind, the lights in my apartment blazing. —Jen Gann, parenting editor 
Our New York colleague Carolyn Murnick has written an engrossing memoir about her childhood friend Ashley, who was murdered at the age of 22. It's thoughtful and thorough, both in exploring the dynamics of female friendships and reporting from chilling courtroom hearings. —Gabriella Paiella, senior writer
I like historical fiction that manages to suggest how terrifying much of life could be in the past. Mantel captures the psychology of a world where damnation (or being burned alive) felt like a real possibility for you and your loved ones. All that, and machinations: If, like me, you were annoyed when Game of Thrones became more about zombies than political intrigue, look no further. —Molly Fischer, features editor
I have struggled with anxiety over the years, and I've seen various therapists with varying degrees of success. So, I started doing a little research into the most effective forms of therapy for anxiety. I discovered that Cognitive Behavioral Therapy, or CBT, is one of the few that's been proven to be effective. As I dug into the research, my dad, a psychologist, encouraged me to read Dr. David Burns's 1980 best seller Feeling Good. Burns is a professor emeritus at Stanford's School of Medicine and was one of the first mainstream proponents of CBT. Burns's main argument is that if you catch your negative thoughts, like "This is a dumb book recommendation," as they are happening, and instead argue with those thoughts, you won't feel as crappy. The crazy thing is, it is sort of working! Plus, after the cost of the book, the DIY therapy is free. —Katie Van Syckle, weekend editor
Goodman's eighth novel — which include Kaaterskill Falls and, more recently, The Cookbook Collector — is another of her satisfyingly multifaceted, romantic, and philosophical tales.
Set in and around intellectual Cambridge, Massachusetts, The Chalk Artist tracks a few seasons in the lives of four young people — boy-girl twins who are juniors at an alternative public high school, and two 20-somethings, one the "chalk artist" of the title — as they grapple with the nearly magic allure of video games and the people you (don't) meet while playing or creating them, versus the harder-to-crack charms of schoolwork, education, and poetry. Not a perfect book, but, I thought, a winsome one. —Eliza McCarthy, senior copy editor
If you buy something through our links, New York may earn an affiliate commission.