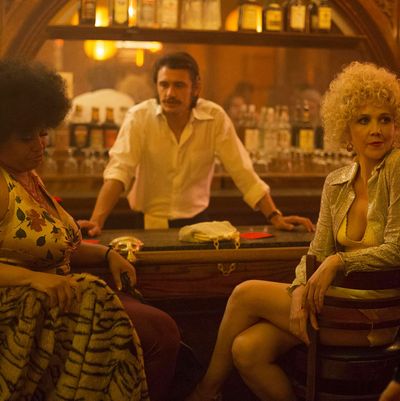 A scene from
The Deuce.
Photo: Courtesy of HBO
There's a whole lot of fucking on The Deuce, the new HBO series that follows the 1970s birth of Times Square as a sex-work epicenter. The first season follows the lives of Manhattan prostitutes and pimps, and the cops, regulars, and mob bosses who punctuate their world. The kaleidoscope of characters was candy for Janice Kinigopoulos, the show's original department head of hair.
Kinigopoulos didn't have much time to prepare for the show — "They were looking for someone more local and called me in last minute," she says — but it was easy to suss out The Deuce's creative direction, given her experience working with the show's creators on Treme and The Wire. For The Deuce, each character represents an individual story, and so does their hair. Kinigopoulos talked to the Cut about how she designed each hairstyle, the way Method Man reacted to his character's silky perm, and why the wigs don't go flying during sex scenes.
What was your inspiration in designing the hair?
I watched The French Connection. I watched Super Fly — a lot of those kinds of movies. I found a book that we used for research called Gentleman of Leisure. It's a biography about a pimp named Silky and his five "ladies." It was the most amazing book as far as the pictures go because it showed so much authentic style. The women had incredible glamour and you could tell they felt beautiful. They would wear one wig on top of another to get height and then they always wore false eyelashes.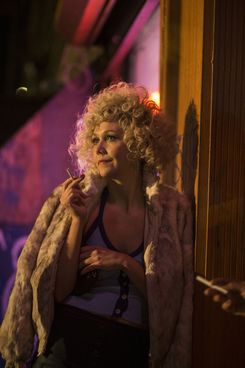 At the last minute, I pulled this one wig I had in my stockpile from The Wire. It was blonde and curly, and it was shorter than an Afro, but not round like an Afro. I grabbed it right before I left my house to get on a train to New York and thought it was something completely opposite of what everyone is expecting. Of course, that was the wig that became the inspiration for Candy's [Maggie Gyllenhaal] wig. It's not your typical shag, or middle part with straight hair. It's a statement for sure.
Are most of the characters wearing wigs?
A lot are because '70s hair is just different from 2017 hair. The black men didn't have the fades that they do now; there were a lot more Afros. The white guys had longer hair and shags, which is totally different now.
How did you make the wigs look like something a women in the 1970s with a limited budget might wear?
The only people who are wearing wigs that are meant to look like wigs are the prostitutes. Especially Maggie's character. For her wig, I liked that it was fuzzy. I tried not to make it too neat because she's supposed to be rolling around in it, as an occupational hazard. The wigs that you buy in a wig shop that a prostitute would probably buy have hard edges. There's no lace-front, there's no handmade laying of the hair. It was very important to me that the wig had a hard edge and looked like something you might buy in a wig shop for $29.99.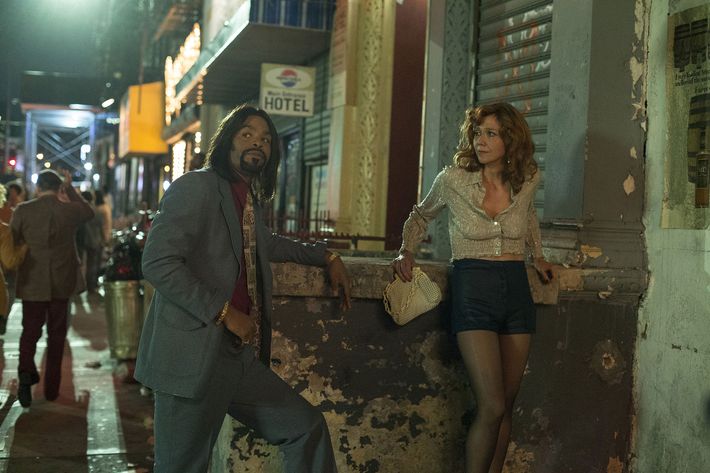 Method Man plays one of the pimps and his character wears a long wig. How did he react to this very new look?
I worked with Method Man on The Wire. For Method Man, George Pelecanos [The Deuce co-creator] and I made this kind of Super Fly look. Super Fly was one of the first guys on TV to have relaxed hair. George was really into that. I pulled so many things for options. If Method Man didn't like it, he would be like, "Nah." It was very clear what he was into and what he wasn't into. I knew that the relaxed hair would be his favorite, but we tried everything to cover our bases. He's not the kind of person to do something if he feels uncomfortable; he really liked the wig and he really owns that hair.
How did you make sure the wigs don't fall off during the sex scenes?
You have to prepare the hair in a certain way where it's sleek and form-fitting to the head. If you don't address the hair underneath properly, it's going to stand up higher and then it doesn't look natural. You can tell if someone is wearing a wig or a toupee usually because it's too much. We flatten the hair underneath as much as we can by putting it in a wrap or pinning down the curls. You put a wig cap on after that and pin it to the foundation underneath. Then you put the wig on top of that. After all of that, the wig isn't going anywhere. We used a lot of pins.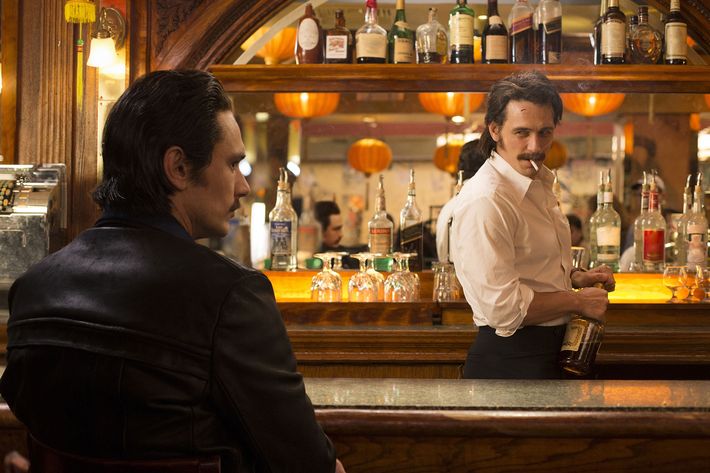 James Franco plays a set of twins. How did you approach his two characters' hair?
Frankie, he's sort of the guy who had that great hair in high school and never let it go. It's his look and he's holding onto it because it worked for him when he was 16 or 17. His hair is a little greasy, a little fuller, and a little longer. He's always in trouble so his hair is a little more seedy. For Vincent, it seems that his hair is a little more like the guys from that time: long with sideburns. James was very patient in doing twins and incredibly respectful of the process.
This interview has been edited and condensed.