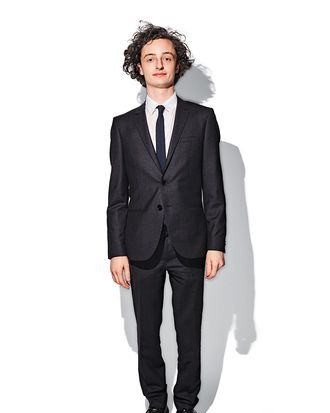 "I only wear black and dark blue."
Photo: Bobby Doherty
Nick Schulte, Gallery Assistant
What gallery do you work for?
Galerie Thomas Schulte in Berlin — it's my father's gallery. I never really wanted to go down that nepotistic path of taking over the gallery — which I still don't think I want to do. But for now, I really enjoy working there and traveling to places like New York.
You don't have a German accent.
My mother's from here, and my father's German. They met in New York when my dad was working at the MoMA. At the time, my mother couldn't stand New York, and they were debating whether to move up to Westchester, where her parents lived, or get out of the city and move to Berlin. I'm happy they didn't choose Westchester!
Lightning Round
Age: 24.
Neighborhood: Mitte, Berlin.
Roommates: None.
Suit: Hugo Boss. "I only wear black and dark blue."
Favorite restaurant: Altes Europa. "It's right around the corner from me, and it has a small menu of German food and great beer."
Favorite Berlin building: Mies van der Rohe's Neue Nationalgalerie.
*This article appears in the October 2, 2017, issue of New York Magazine.