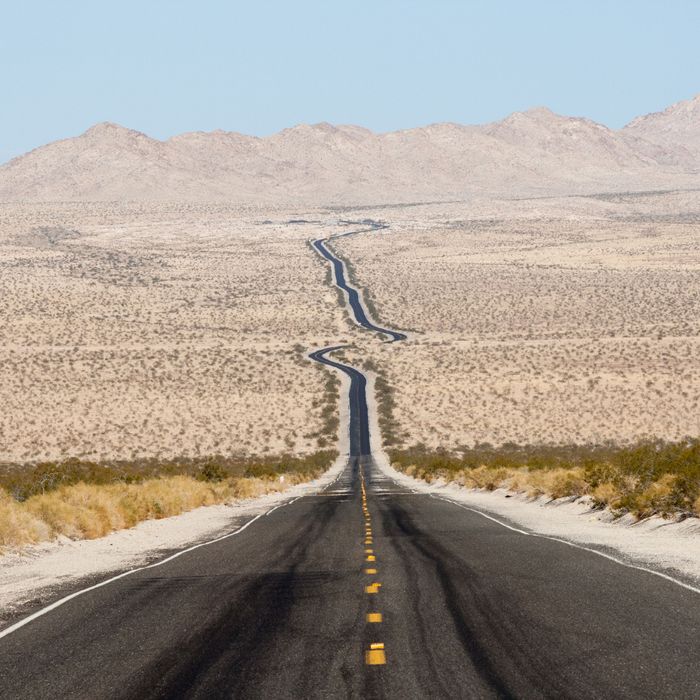 Photo: Dennis Axer/Getty Images
You're by now familiar with the horrific, acute trauma of Sunday night in Las Vegas: 59 dead and over 500 wounded. When the bullets began crossing Las Vegas Boulevard, roughly 22,000 attendees ran for their lives. These masses were left physically unscathed, but with possible mental wounds, and they fled the neon of the Strip into what is essentially a mental health-care desert.
If heart-wrenching, post-shooting TV interviews aren't convincing enough, research suggests the psychological weight survivors carry will be heavy: One month after a mass shooting that killed 23 people in Killeen, Texas, 20 and 36 percent of surviving men and women, respectively, experienced mental-health issues, according to a study in the American Journal of Psychiatry. Fifteen percent of students on campus during the Virginia Tech shooting experienced symptoms of post-traumatic stress disorder. Another study found 4 of 11 survivors of the Brooklyn Bridge shooting were diagnosed with PTSD. And when researchers interviewed people who'd lived through a mass shooting three years after the incident, they found that only half had recovered from ensuing issues. Psychological repercussions of mass shootings also extend to the surrounding community, not just people at the event, according to another study.
And Nevada may be uniquely ill-prepared to deal with the emotional aftermath of the deadliest shooting in modern history. The nation's largest mental-health nonprofit, Mental Health America, ranks Nevada last on their list of state mental-health rankings. Nevada ranks 36th for prevalence of mental illness — a ranking that encompasses six metrics ranging from mental illness and substance-abuse rates, to the number of citizens who've considered suicide or suffered a depressive episode — yet offers the least access to mental-health care compared to every other U.S. state. About 68 percent of people in Nevada who suffer from impaired mental health do not receive treatment.
"We have a huge shortage of psychiatrists here in Las Vegas," Dr. Gregory P. Brown, a psychiatrist in Las Vegas who runs the Psychiatry Residency Training Program at the University of Nevada, Las Vegas, told me. "There's a crisis-level shortage right now." Las Vegas has five psychiatrists per 100,000 residents while similarly-sized metro areas like Kansas City and Sacramento have double that figure. New York City has about six times the figure.
The problem is multifaceted. Las Vegas's population has roughly doubled over the last two decades, yet the number of psychiatrists hasn't followed suit. Psychiatry students complete a medical residency to earn their degree and practice. Yet the city traditionally hasn't had the resources to offer enough residencies. "Up until this year we had six spots," says Dodge Slagel, a psychiatrist based in the Las Vegas metro area. The idea is that the majority of medical residents will stick around and practice in the community, but that hasn't been the case in Las Vegas. "Some of the residents stayed, but not all of them did," says Slagel.
Las Vegas's population is also uniquely transient. Only about one in four Las Vegans are native Nevadans. The town's reputation as "Sin City" may draw a type of person who's more interested in the glamour and nightlife rather than finishing a psychological degree, building a practice, and raising a family.
Nevada's state-run behavioral health programming is also in rebound.
From roughly 2008 to 2013, Las Vegas's primary psychiatric hospital shipped about 1,500 mentally ill patients to other states via Greyhound bus. This measure was supposed to save money and also relocate patients closer to family. Many of these patients were indeed bused to their "home communities," but others were dumped haphazardly, in random locations without any plans or arrangements. Meanwhile, the Nevada Legislature cut $60 million in funding from mental-health programs. In the wake of the ensuing crisis, the legislature was forced to improve Nevada's broken mental-health-care system. Their plan is to cut state mental-health programs and positions, and to shift to a model where an influx of federal dollars pays private providers through Medicaid, according to reporting by the Nevada Independent.
Under this new system, government beds are down, but private beds are up. Overall, the number of psychiatric beds in the state of Nevada rose from 1,360 in 2014 to 1,624 in 2016, but the state doesn't have enough mental-health employees to man them.
Nevadans with underlying conditions will be most at risk of developing post-trauma disorders, says Franci Crepeau-Hobson, an associate professor at the University of Colorado, Denver, who has studied the psychological impacts of mass shootings. Post mass-shooting symptoms include an ongoing mix of everything from flashbacks and bad dreams, to avoiding places and events that remind a person of their traumatic experience, to being easily startled or depressed. The symptoms can not only impact the individual sufferer, but also her family and community, according to the U.S. Department of Veterans Affairs. The key method of treating PTSD, according to the National Institutes of Mental Health, is to work directly with a mental-health professional.
In the ensuing days, overworked local law enforcement and mental-health professionals "will have to act fast to help people feel safe and deal with the psychological trauma," says Crepeau-Hobson.
She says the first step in healing the psychological wounds after a mass shooting is to provide safe spaces for people to seek help, and making sure those spaces are set up beyond mental-health centers. "Faith-based institutions and schools are good locations to set up trauma centers because people feel safer and more normal going there," says Crepeau-Hobson. Taking advantage of outside psychological support teams from other states and the Red Cross will also be critical in mitigating the shortages Las Vegas will face.
"Those outside teams can help meet the immediate need for services, then also help the local providers figure out what's needed for the long-term response," says Crepeau-Hobson. (It's also important to keep in mind, she says, that the majority of people who were at the Route 91 Harvest festival will not suffer long-term psychological effects.)
Since Sunday night, this city of people from across the country has banded together to help the wounded — blood donation lines stretch for blocks, a GoFundMe page for victims has received millions, and local and national companies are pitching in to help victims. This facilitates the psychological healing process, says Crepeau-Hobson. Those of us who live here will need to remember to continue working together to help those with the wounds we can't see.
Michael Easter is a journalist and visiting instructor at the University of Nevada, Las Vegas.