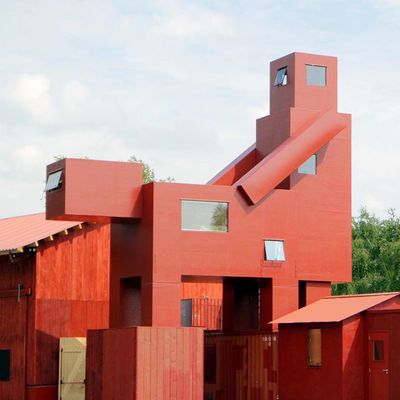 Domestikator.
Photo: Courtesy of Atelier Van Lieshout
You would think that the Louvre — home to countless sculptures of naked Greek dudes with their limbs missing — would welcome having sexually explicit content within their collection, but it turns out building-on-building sex is where the famed French art gallery draws the line.
According to the New York Times, the Louvre has decided to cancel an installation called 'Domestikator' by Dutch art and design collective Van Lieshout, which features two buildings having sex with each other (made ostensibly in order to show "the power of humanity over the world and its hypocritical approach to nature"). The exhibit was scheduled to open on October 19 in the museum's Tuileries Gardens.
According to Le Monde, Louvre president Jean-Luc Martinez expressed concerns about the sculpture's "brutal aspect," pointing out that it risks being misunderstood by visitors to the gardens." The museum was reportedly also concerned at having the 40-foot sculpture located near a children's playground.
The artists were understandably displeased at having their work censored. "This is something that should not happen. A museum should be an open place for communication. The task of the museum and the press is to explain the work," said the collective's founder Joep van Lieshout. He added: "The piece itself, it's not really very explicit. It's a very abstracted shape. There are no genitals; it's pretty innocent."
Meanwhile — proving that there is a terrible double standard when it comes to who (or what) is allowed to get boned up in the Louvre — Cupid and Psyche are still happily goin' at it.