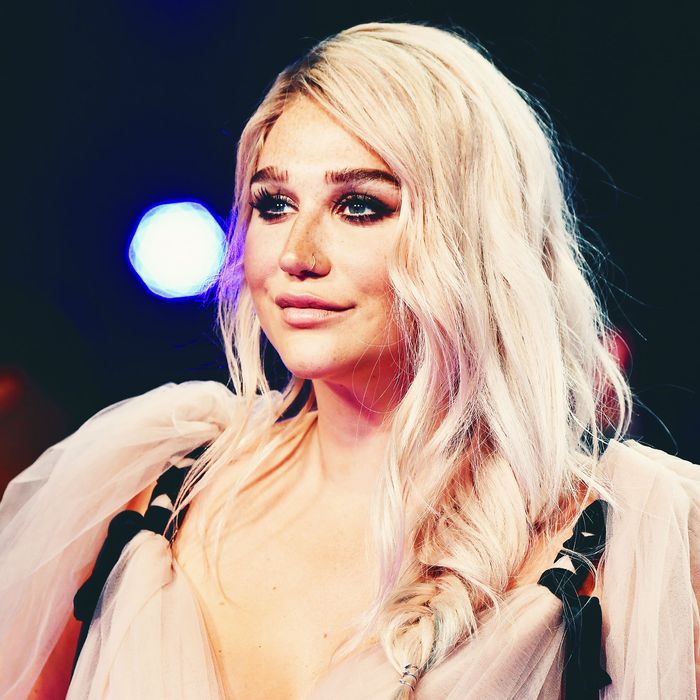 Kesha.
Photo: Frazer Harrison/Getty Images
Kesha is on the cover of Rolling Stone this month. Kesha is described in the accompanying article as a "tall woman" with rainbows painted on her nails, who just released a "raw, emotionally complex" album, Rainbow. Kesha is not to be confused with Ke$ha, who Rolling Stone brilliantly describes as "she of the digitally enhanced vocals and the half-rapping and the whiskey-assisted dental hygiene and the party at a rich dude's house" who "can't come to the phone right now."
But unlike the other pop star who famously can't come to the phone right now, Kesha still loves her former self and her glitter- and inflatable penis-filled antics.
"I loved what I was doing when I was doing it," she says. "It was so much fucking fun! I wouldn't change all the Worst Dressed lists, I wouldn't change the mohawk, I wouldn't change all that shit. I'm proud of myself for being that ballsy young girl that was ready to take life by the balls."




Kesha is smart, [Jesse] Hughes says, to stay connected to her older work. "If you renounce a part of yourself," he says, "you're throwing yourself out with the bathwater — not even the baby."
At least part of that period, is marred by the reported years of abuse and famous legal battle with her former producer Dr. Luke, whom she signed with when she was just 18 (and refused to talk about in the interview). She describes her persona as a "front" for emotional pain.
"My feelings would get hurt, and I would just pretend like I didn't give a fuck. It's a front. Put on glitter, act happy." Another shift: "And for the most part, I was really happy."
There are many reasons to love the new Kesha, but her self-love definitely ranks high on the list.