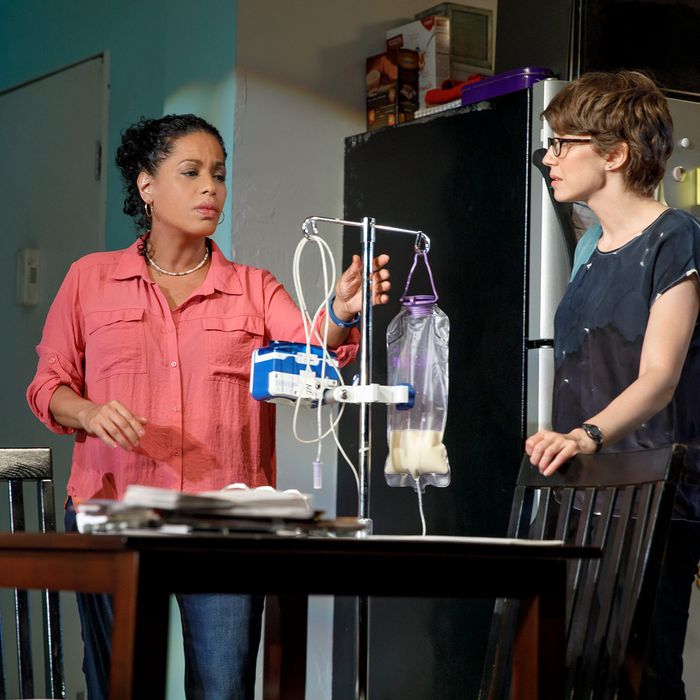 Liza Colón-Zayas and Carrie Coon in
Mary Jane
.
Photo: Joan Marcus
Waiting for the play to begin, I wrote down a list of objects on the set of Mary Jane: opened Amazon boxes, an over-the-door set of hooks, boxes of cereal above the fridge, and two half-full bottles of hand sanitizer. Any busy city dweller making compromises in a small apartment will recognize the first three, just as the parent of any seriously ill child will recognize the last two. Mary Jane (played by Carrie Coon), the single mother of 2-year-old Alex, has placed her sanitizer in two places, one near the couch and the other on a table maybe ten feet away. The proximity, once you think about it, is heartbreaking.
The play, by Amy Herzog, begins here, in the living room/kitchen/dining room of Mary Jane's Queens apartment. Though he's a constant topic of conversation, Mary Jane's son is never fully seen by the audience. Instead, Alex's presence is first defined by an open door leading to the apartment's one bedroom, out of which comes beeps, suctions, and the bustling of his caretakers. Alex, we learn, was born prematurely at 25 weeks; as a result, he suffers from a number of serious conditions, including cerebral palsy and seizures. Against the odds, he's lived into toddlerhood.
After Alex has a grand mal seizure, the play's set shifts to a hospital. There, we come the closest to glimpsing Alex: A shock of dark, thick hair is visible on a hospital bed, though his face and tiny, curled body are pointed toward the opposite wall. It was in the hospital scenes that I felt the most recognition, as another mother of a chronically ill kid: Mary Jane's outburst about the uselessness of "watered-down bubbles" from the hospital employees sent to calm her son, the way they refer to her as "Mom" instead of by name. Most of all, I relished her satisfying conversation with Chaya (Susan Pourfar), the mother of another patient, who disagrees when Mary Jane says that everyone encounters their own agonies, that we all "have stuff." That's just not true, Chaya says — some people don't have any "stuff" at all.
But Mary Jane was most affecting, I thought, when it shone a light on all parents — the fears that accompany raising any kid, whether that kid is healthy, mostly healthy, or sick. "Stuff" makes parenting a lot harder — an absent partner, a dwindling bank account, an unforgiving diagnosis — but all parents fear that hospital bed, the emergency or sickness that might rush them there in the back of an ambulance.
After the play, my husband and I wandered out of the theater, his hand on my elbow while I frantically wiped my eyes. Outside, it was Friday night, the East Village in full swing; "WHERE ARE YOU, MOTHERFUCKER?" a man yelled jovially into his phone. We almost laughed, then scurried back to Park Slope, where we guzzled drinks and watched the clock as our last 30 minutes of babysitting ran out. Of watching the parent and child in Mary Jane, my husband said quietly, "I felt lucky." After a pause, he added, "Just maybe not in comparison to the other people in the audience."
We agreed that one of the hardest parts to watch was Mary Jane telling a Buddhist hospital chaplain about her son: She explains how stubborn he is, her voice full until it breaks. We both thought of our own son's resolute personality, the disasters we've been fearing since his diagnosis at 3 weeks old, the way he screams when a doctor comes at him with just a stethoscope. At home, we slipped into his room and stood over his bedside, staring.
In her darkest moment at the hospital, Mary Jane admits that Alex seems terribly uncomfortable. The audience still can't see his face, and the details of his discomfort are left to the imagination. By keeping Alex's face invisible, the play never allows its central tension to break. No audience member, parent or not, has the sick, selfish relief of looking into the face of a very sick child and seeing a stranger. Instead, Alex's face, behind a door or turned toward the wall, could belong to anyone.
Mary Jane runs through October 29, 2017, at New York Theatre Workshop. Find tickets here.