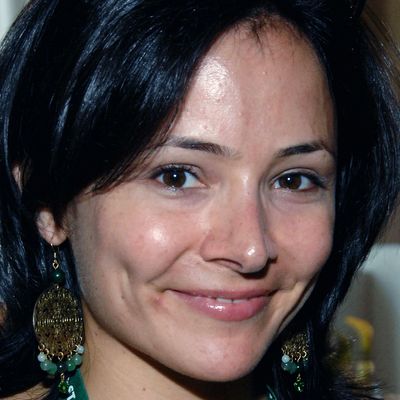 Sarah Edmondson.
Photo: Sonia Recchia/WireImage
On Tuesday, the New York Times published a chilling report on NXIVM (pronounced, for some reason, nex-e-um) a cultlike "self-help" organization based in Albany that allegedly brands women it refers to as "slaves."
Canadian actress Sarah Edmondson told the Times she joined NXIVM about a decade ago, and that in January, Lauren Salzman, "a rock star within the company," asked her to join a secret sorority in the company, but only after Edmondson had written a letter detailing her past indiscretions as "collateral." After a training period during which "slaves" would reportedly have to text their "master" every morning and night, or face penalties like fasting, Edmondson says she was driven to Salzman's home north of Albany where the initiation and branding took place. According to the Times:
A female doctor proceeded to use a cauterizing device to sear a two-inch-square symbol below each woman's hip, a procedure that took 20 to 30 minutes. For hours, muffled screams and the smell of burning tissue filled the room.
A few months after the initiation, Edmondson filed a complaint with the New York State Department of Health against Danielle Roberts, the woman who allegedly performed the branding, but the agency refused to investigate the incident because it did not "occur within the doctor-patient relationship."
NXIVM was founded in 1998 by Keith Raniere, a long-haired, bespectacled, run-of-the-mill cult-leader-looking man who is reportedly known within the group as "Vanguard." According to its website, NXIVM offers "Executive Success Programs, Inc. — programs that provide the philosophical and practical foundation necessary to acquire and build the skills for success." Since its founding, an estimates 16,000 people have enrolled in its courses, including Richard Branson and Dynasty star Linda Evans. (Conservative political operative Roger Stone has reportedly had business dealings with the group as well.)
In developing NXIVM, Raniere reportedly drew heavily from the writings of Ayn Rand, including the concept of "parasites." "All parasitic strategies lower self-esteem and therefore destroy value," he wrote in his NXIVM patent application, according to the Albany Times-Union. Like the Church of Scientology, students move up a ladder of enlightenment, and those who are seen as disloyal to the organization are called "suppressives."
Since the branding, both Edmondson and her husband have left NXIVM. She told the Times she and other former followers are "focusing on recovering."