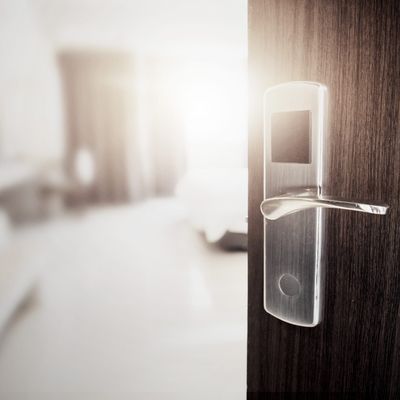 Photo: oatawa/Getty Images/iStockphoto
Get Sex Diaries delivered every week.
New York's Sex Diaries series asks anonymous city dwellers to record a week in their sex lives — with comic, tragic, often sexy, and always revealing results. This week a health-care professional dating a much older man: 26, straight, single, Long Island.
DAY ONE
9 a.m. I wake up thinking about a guy I've been seeing, Ben. I masturbate to the last time I saw him. We have incredible chemistry and have been doing a long-distance, non-exclusive thing for a few months. I would jump at the chance for more, but I've also been enjoying my freedom lately. Ben is a successful business owner who recently sold off the business and effectively retired. He's 52, but looks incredible for his age.
11:30 a.m. Ben texts me good morning. He tells me that the next time I see him he'll send me to his room to wait for him on my knees. I'm immediately wet and touch myself while we sext. Ben is very kinky. I'm usually very comfortable meeting men, but with him, I've gotten tongue tied a few times. He is a millionaire several times over and truly dominant in the boardroom and bedroom. He is generous when we are together, but never struck me as a sugar daddy type.
I figured out that I had kink tendencies about two years ago. I was dating a guy, Alex, who had just gotten out of a very conservative marriage and he liked it all … whips, floggers, bondage, gags, the mental dominance … you name it. Alex moved to California for work last year and I've been craving it again ever since.
Ben is less about the lifestyle and props. He is all about the mental dominance, and I think he especially likes when strong willed, independent women turn into purring little kittens with him. That's what I do, at least …
2 p.m. Ben calls me. We talk for an hour while I'm getting ready for work. I've been aware of him dating other women in Chicago, but I've never explicitly mentioned that I'm also seeing other men, until this call. When he asks me to visit next week I tell him I'm busy — I've already made plans to stay with another guy, Nick, for the weekend. I met Nick on the same website that I met Ben, a website for millionaires. Ben gets upset that I've now confirmed that I'm seeing other men. We argue … but he's the one who said he won't date exclusively long-distance. I assume we won't be seeing each other anymore, and tell him I have to get off the phone because I'm going to be late for work.
7 p.m. I work at a hospital as a second-shift manager. I check my phone. Nothing. I'm too busy to run to the cafeteria right now, so I grab a snack from the vending machine.
11 p.m. Still at work. Making sure my department is staffed is a nightmare. Another call off for tomorrow. Check my phone again. Still nothing from Ben.
DAY TWO
12 p.m. A guy I met online, Michael, emailed me and invited me to dinner in the city. It'll be the first time we meet in person.
2 p.m. I'm folding laundry and trying to pick out an outfit for tonight. Still no word from Ben; I'm a little pouty.
7 p.m. I wait for Michael at the bar. I drove into the city to meet him and got my own hotel room a couple of blocks away. Hangovers suck less in a hotel room.
7:30 p.m. Michael leans over the table as we sit down and with a sly smile tells me that Michael's not his real name; it's Simon. I suspected he's married, but he shows up with no ring on. We eat at an organic restaurant, "the best in the city," he tells me. He's one of those guys who cares that it is both organic and "the best."
8 p.m. He won't order salmon here because he grew up on the West Coast, so I order it. Worst part about the dinner was the Chardonnay. I hate Chardonnay, but it gets you drunk all the same.
9:45 p.m. We Uber back to his hotel, where he's staying because he comes into the city for business weekly. Then we have some drinks in the hotel bar, and I can tell he's getting drunk. I need to slow down or I'm going to be shitfaced. Drunk usually isn't a good look on men over 50, but he's still sharp and smart. I tell him I finished graduate school, work at a hospital, and am looking for a better-paying job. He wants my résumé to push out to his contacts. Strange, but not complaining — I DO need a new job.
12:30 a.m. He invites me up to his room. Simon has a gorgeous upper-floor suite and there's a bottle of wine waiting for us. Good. He's planned this out. A perk of older men. We talk for a bit more. I tell him how I am into some BDSM; men love to hear this these days.
1 a.m. He moves to sit next to me and puts his hand around the back of the couch. His hand moves up my back and onto my neck, gripping me roughly. I'm feeling flushed. My dress is being unzipped and he's kissing me. Simon grabs my hair and forces me to kneel.
1:20 a.m. He walks me into the bedroom with my hair still in his hand and bends me over the bed. I'm being spanked. Hard. He flips me over and stands staring at me for a while. He knows I want more. We fuck: brief but very rough. I don't come. He cleans up in the bathroom. He asks me to stay the night … and says he will make it worthwhile. Not sure where he's going with that, but I'm drunk and tired, so I agree.
4:30 a.m. He wakes me up to fuck again. Missionary. Deeper and more sensual this time. I fall right back to sleep.
DAY THREE
7 a.m. Simon wakes me up; he's leaving for a meeting and will be gone all morning. Tells me to take as long as I want to get ready, gathers his briefcase, and leaves.
8 a.m. I get up and realize I'll be doing the walk of shame for the first time since college. I'm getting ready to leave and notice that his dry cleaning is hanging in the open closet. The tags have his full name … which he's never told me. A quick Google search brings up a university dean's bio. He's from the West Coast, recently relocated to the northeast, and enjoys Saturday afternoons cheering on his old college football team and spending time in the garden with his wife. Just as I thought.
8:30 a.m. I grab my purse and notice there's an envelope inside …. With $800 and a note that says, "Keep this between us." I'm guessing this is what he meant by "worthwhile." I should probably leave it there with a note telling him to fuck off, but I get a rush from it, and could use the money. I keep it.
10 a.m. Back at my hotel, I put on a robe, climb into bed, splurge on room-service and get a late checkout, given my recent windfall of money. Simon hasn't emailed me. I'm not sure I want him to.
3 p.m. Getting ready to check out from my hotel and still nothing from Ben. I shoot him a text and ask how his day was. He says, "All good." He's still pissed. I don't respond.
7 p.m. I'm back home now and texting with James, another guy I met online. He wants me to come into the city on Thursday to meet for the first time. He also identifies as dominant, and I generally identify as submissive, so it's worth a shot.
Dating through this site for wealthy men is a recent development — it started off as just a joke with some work friends. I'm not in it for the gifts or trips. Hard to believe, I know. Ambition is such a turn-on, and they've all got it.
DAY FOUR
8 a.m. Wake up and check my phone. Some texts from friends, but nothing from Ben. I miss him. He is so frustrating.
10 a.m. James texts and confirms our plans for Thursday. Dinner, drinks, sex. Thank god because I need to blow off steam from that spat with Ben. I add it to my Outlook calendar.
1 p.m. I call my friend Melissa, who knows that I'm seeing multiple men. We talk about Ben. She says he's a lost cause and to stop seeing him. While I'm not the kind of girl who wants to get married or have children, I do want to be in a relationship again at some point. Melissa urges me to talk to Ben about where this is going long-term and if we should end it. I promise her I will but I know won't.
DAY FIVE
8 a.m. I'm getting dressed to go into the city to meet James. Jeans and a slightly sheer blouse.
1 p.m. I stop at the same hotel and get a room. I'm going to have so many Marriott points if this keeps up. Ben calls to ask how my day is. We talk about some politics and recent news. He gets another call and hangs up abruptly.
3 p.m. James is moderately attractive, dark hair and eyes, well dressed and taller than me. He has a large, toothy grin that I can't stand. I meet him outside of his work. He wants to walk to a more vibrant part of town. I didn't realize it was going to be nine blocks. I'm in heels and despite my slim body type, I am not in shape. By the time we make it to the restaurant, I'm sweating and out of breath. Fuck athletic people.
4 p.m. James is not as funny in person. After we sit down, we get wine, some appetizers, and start talking about our jobs. His sounds boring.
6 p.m. We go to another bar. More drinks. More talking.
7:30 p.m. After a walk, we're at his apartment, which is furnished like a frat house. Great view though. He pours some wine and we sit on his balcony, talking. He leans over and kisses my neck. No spark. He grabs my hand and we stand up. We decide to get dinner.
8 p.m. James picks a small Middle Eastern place for take-out. There's a signed picture of Obama on the wall. I tell him that I'll eat anything and let him order.
8:30 p.m. Back at his apartment, we eat and watch a movie.
10:30 p.m. We are sitting at his kitchen counter, drinking more wine. Like I need more alcohol. He starts to rub my thigh and kiss me. He lifts me up and carries me to the bedroom. I know this is supposed to be sexy and romantic, but it always feels clumsy to me because of my height. I pray he doesn't drop me — he's not as muscular as Ben. We end up on his bed, safely.
We're fully clothed and grinding on each other like drunk college kids. He grabs my hair and puts his hand on my throat. I like to be choked. Then, doggy style. Good, I think, I don't have to see his face. He flips me over for missionary. His hands are in my hair and he chokes me. He lightly slaps my face. I come.
11 p.m. He finishes, and I walk to the bathroom to clean up. He has a roll of toilet paper with Trump's face on it. I steal a piece.
11:30 p.m. We both finally get dressed. I'm not sure if he wants me to stay over, but I head it off and say that I'm weird about sleeping strange places, so I'm going to leave. He offers to walk with me. No, thanks. I suddenly have a strong urge to leave. I think I miss Ben.
Midnight Back at my hotel, I grab a drink downstairs at the bar and head up to my room. I hang my breakfast room-service request on the door. Check my phone: Nothing from Ben.
DAY SIX
9 a.m. I'm awake and having breakfast. Eggs are runny. I have to go to work later, so I grab another hour of sleep.
2 p.m. Back home and haven't heard from Simon or James. Ben calls and apologizes for getting upset the other day. He says that we should talk about where our relationship is going the next time I visit. I get butterflies and have to brace myself. I guess we're still seeing each other then. He tells me to break my plans next weekend and come see him instead. I like when he's forceful and agree. I'm going to be late for work again so I have to hang up.
7p.m. I'm heating up my dinner at work. I can't stop thinking about Ben. I like to scroll through old text messages from him when I miss him. Man, he's funny.
DAY SEVEN

9 a.m. Ben texts me good morning. I'm still asleep from working until 3 a.m.
11 a.m. I wake up and answer Ben. He immediately calls. I'm still groggy, but answer the phone. He asks how my night at work was, like usual. I tell him awful, like usual. Ben says that he's given this a lot of thought — he wants to start dating exclusively. I know I'd have to move to his city to make it work. We've discussed this before. I ask him what changed. He tells me that it wasn't anything specific; he's just been thinking more and more about it. I'm the kind of girl who needs specifics if I'm going to uproot my life … but he has to hang up because he is going to meet a friend for lunch. My stomach churns.
1 p.m. I call Melissa and we meet for lunch at a deli. She thinks I'm making a mistake with Ben. Forget the chemistry. He's selfish, she says. I like that he's selfish. I like how he fucks me, even the groggy, morning-breath, vanilla sex is incredible. That's the shit dreams are made of.
7 p.m. I've been pacing around all day. I call Ben. I need to know what actually changed for him. He tells me that it was during the last visit … when I was kneeling in front of him and I let him masturbate with my hair in that hand. He tells me that was a first. I scoff. I doubt he has many "firsts" left. He says it truly was. He needs to jump off; he's got dinner plans.
8:30 p.m. Ben texts, "I can't wait to see you next weekend." I can't help but smile.
Get Sex Diaries delivered every week.
Want to submit a sex diary? Email sexdiaries@nymag.com and tell us a little about yourself.