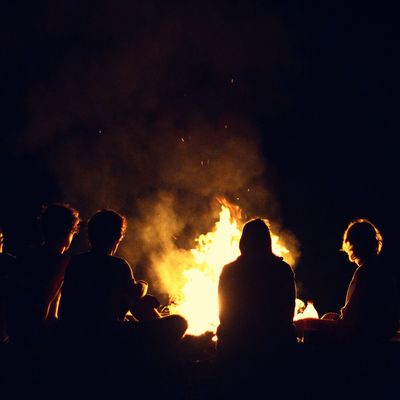 Photo: Vladimir Serva/Getty Images
If you want me to open up, plop me down in front of a crackling fire.
When I met my boyfriend, Mo, neither of us was that eager to jump into a new relationship. We're both reserved people by nature, each with a divorce already under our belts, and the thought of starting something new felt daunting. So we took things slow, keeping our dates low-key — no movie theaters, no bars, no dinners out. Instead, we got to know each other over evenings by the fire pit in the backyard of his house in rural Maine. And there, our reticence melted away.
Over the years, I've occasionally wondered what it was about that setting that made us, two strangers at the time, so uncharacteristically comfortable with one another. Research sheds a little light (no pun intended): A 2014 University of Alabama study, for example, found that people were more social while watching a fire. They also had lower blood pressure, suggesting that they were more relaxed.
"Campfires and other types of fires, like hearth fires, seem to be multi-sensory stimulators, so they grab our attention through every single one of our senses," says University of Alabama anthropologist Christopher Lynn, who authored the study. Maybe that's why the silence between me and Mo in those early days never felt awkward — because the scene around us was already absorbing enough. We were comfortable in those quiet moments, just observing the crackling of the flames and the endless smoke that curled into the evening sky.
There's also the fact that humans are seemingly wired to gather around fires at night, a practice that stretches far back in the history of our species, explains Matt Rossano, an evolutionary psychologist at Southeastern Louisiana University. Early on, when fires were most often built of necessity rather than for entertainment, the people who maintained them had to cooperate in order to enjoy fire's benefits: warmth, protective light, the ability to cook food. And these days, though their purpose may have changed, fires remain a tool of cooperation, Rossano says, often fostering conversations that are relaxed and emotionally positive.
"Evening conversations around fire largely involve telling stories, reminiscing about the day or the distant past," he notes. Fire also "tends to focus attention on the immediate venue and moment, thus helping to enhance one's interaction with others rather than pulling attention to an outside source." In my experience, at least, that can become an immersive experience: Sitting around a fire pit, without the distraction of nearby strangers or the bustle of a restaurant, Mo and I were able to just be present. Our mobile devices were nearby, but forgotten.
It's something we've tried to hold on to even as Mo and I got that past that getting-to-know-you stage and merged our lives together. This past year has been a roller coaster for us: my 8-year-old daughter was diagnosed with Type 1 diabetes in April, and we had a baby this past May. Like other families, we have days that feel too short even as they feel like they're never going to end. Whenever parenthood — or anything else — starts to feel overwhelming, Mo always suggests a backyard fire. We bring the baby monitor out, squeeze together on the too-small log bench, and feel the rejuvenating warmth of the flames. We don't dive into deep topics like we did at the beginning, but it's almost as if, by doing this, we remember where it all began between us — how this was the very spot where we first let ourselves become vulnerable around each other.
It's a slightly different fire now: We moved to a different city earlier in the year, and our family now shares a backyard with upstairs neighbors. This means that when we spontaneously decide to enjoy a fire these days, it's a little harder — we don't always have the proper materials handy in our shared space the way we did when the yard was just ours. I have to admit that I like it this way — we work together to gather what we need, and Mo is great at improvising in order to keep the flames roaring. His resourcefulness has always been attractive to me.
Which, apparently, is just one more way that fire brings us together. "Creativity and ingenuity are important to humans," Lynn says. "Having the opportunity to sit around a fire and see different aspects of each other is really important for social bonding."
It feels a little far-fetched sometimes that something so simple, so fundamental to the human experience, could also serve as the foundation of a long-term romance. At the same time, though, is there anything more romantic than falling in love against a firelight glow?