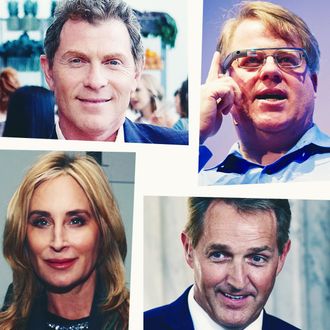 Clockwise from top left: Bobby Flay, Robert Scoble, Senator Jeff Flake, Sonja Morgan.
Photo: Getty Images
Every week brings such an overwhelming onslaught of news, that sometimes the most entertaining bits can fall through the cracks. Here, we'll recap the pettiest squabbles, juiciest feuds, and other niche drama you didn't know you were living for.
How Bobby Flay Maybe Quit His Job
Bobby Flay, celebrity chef and human burger spatula, reportedly caused quite a scene in the hallowed halls of the Food Network. A report said that he stopped mid–Iron Chef battle to take his apron off and show everyone a shirt that said "THIS IS MY LAST IRON CHEF BATTLE EVER." Wild, right? It gets worse:
Iron Chef is a live cooking competition, so the cameras kept rolling. But when the tape stopped, producers rushed in. "Bobby," they said, according to a source close to the production, "we're not going to be able to cut around that."




"I know," Flay responded. "That's the point."
Flay then told Grub Street that he was just having "a little fun" and that "in hindsight, it was probably not the best decision because it's just creating confusion." He added that he'd be down to return to Iron Chef whenever they asked if he was free. Which somehow makes this even messier than if he had just quit outright.
How Senator Jeff Flake Definitely Quit His Job
On Tuesday, Republican senator for Arizona Jeff Flake announced that he wouldn't be seeking re-election in a fiery speech directed at President Trump. "Silence can equal complicity. I have children and grandchildren to answer to and so, Mr. President, I will not be complicit or silent," he said, adding that "anger and resentment are not a governing philosophy." And then he promptly went ahead and voted to get rid of a consumer protection that allows people to file class action lawsuits with banks. In conclusion, everyone involved in this is bad in some way.
The Disastrous Wedding-Crasher
It's one thing to be bold enough to crash a wedding; it's another thing to crash that wedding because you were there spying on your "boyfriend." And then when you saw him talking to another woman, you threw a drink and punched her. And then you ran to the bathroom and got dragged out by several bridesmaids. But when the police came they saw you on top of the first woman, still punching her. And also that guy says he's definitely not your boyfriend.
Such is the case of Shelby McDowell. And, yes, this happened in Florida.
The Worst Apology Ever
If giving non-apologies is an art form, Robert Scoble deserves a Pulitzer. The technologist and writer was accused of sexual harassment last week by several women, and instead of heeding his lawyer's advice to not give a statement, Scoble decided he just had to say something. In fact, he had to say a lot of things. In a post called "No, of that I'm innocent," Scoble uses every non-apology tactic known to man to excuse, justify, and explain away the accusations. Men should be forced to study it for cues on how never to behave.
The Real Housewife's "Accidental" Rager
In a move that Sonja Morgan definitely did not plan specifically to get her name in "Page Six", the Real Housewives of New York star "accidentally" invited 1,000 people to what was supposed to be an intimate party at her home. When attempting to send out invites using Paperless Post, she somehow invited everyone in her address book, "including staff at her parking garage, her kids' teachers, a catering service she's used in the past" (the horror!). Luckily Morgan was able to rectify the mistake with a follow-up note, and only three "unintentionally invited people" showed up. We can only hope the whole thing was filmed for Season 10.
Catch up on previous drama here.