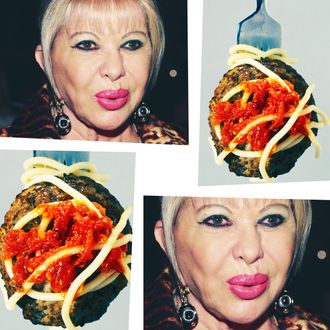 Every week brings such an overwhelming onslaught of news, that sometimes the most entertaining bits can fall through the cracks. Here, we'll recap the pettiest squabbles, juiciest feuds, and other niche drama you didn't know you were living for.
The Trump Wives Are Fighting
It's not that we didn't see it coming, but we didn't think it would happen so soon. Not even nine months into the Trump presidency and Ivana (first Trump wife) and Melania (third and current Trump wife) are currently feuding, a fight that kicked off during Ivana's recent Good Morning America appearance to promote her new book, Raising Trump.
"I [don't] really want to call him [at the White House], because Melania is there," she said. "And I don't want to cause any kind of jealousy or something like that, because I'm basically first Trump wife. Okay? I'm First Lady." (In the book, she also reportedly insults Marla Maples, Trump wife No. 2, repeatedly.)
Melania shot back on Monday with a statement that reads: "Mrs. Trump has made the White House a home for Barron and the President. She loves living in Washington, D.C., and is honored by her role as First Lady of the United States. She plans to use her title and role to help children, not sell books. There is clearly no substance to this statement from an ex. Unfortunately only attention seeking and self-serving noise."
It's so much to handle that even America's premiere arbiter of drama found himself speechless:
The 'Rick and Morty' Sauce Thing
It pains us greatly to have to let you know about this, if you're not already aware, but some of the most insane drama of the week involved a cartoon show for adults, McDonald's, and dipping sauce. It all started when McDonald's advertised that they were rereleasing a Szechuan sauce they discontinued in 1998 that happens to appear in Rick and Morty. They ran out quickly, and Rick and Morty fans got very, very angry — to the point where some tried to see if they could sue McDonald's for running out of the sauce. (Yes, we know how dumb this all sounds.) If you must know more, there's an extensive explainer of the fallout over at Select All.
The Makeup Artist vs. the Child Actors From 'It'
The award for the most random feud of the week goes to this it's-gone-on-so-long-it's-honestly-kind-of-tedious spat between YouTube makeup artist James Charles and the child actors from that clown movie It. When Charles tweeted a negative review of the movie, Twitter immediately attacked him for something else entirely: Finn Wolfhard, one of the movie's actors, called Charles out for committing the felonious crime of using your phone during a movie.
Charles appeared upset by the backlash he incited … or was he? Several days later, he put on put his petty-coat on returned to YouTube with a tutorial about Pennywise, the clown in It.
I think we can all agree with this other child actor from It when he says:
Trump Challenged Tillerson to an IQ Test
After reports that Tillerson called Trump a "fucking moron" after a meeting, Trump went with his usual "I'm not mad" routine — he called it "fake news." But then, during an interview with Forbes, he challenged his secretary of State to an IQ-off.
"I think it's fake news, but if he did that, I guess we'll have to compare IQ tests," the president said. "And I can tell you who is going to win."
The Trump IQ test might be the only thing we want to see more than the pee tape.
The Slogan Too Lit to Be Legal
Say you're a millennial media brand who's trying be taken seriously as a news organization while publishing quizzes like "Pick Your Favorite Condiment and We'll Tell You When You'll Die." What would the tagline of your new morning-news show be? If you're BuzzFeed, you pick the teen-friendly All the News Too Lit to Print, a pun on the New York Times' classic slogan, All the News That's Fit to Print. But unfortunately for BuzzFeed, as clever as they thought it was, the Times had some … legal concerns … which prompted the show to drop the slogan. Might we suggest Frivolity Dies in Darkness?
Alec Baldwin vs. Meatball
Now let's end this week of unfathomably bad news with some drama between Alec Baldwin and a stranger he encountered in Greenwich Village, via "Page Six":
"Baldwin called the driver of a big black SUV 'a meatball' and kept asking him and the passenger to get out," said the witness, who noticed the incident after it had already begun.




When the people in the SUV wouldn't get out, "Alec got out his phone and started videotaping them. They pulled away right after, and he took a pic of their license plate and threw his extra-large drink in the street. Then he just went on his angry way."



Honestly, "meatball" is a great insult.
Catch up on previous drama here.