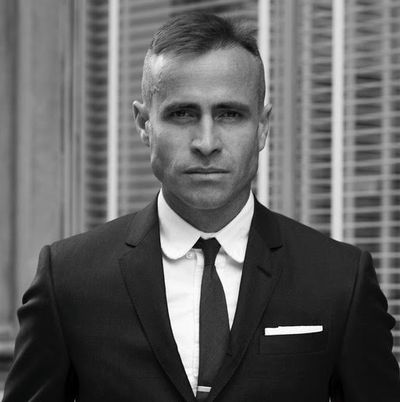 Photo: Courtesy of Thom Browne
Designer Thom Browne is a man of few words — his interview responses, like his well-loved suiting, are considered and precise. His understated demeanor cuts an interesting contrast to his womenswear, particularly his spring 2018 collection — shown in Paris this month — which was all about fantasy and exaggerated proportions. "The collection really started from the simple idea of taking classic American fabrics and redeveloping them in tulle, which for me, it being my first women's show in Paris, it was almost playing an homage to a true French fabric," Browne says. "Of course, the proportions played into how tailoring was done for the collection. And the story was really, I wanted it to be a fantastic, entertaining fantasy based on a child's dream." At the Hôtel de Ville, models marched in unexpected pieces ranging from lumpen white plays on ballerina costumes to skirts so full and diaphanous you could almost see them floating away like clouds. The show's crescendo? A giant, tulle-maned unicorn puppet led by a corseted model in matching snowy white. "The unicorn was really just something fun that I played with," the designer says. "I thought of two little girls having a dream; that they would dream about mermaids and fantastic things like unicorns."
The decision to show in Paris this season, Browne says, was more out of practicality than "running away from New York." "I've been showing men's in Paris for the last seven years," the designer explains, adding, "I felt like more people were in Paris, and I wanted more people to see the collection." Paris was good to Browne — he also staged a month-long takeover of the iconic boutique Colette, for which he also created exclusive products. "Sarah [Andelman, Colette's founder] has been really supportive of my collections from the very beginning. She was the first store to buy the collection along with Bergdorf the first season. She approached us with the idea of taking the store for the month of October. It was really something special for me, because of her loyalty, and also too how iconic the store has become in the world of fashion." Browne created not only special collection pieces, but also what he calls "pickup items" like a lunchbox, a baseball bat, and a surfboard, plus pet accessories inspired by his mini wire-haired dachshund, Hector, who has become something of a brand mascot. As part of the takeover, an additional collaboration with Maurizio Cattelan — who created a special scarf with Browne in cotton and cashmere — is being fêted in an event at the store today.
Browne hails from a place about as far removed from Paris as you can get — Allentown, Pennsylvania. He explored various other professional avenues before going to work with the likes of Club Monaco and Ralph Lauren, and launched his own brand in 2001. Unlike many of his contemporaries, who say that fashion was a lifelong avocation, Browne, asked about the moment he realized he wanted to work in fashion, answers, "I don't think I've even realized it yet." Backpedaling a bit, he reflects to a time when he was living in Los Angeles's Laurel Canyon and doing "not very much," during which "I started getting the idea of being in fashion." The epiphany was a good one — Browne would go on to redefine men's suiting, win multiple CFDA awards, and outfit Michelle Obama for the 2013 inauguration.
Below, the designer talks about his ChapStick addiction, the appeal of the future, and his Instagram-famous canine companion. Read on for the full Q&A.
How do you thank people for a gift?
A handwritten note.
Mood lighting or natural light?
Natural light.
What are five coffee-table books you'd be proud to display?
All of Andrew [Bolton, Browne's partner]'s books that he does for his shows at the Met. Every year seems to be better than the next, so they're all really strong.
What's a trend you like right now?
I hate trends.
What's your favorite song on your playlist?
Probably the one I like the best right now is Sam Smith's, the theme song that he did for James Bond.
If you were a car, what kind of car would you be?
I'd be a '63 Lincoln Continental. I think it's just my favorite car, iconically designed.
What's your dream vacation?
Staying at home.
What's your favorite luggage?
Rimowa … and mine.
What's another decade that you'd like to live in and why?
Probably a decade that hasn't happened yet, in the future. I just always like to look forward. I think it's boring when you hear people wanting to live in the past.
What's the secret to throwing a good party?
Not having too many people.
What's one way that your taste has changed since you were a teen and one way that it stayed the same?
It's always stayed the same: classic, simple.
What's your guilty pleasure?
I don't know if it's a guilty pleasure, but it probably would be Champagne. Krug.
What's the last show you binge-watched?
The most recent Ken Burns documentary on the Vietnam War. It's amazing.
What are your favorite accounts to follow on Instagram?
I don't have [my own] Instagram, but we have an account for our dog, Hector, @hectorbrowne. It's just something really fun. I mean, he's the cutest dog, and he takes very good pictures. We just have fun with it. He is our personal Instagram — he is becoming a star.
What's your favorite stationery?
Crane's … Just the quality.
Sneaker?
It varies. I mean, I do wear Nikes running, but then I also wear New Balance — it depends.
T-shirt?
A basic, white Thom Browne T-shirt.
Pajamas?
Thom Browne. They're just a cotton poplin, piped, very classic top and bottom pajamas.
Flower?
I'm not a real flower person, but I like a jade plant.
Chocolate?
I would say Teuscher. I should say Hershey's because I'm from Pennsylvania, but …
Fragrance?
Mine­ — it's citrus for the day, and then it's a caramelized citrus for night, and it's actually exclusive for Colette.
Sheets?
Frette. White, never color.
Lip balm?
The natural one — Burt's Bees, but I always want to use ChapStick. But I was told once that ChapStick is bad for your lips, because it mostly dries them, and that's why you keep using it.
If you buy something through our links, New York may earn an affiliate commission.