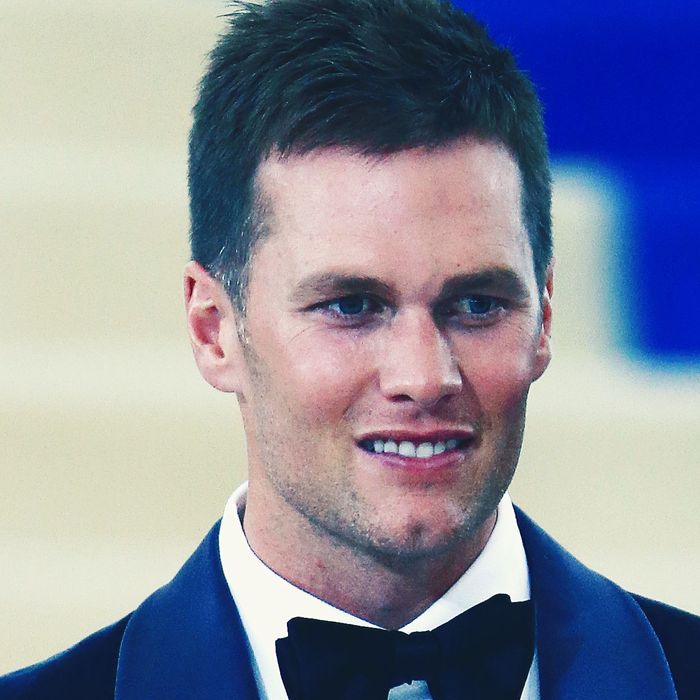 Tom Brady.
Photo: John Lamparski/Getty Images
Within the increasingly cluttered world of petty feuds, Tom Brady and Gisele Bündchen's hostility towards sun protection is an enduring one. Seven years ago Bündchen infamously called sunscreen poison, angering dermatologists and skin-cancer experts alike (she later clarified and attributed the quote to a language barrier). And an ESPN profile published today notes that Brady thinks guzzling loads of water prevents sunburns (he also states this in his new book, The TB12 Method: How to Achieve a Lifetime of Peak Performance). Tom Junod and Seth Wickersham write:
Every day, he wakes up at 6 in the morning and immediately drinks 20 ounces of purified water, augmented with TB12 electrolytes, which, as he tells us, contain the "72 trace minerals" generally lost in perspiration. As a result, he says, he is so well-hydrated that "even with adequate exposure to the sun, I won't get sunburned," and he presumes that the muscles under his skin look like "beautiful tenderloins" instead of "shriveled jerky." 
The CDC does not list water consumption as a sunburn preventative measure on its website, though it does mention sunscreen. Guess we should know more than to take health and wellness advice from a man who's never had a strawberry.