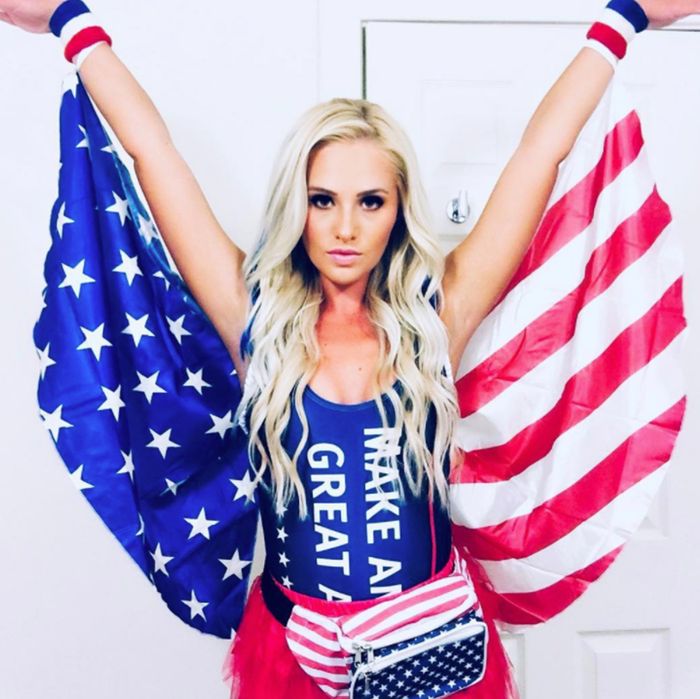 Tomi Lahren's Halloween costume.
Photo: @TomiLahren/Instagram
Newly minted Fox News contributor Tomi Lahren has drawn ire for her latest attempt to show how much she loves America.
This weekend, Lahren posted her Halloween costume on Instagram. The conservative pundit draped herself in the American flag, put on a royal-blue "Make America Great Again" one-piece swimsuit, and wore a flag-striped fanny pack.
She included the caption: "Oh LA get ready to find your safe spaces! What am I? Well if you're a conservative, I'm American AF. If you're a lib, I'm 'offensive.' Let's go."
But Lahren frequently tends to miss the irony of her political viewpoints. For example, she actively campaigned against Obamacare only to admit she was still on her parents' health insurance — thanks to a key provision of the law.
Lahren has also questioned the decision of NFL players to kneel during the national anthem, and said recently on Fox and Friends:
"I would like to ask these players 'What exactly are you kneeling for and why have you chosen the flag and the anthem to do it?' […] "I would like to ask those same players, 'What would it take to get you to stand and respect the anthem?'"
And now, U.S. Flag Code sticklers point out that Lahren's Halloween costume technically violates 36 U.S.C. 176, which reads: "The flag should never be used as wearing apparel, bedding, or drapery."
In the meantime, Lahren's costume has launched a heated debate on social media, with Donald Trump Jr. coming to her defense.
You can read the full U.S. Flag Code here.