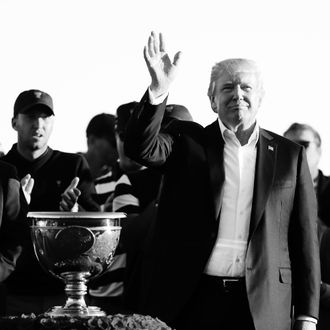 Presidents Cup, President.
Photo: Elsa/Getty Images
Because nothing is too on the nose for this administration, President Trump dedicated a golf trophy to hurricane victims. (In a remarkable show of restraint, he did not go on to tell the trophy about his Electoral College win.)
Per ABC News, his remarks came on Sunday, while presenting the Presidents Cup trophy to the captain of the American team, Steve Stricker:
"On behalf of all of the people of Texas, and … if you look today and you see what's happening, how horrible it is but we have it under really great control, Puerto Rico. And the people of Florida who have really suffered over this last period of time with the hurricanes," Trump said, before presenting the trophy to the Americans.




"I want to just remember them, and we're going to dedicate this trophy to all those people who went through so much, that we love, that are part of our great state, really a part of our great nation," he added.
The trophy dedication came the day after Trump was widely criticized for attacking San Juan mayor Carmen Yulín Cruz on Twitter, writing that Puerto Rico wants "everything to be done for them."
The U.S. territory was absolutely devastated by Hurricane Maria; residents desperately need food and clean drinking water, and are facing the prospect of up to six months without power. They did, however, get this much-needed symbolic golf trophy.