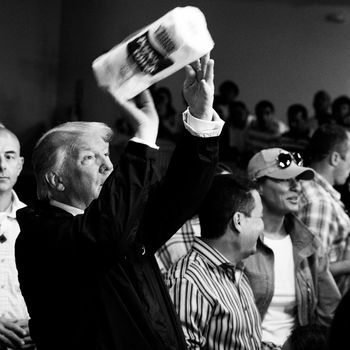 Donald Trump practicing his shot.
Photo: Evan Vucci/AP
In the time since Hurricane Maria hit Puerto Rico, Donald Trump has slammed the San Juan mayor on Twitter and dedicated a golf trophy to the storm's victims. The president then flew down to the island for a visit on Tuesday, which has been going, well, you'll see.
After telling elected officials that they've "thrown our budget a little out of whack" and comparing Maria to "a 'real catastrophe' like Katrina," he visited a church stocked with supplies for hurricane victims, where the optics only got worse.
The president can be seen throwing paper-towel rolls into the crowd as if he were shooting basketballs:
It's reminiscent of when he pretended to eat a relief sandwich meant for Hurricane Irma victims during a Florida trip last month. Unlike that visit, and one to Hurricane Harvey victims in Houston before that, he has not complained about being given too-small plastic gloves. Yet.