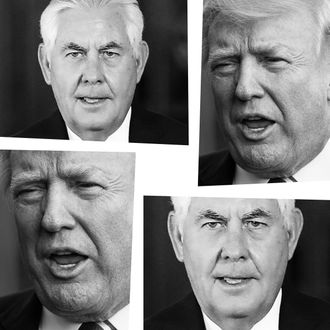 Last week, a report emerged that Secretary of State Rex Tillerson once referred to Donald Trump as a "fucking moron" in a meeting. And how is the president dealing with this? About as well as you'd expect.
He initially relied on his usual tactic, dismissing it all as "fake news" on Twitter. (Tillerson does not deny making the comment.) But when asked about Morongate during a recent interview with Forbes, Trump hit back.
"I think it's fake news, but if he did that, I guess we'll have to compare IQ tests," he suggested. "And I can tell you who is going to win."
On the one hand, the petty bickering that's been a hallmark of the Trump administration is unprofessional and increasingly maddening. On the other, eh, let's see his IQ test.