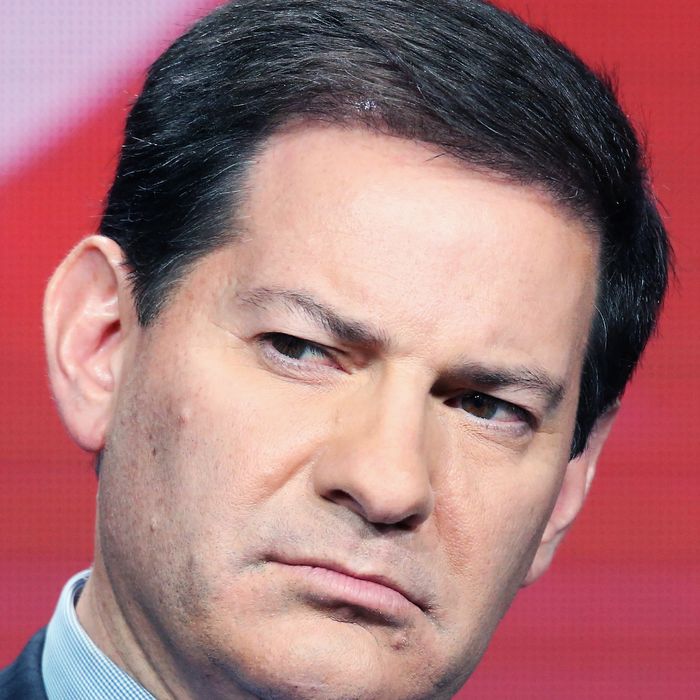 Mark Halperin.
Photo: Frederick M. Brown/Getty Images
Less than a day after CNN reported that five women have accused journalist Mark Halperin of sexually harassing them, two more women have come forward with allegations of sexual misconduct against the former ABC News political director, according to the Daily Beast.
Shortly after CNN published its story on Wednesday night, conservative author and reporter Emily Miller tweeted #MeToo with a link to the article. She later clarified that she was not one of the women cited in CNN's story, but that she, too, had allegedly been assaulted by Halperin when she was working at ABC.
"I did not report Halperin to ABC because I thought I was the only one, and I blamed myself, and I was embarrassed and I was scared of him," she tweeted.
A second journalist and commentator, who wished to remain anonymous, told the Daily Beast that she identified with the stories of other accusers, who claimed Halperin had propositioned them, cornered them, and pressed his erection against their bodies. The woman, who had also worked with Halperin at ABC, said that soon after she arrived at the network, the Game Change author became flirtatious. What started as chatting escalated to the "occasional lecherous grin" or "an obvious look at her breasts while passing in the hallway, and then one day, she says he invited her to his office for what she believed would be a meeting, but when she arrived, no one else was there. Via the Daily Beast:
"I was about to sit down to begin the meeting, and he closed the door, and all of the sudden was standing right in front of me—so close he was basically touching me."




The woman further recounted: "He started lunging at me and I had nowhere to go. I told him something like, 'Don't do that,' and said 'I'm not comfortable with the door closed,' but he had backed me into a corner. I opened the door and ran out."
Sources also told the Daily Beast that Halperin's misconduct was an "open secret" in New York City and Washington, D.C., and that multiple outlets had been reporting on allegations of harassment against him when CNN broke the news.
In the wake of the accusations against him, Halperin has been fired as a senior political analyst at NBC News and MSNBC, and HBO has backed out of plans to collaborate with the veteran political journalist on a movie about the 2016 election.
"HBO has no tolerance for sexual harassment within the company or its productions," the company said in a statement.
Read the full story here.