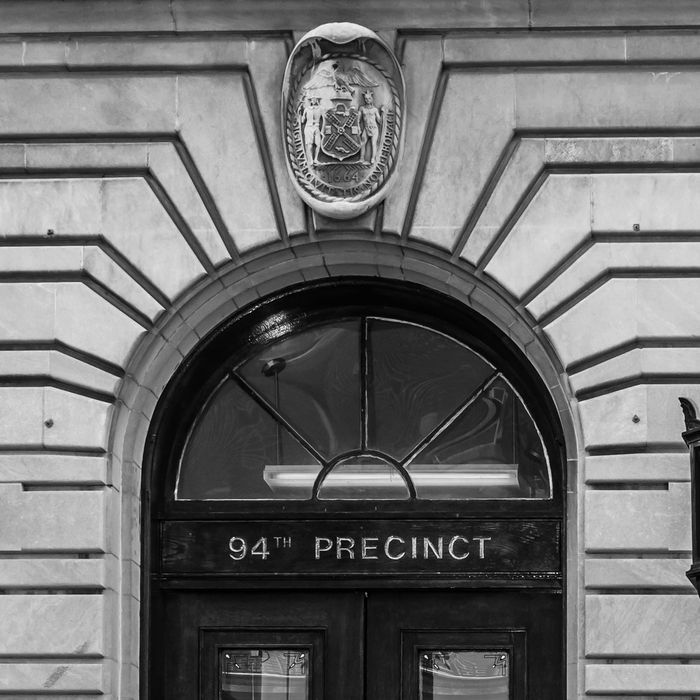 The 94th Precinct station house in Williamsburg, Brooklyn.
Photo: Pacific Press/LightRocket via Getty Images
Two New York detectives accused of raping a teen have been indicted by a grand jury and charged with rape and kidnapping, the New York Times reports.
Prosecutor Frank DeGaetano said that the alleged incident occurred the evening of September 15, when Edward Martins and Richard Hall pulled over an 18-year-old girl in Coney Island and discovered marijuana and Klonopin in her possession. She was with two male companions but, DeGaetano said, the detectives only took her into custody and "then Detective Martins used his cellphone to call the woman's friends and explicitly instructed them not to follow the van."
They then allegedly proceeded to rape her:
It was then that Detective Martins sat down next to the woman and said that he and his partner were "freaks," asking her what she wanted to do to avoid being arrested, Mr. DeGaetano said. After tightening the handcuffs, Detective Martins pulled out his penis and forced the woman to perform oral sex on him, Mr. DeGaetano said. Then he turned her around, pulled her pants down and raped her, Mr. DeGaetano added, as Detective Hall watched through the rearview mirror and the young woman cried and pleaded with Detective Martins to stop.




Mr. DeGaetano said that Detective Hall switched places with his partner and also forced the woman to perform oral sex on him.
DeGaetano says that they dropped her back off in Coney Island afterwards. A rape test performed on the teen — who tweets under the pseudonym "Anna Chambers" — found DNA from both detectives. They have reportedly claimed that the sexual encounters were "consensual," which — as the Intercept pointed out — is impossible.
Martins and Hall turned themselves in at the 94th Precinct station house in Williamsburg, Brooklyn on Monday and were released on bail. If convicted, each detective could face up to 25 years in prison.