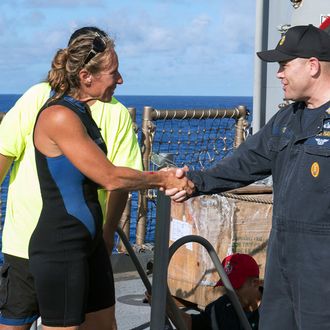 Jennifer Appel and USS Ashland Command Master Chief Gary Wise.
Photo: Mass Communication Specialist 3rd Class Jonathan Clay/AP
On May 3, Jennifer Appel, Tasha Fuiava, and two dogs departed from their home state of Hawaii to sail the 2,700 miles to Tahiti. Their journey didn't quite go as planned: Appel's phone went overboard the first day, they lost their engine by the end of that month, their mast broke. They were left stranded in the middle of the ocean, making distress calls to no avail. Finally, on Wednesday — after over five grueling months at sea — the U.S. Navy came to their rescue, the Associated Press reports.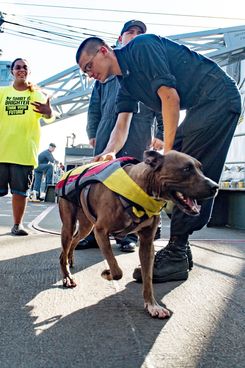 A Taiwanese fishing boat initially caught sight of Appel and Fuiava's vessel — and they were about 900 miles away from Japan at that point. Appel's mother, Joyce, said she had alerted the U.S. Coast Guard about a week and a half after her daughter's departure because she hadn't heard from her but was holding out hope that she had survived.
Along with a happy ending, this story also has a bit confirming that dogs, as always, are pure and good. Per The Guardian, Appel "credited the two dogs, which she called their companion animals, with keeping their spirits up" while they were all stranded at sea.